Talking of the pre-Ocean Colour Scene days when he and Steve Cradock were on the dole in Birmingham, Simon Fowler is reminded of a joke. "A joke in Moseley back then was, what's green and gets you high?" He looks expectantly at our faces. We wait for the punchline. "A giro!"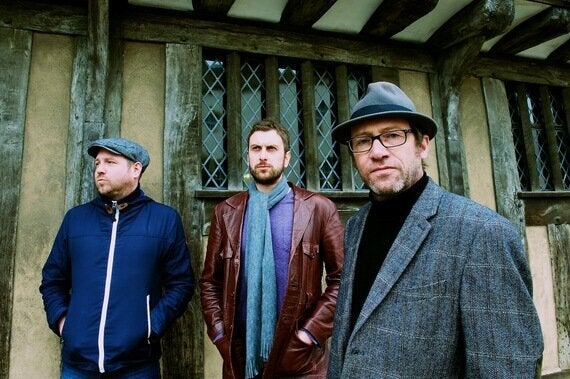 Strength came from adversity in those days, but a band as industrious and talented as Ocean Colour Scene has accrued enough shekels for its members to choose side projects with care. Mr Cradock joined Paul Weller and began a solo career while Simon Fowler kept Ocean Colour Scene together and embraced a freer way of making music with Merrymouth, a band (named after his childhood nickname) that he assembled three years ago to record their eponymous debut album.
Merrymouth's follow-up LP, Wenlock Hill, will be released on 5 May with Simon singing and writing, backed up by Dan Sealey of Ocean Colour Scene, Adam Barry and a host of distinguished collaborators.
"We spent most of the time recording the first album in the pub," says Simon. "We were always considering our next move. Which was usually a pint. The album was a nod towards English folk which was our conscious plan, especially since we were playing with John McCusker and Andy Cutting."
It's mid morning and we're over the road from William Shakespeare's old school in Stratford-Upon-Avon and the busy Gaggia machine has suspended a small steam cloud above the bar.
This isn't your average band. Merrymouth operates outside the mainstream with healthy doses of daring and insouciance as evinced in Wenlock Hill which includes a pair of interesting covers in I Am The Resurrection by The Stone Roses and Duchess by The Stranglers which "has always sounded to me like a Kinks song", says Simon.
He casts his mind back. "Ocean Colour Scene turned down a cover song request once. It was to be called The Day We Caught The Smurfing Train."
Dan bursts out laughing. "And you turned that down?"
"I was bang into it, but the rest of the band weren't." He looks almost rueful. "I'd have been really pleased if that had come off."
Whatever Simon Fowler does, he'll forever be linked to the modern classics he wrote and recorded with Ocean Colour Scene. Songs like The Day We Caught The Train, The Circle and Better Day, each sung with his uniquely soulful English voice, helped further identify Birmingham and its hinterland as a place steeped in lyricism, as if Shakespeare were not enough to begin with.
"Merrymouth gets us out of the house," laughs Dan, "and Wenlock Hill is a folk influenced record but isn't traditional folk. We went at our own pace which is why we enjoyed making it. Most of it was recorded in my back room, and the title track is Simon writing at his best."
"We veered away from it being a folk album so we could reveal our own tastes," says Simon as he regards his hat, "but there is a conscious attempt to not have a lot of electric guitar on it. To be frank, I don't like studios these days. I used to when I was younger, but now I tend to give a guide vocal or guide guitar in a studio, then let everyone else get on with it."
"The record deal came after we started recording," says Adam. "Our agent mentioned Navigator Records and here we are. The album also features John McCusker and Chas Hodges [of Chas 'n' Dave] on piano. Chas is a fantastic musician. He doesn't do session work and only agreed to work with us because he toured with Dan's dad in the 1980s in a band called Cosmotheka."
Before he became a singer-songwriter, Simon dabbled in journalism. But after two weeks at the Birmingham Post he realised he'd made a terrible mistake. "I couldn't stand office life and hated being told what to do by short men."
He realised he was musical from an early age. "I wanted to be a singer, but I also wanted to be a football commentator. I eventually formed a band called The Fanatics and we became well known within weeks because the music community in Birmingham was so small."
It was a scene which has to this day produced a wealth of talent. "When I heard the final mix of this album, I thought we'd made a great record," says Dan. "It sounds as it should, and that's a rare thing to be able to say of a record."
Adam says: "The three of us have got a good understanding of what we want, and no one's precious about things."
But what of that all-important thing, radio play? The three men look at each other. "You either get it or you don't," says Simon. "There's no point worrying about it. I presume it's still important, but I'm not expecting to get on a Radio 2 playlist."
"You have to make your own luck these days," adds Dan, watching Simon replace his fedora as we make our way outside for the photos. "It's harder to make ends meet now. Everyone, be it promoters or the agents, are in the same boat because there's no longer any money in the industry."
We cross the road and step back in time. The final question's for Simon. Does he have any regrets? "I wish I'd written more, and more consistently," he says, as he looks down into the lens.
Which is a curious thing to say when one considers that Simon Fowler has never stopped writing and fronts not one, but two bands. It's perhaps best explained by his Brum outlook on life. So, if music be the food of love...
Photograph (l-r: Dan Sealey, Adam Barry & Simon Fowler) by George Stavrou
Click here for more information on Merrymouth
Popular in the Community