Paul Weller cuts a lithe figure in a black crew neck sweater and dove grey slacks that ride a couple of inches off the ground. His round-toed calfskin Chelsea boots gleam under the lights. A flashgun snaps at his every move as his gimlet eye rakes the clothes rack that lines the far wall of the West End showroom.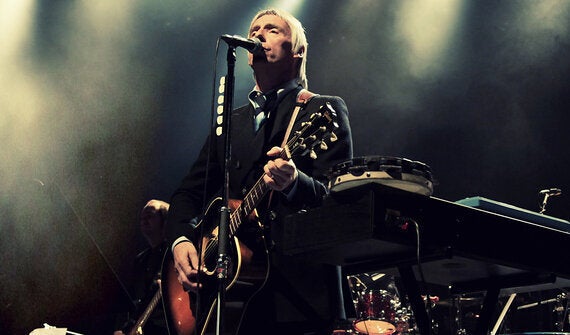 He checks out my trousers. "Where'd you get them? How much were they? Part of a whistle?" His only jewellery is his wedding ring. His handshake is firm, his laughter a warm salve to the proceedings, and then we're down to business around a long black table.
And the business is Real Stars Are Rare, a new range of menswear that has been designed by Paul and his business partner Phil Bickley. It's the logical, long-awaited conclusion to Mr Weller's four decade-long love affair with all things sartorial.
As a complete range of clothes for men that weaves his style sensibilities into one vision, it has the potential to penetrate the perennially clueless fashion world in the same way All Mod Cons woke up the world of music in 1978.
"I'd hang out a lot around Portobello Road, and I'd go into Phil's shop, Tonic," says Paul. "One day we got chatting and I told him I'd always wanted to do my own line of clothes. He said he could help."
It's a bold move, but why now? "Because I never really knew how to go about it before," he says. "I'd worked with Fred Perry, Ben Sherman and Pretty Green, and done some shoes with Hudson, but for me there'd been too much compromise. So now I like the idea that I can do what I want. Phil can rein it in a bit because of his retail experience, but it's all about getting good materials and getting the clothes well cut. This means it's quite expensive, but only because a lot of work has been put into it."
He says he's conscious of wanting to start small to see where the business goes, rather than creating hype. "It's taken about two years to get to this point. There's no specific demographic we're targeting. Anyone in their early 20s to someone in their mid-60s could wear pieces from this collection, but what you see are just classic pieces."
Phil agrees. "We're a small start-up brand. The fact that it's Paul helps, but we're both learning along the way. I used to do product development for a big retailer and I've had my own shop for almost 15 years. I buy collections that have already been created, so to go from original sketches to finished product with Real Stars Are Rare has been a steady process. Each season we'll add another piece and change fabrics. We won't redesign everything. We'll do it slowly and stick to what we believe in," he says.
"It's about making stuff that people can keep wearing. It's all classic but blended with Paul's flair. They're understated pieces, the kind of stuff we both wear. Although Paul can wear more extreme things than most."
Paul raises an eyebrow. "Yeah, lingerie, that kind of thing."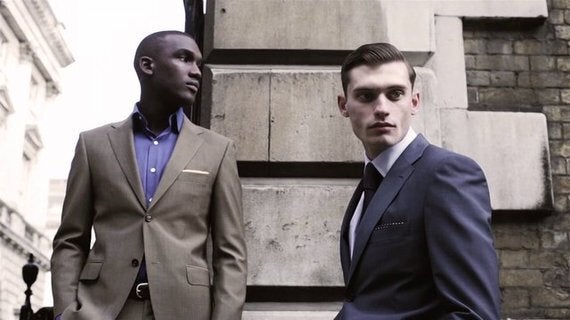 "My favourite piece is the double-breasted jacket," says Phil through the laughter, "because I never thought I'd wear a double-breasted jacket again in my life. The last time I'd worn one was back in the 1980s when I was working for a bank as an admin assistant!" Is it Modernist? "Yeah, but it's also straightforward. It's not doing anything too radical. We wanted to focus on a sharper look. There are fewer companies doing that."
Paul points with his chin at the knitwear. "I really like the fine gauge Merino wool star jumper and the car coat. And I definitely want to do some shoes as well. For starters, some casual shoes for spring/summer 2015."
He's a writer, a musician, and now a designer, but Paul is also one part social historian: "When I was a kid, the post-Mod skinhead style of the late 1960s shifted into the suedehead look of 1970 and '71, and there was also the post hippy look. That formed the bedrock of all the things I like. That era is my original source of inspiration for a lot of things. But at the same time," he says, his gaze roaming the collection, "there's nothing here that doesn't look contemporary.
"As a kid, whatever little money I had I spent on records or clothes, and on a Thursday night at the local dance, I'd see everyone dressed up to the nines. There'd be a few older fellas who were 16 or 17, but who seemed much older to us 13-year-olds, who wore things that we'd aspire to try to get hold of," he says. "So I always had an idea of what the epitome of style was. This collection could be from a lot of different eras, but it could also only be from today. It's important to get the cuts right and retain total control over it."
"He is a serial shopper," adds Phil, "he's very fussy. Annoyingly so, sometimes."
"I mean, it's cool, but sometimes it can be hard work."
Paul smirks. "I'd be happy to make the money back that it's taken to get this far, and then enough to make the next collection. And then keep going."
So there'd be no point in watering things down? "No, I'm not doing that. It's a totally new world to me, but it's been a good laugh too. My eyes have been opened to what goes into fashion. I thought the music business was complicated, but it's a breeze compared to this."
But in terms of the musical side of things, it's business as usual? Paul throws back his shoulders and laughs. "Yeah, I mean, I have to to fund all this!"
Real Stars Are Rare AW14 collection will be available online and in selected retailers from August. Follow Paul and Phil @RealStarsAre
Related