This is a very English film. The cast is English, the subject is English, the very audience to which it is aimed is English. As a return to the kitchen sink drama of yesteryear - which, in and of itself, is an astute production move - it's a tale of the industrial north that looks back not in anger but, instead, through the prism of English social history to rediscover the soul of a country.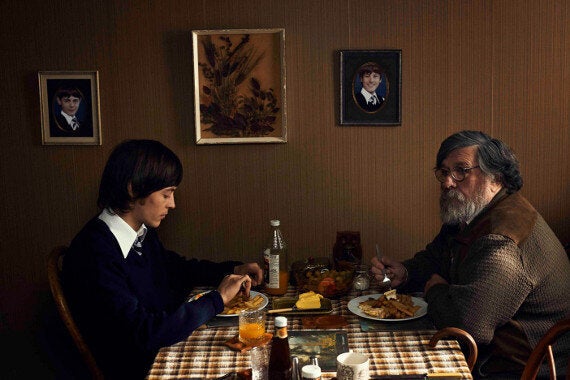 Set in 1974 and shot on location in Burnley, Blackburn, Bury and Bolton, Northern Soul is Elaine Constantine's directorial film debut and comprises a British cast who share her fond remembrance.
Starring Steve Coogan, Lisa Stansfield, John Thomson, James Lance, Antonia Thomas, Elliot James Langridge (above, left) and veteran actor Ricky Tomlinson (above, right), the film utilises a cast which proved sympathetic to the northern soul music scene of the late 1960s and early 1970s which, like British youth movements and subcultures throughout the post-war decades, grew out of a dissatisfaction with class stasis.
"The North West has a very distinguished place in the pantheon of world music," said Coogan at the film's Soho premiere.
And Ricky Tomlinson concurs. "I knew the scene well," says the Liverpudlian actor, famed for his roles in Boys From The Blackstuff, Brookside, The Royle Family, Mike Bassett: England Manager and The 51st State. "I was a teddy boy with the old drainpipe trousers, but the fellas on the northern soul scene wore flares which swept the floor when they walked."
As it had done throughout the post-war period, the vacuum of English society allowed American popular culture to rush in, transforming the youth of enervated English towns of the industrialised North West into those who sought thrilling existential release through American soul music on the club scene (the epicentre of the scene being the Wigan Casino circa the mid-1960s until 1981).
For Constantine - who also helped put the soundtrack together - the film has been a labour of love and more than 10 years in the making. "I think all actors should do their share of low budget movies," says Tomlinson. "I don't believe that actors, once they reach that stage when they're only doing blockbusters, should do only that. We owe it to people on the way up, and who are trying to make films, to put in our five cents worth. So I was delighted to get the call."
Now 75, Tomlinson has lived a life of evolution which has not been without its travails. "I'm a plasterer, lad. A time-served City & Guilds plasterer. I became an actor when I left jail." He says that England has changed in a lot of ways, but "in various pockets of England nothing has changed. Change comes slowly".
In 1973, Tomlinson was sentenced to two years in prison for his role as one of the Shrewsbury Two, taking up acting on his release. "Years ago, when I began as a plasterer, I had a little band on the working men's club circuit. I was called Hobo Rick and played with the City Slickers. I was so called because I was turning up directly from the building site where I was working as an apprentice plasterer covered in lime and plaster. That was 60 years ago, but to this day when I'm out in Liverpool people still call out 'Alright Hobo!'"
In an age of artifice and makeover, Tomlinson represents the kind of Englishman who has not reneged on his ties to the soil of home: he's Liverpool to the core.
"I think all the natural, raw talent lies in independent films," he says. "I was very lucky to star in two Ken Loach movies [Riff-Raff and Raining Stones], which in itself is amazing because Ken isn't known for using actors more than once.
"In Northern Soul I play the grandad, a nice, cushy little role but nothing too energetic. I didn't do any dancing. But in my youth I was a jiver, kid. Me and Rita [his wife] still do a little bit of ballroom dancing, but I can't really do it anymore because I've got arthritis in both bloody heels."
It has been proved that with young talent a director is able to get his or her message across with greater clarity and Tomlinson agrees. "The kids in it had a great time making the film, but if I'm not mistaken lads used to dance with lads in the Wigan Casino days. But we're not that advanced up here in Liverpool!"
He's also just completed a new film with Sacha Baron Cohen and has entered into discussions with comedian Mark Thomas to make a documentary that will cover his ongoing quest to clear his name after 42 years, a chapter of his life that has kept the flame in the heart of this septuagenarian burning brightly. "There's a young Liverpool actor called Stephen Martin Walters who plays me in Ragged, which covers the period I spent in solitary confinement, and he's an absolutely amazing actor.
"There's plenty of talent up north, and to be honest," he says finally and with a wink, "it's positively snowing with it up here."
Film still courtesy of Munrow Films/Northern Soul
Popular in the Community