"Svengali is a love letter to London," Jonny Owen tells me over a pint on the roof terrace of the Hawley Arms in Camden. He's a man enjoying acclaim made all the more sweet after years of paying his dues with films like Little White Lies (2006) and A Bit Of Tom Jones? (2009), with these films having served as calling cards for the Merthyr Tydfil-born actor-writer.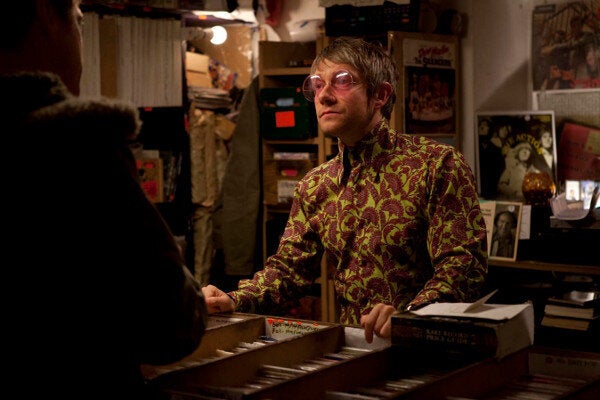 With Svengali premiering at the 67th Edinburgh International Film Festival and having been nominated for the festival's Michael Powell Award, one would expect him to be somewhat agitated, but instead he exudes calm.
The film tells the story of Dixie (Jonny Owen), a postman from South Wales who all his life has dreamed of discovering a great band. One day, while surfing YouTube, he finds them: The Premature Congratulations. He hunts them down and offers them his management services. An arrogant band of upstarts, Dixie puts their demo on cassette tape and heads out onto the streets of London, entering the most infamous industry of them all.
His partner and soulmate throughout his travails is Michelle, played by Vicky McClure (This Is England, True Love, Broadchurch, pictured bottom with Jonny). Totally broke and working for nothing to get The Prems their gigs, Dixie discovers that the more successful they become, the greater the chances are of him losing them.
The film is rooted in the cutthroat reality of a business Jonny knows only too well.
'I was in a band in the mid-90s called The Pocket Devils who were something of a Mod band,' he says. 'The character of Dixie is based upon a guy called Paul Dixon, and he has been a big supporter of the film from the start.'
Before Jonny's script received the big screen treatment, he struck upon the idea of serialising the Svengali story on YouTube.
'We did Svengali as an internet thing back in 2009 because I was interested in being able to make a film and have, potentially, millions of people see it. I had a hunch back then that the YouTube episodes were things that people liked. You have a feeling when something is good. Whether you're in a band, or an actor or a painter, you always know when something is right.'
But how did he get the idea off the ground? 'I called in some favours from friends,' he says. 'I had a good friend called Roger Evans who was a very good actor, and there was Philip John, another friend of mine, who directed the internet episodes, and when Alan McGee [founder of Creation Records and 359 Music) got involved, playing himself, it caught fire.'
Another friend, Pete Jones, knew McGee and sent him the viral, and McGee said he wanted to be in the next one. 'It was a question of sending the viral episodes out to people and asking them what they thought.'
The film was shot on location in London, Wales and Scotland early in 2012, with John Hardwick directing, its comedy deriving from Dixie's innocent Welsh boy attempts to do business in London's music industry. Never fazed by the setbacks he experiences, he wears his anorak/parka with a schoolyard charm, moving through Soho streets with a Tesco carrier bag in a manner reminiscent of Woody Allen's Zelig (1983) or Peter Seller's Chance in Being There (1979). There's a freshness to his performance, owing in no small part to his Welshness, untainted as he is by big city cynicism.
Svengali was made on 'a classic British indie budget,' he says, 'but once Martin Freeman signed for the film [as record shop owner, Don, pictured top], we were able to raise funding. His gravitas helped. But you've got to have a bit of luck. You've got to have Martin Freeman just happening to be a Mod, and then he gets cast in The Hobbit and Sherlock.'
Jonny had originally sought Vicky McClure, a star in demand, for the part of Michelle, but didn't hold out much hope he could secure her services. But despite being snowed under with scripts, she agreed to do the film when she saw the YouTube episodes, which is a clear demonstration of the power of the internet. A visual sketch is often more powerful than a written scene when attempting to sway actors, or producers, for that matter.
'Vicky took things up a notch during scenes,' says Jonny. 'She's so good she makes others get better.'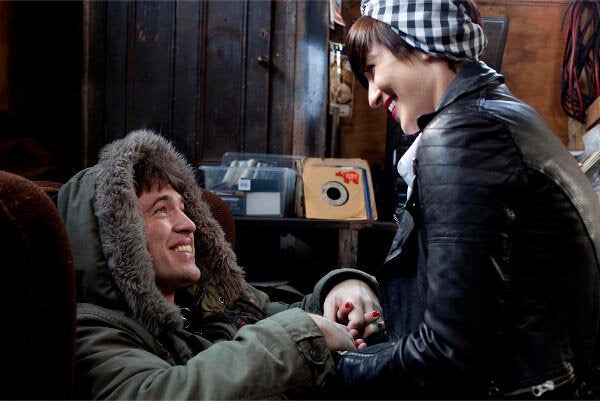 With all the parts written with a specific actor in mind, his original script is done justice by a sterling supporting cast which comprises Michael Smiley and Matt Berry.
'Michael's a good lad and a grafter, and if actors like a script, they'll do it,' says Jonny. 'I'm at a good age for making a film like this, because at 41, I can keep my feet on the ground. Everything in life is about relationships, and I do get on with most people. I like people.
'The actors who graft and get on with it, that is, the really boring stuff like turning up on time and learning your lines, are the people who get on in this business. But that's like anything in life.'
Comedy is arguably the hardest thing to pull off, but it appears that Jonny is a natural. 'All I'm trying to do is tell stories. Storytelling, where I come from, is what people do. And often, it's in a pub with a pint where stories are refined. And I like nothing more than having a pint with my mates.
'London's not like Wales where you can just go up and talk to people,' he laughs. 'But I love Londoners. People say it's one of the greatest cities in the world, and there's a reason for that. It's because it is.'
And as a born and bred Svengali myself (tongue rooted firmly in cheek), I'm not going to disagree.
The 67th Edinburgh International Film Festival (@edfilmfest) runs from 19-30 June
Film stills by Heiko Prigge courtesy of Root Films