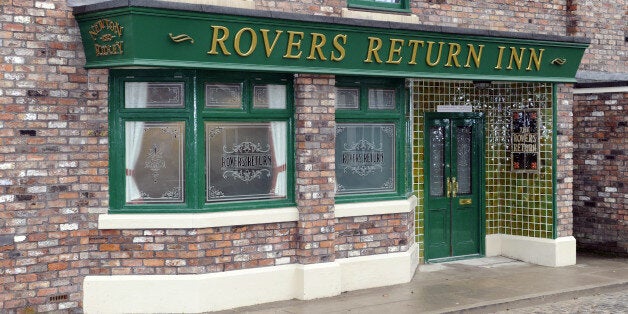 Life isn't often rosy for the residents of Coronation Street but, in a particularly harrowing storyline, one of the soap's characters is experiencing the kind of horrific exploitation and abuse that, sadly, many children and young people go through every day.
Viewers have expressed their shock at the hard-hitting plot which sees 16-year-old Bethany groomed and sexually exploited by Nathan, a man in his 30s, and writers on the show have revealed that they engaged in 'heated' debate about whether the issue should be tackled in the popular ITV soap.
As actress Lucy Fallon - who plays schoolgirl Bethany - says, it makes for unsettling viewing, so much so that she hasn't been able to watch herself in any scenes with co-star Chris Harper.
But the programme makers Granada were right to tackle such a difficult subject. It's an extremely serious but little-discussed issue and a light should be shone on it.
This kind of grooming, exploitation and abuse goes on under people's noses every day so it's vital that parents and carers, as well as teachers and other professionals, are able to spot the warning signs so children and young people can be protected.
Barnardo's is leading the fight against child sexual exploitation and last year we supported almost 2,500 young people, parents and carers across the UK who have been affected, although the true number of victims is likely to be much higher. We have released guidance so people know what to look out for if they're concerned children may be being targeted by sex abusers.
In Coronation Street, Nathan - aided by his female accomplice Mel - showers naïve schoolgirl Bethany with attention and gifts and plies her with alcohol, manipulating her into sleeping with him.
The teenager regards Nathan as her boyfriend and Mel as her friend but they have sinister plans for her. In one chilling scene recently, Nathan calls a friend to say he is going to get a return on his "investment", implying he plans to widen his exploitation of Bethany to include other men. And this week Bethany feels awkward when she turns up to a party at which all the other guests, bar Mel, are men.
This reflects our own experience working with victims of child sexual exploitation in our 40 specialist services across the UK. Abusers convince young people - both girls and boys - that they are in a loving relationship and use the trust they've built up to coerce them into sex with them or with others.
Like Bethany, the young victims of this crime mistakenly think these abusers care for them. But 'gifts' of alcohol and mobile phones can be used to control and manipulate them into doing things they don't want to do.
Men and women from all cultural groups, ethnicities and religions are sexually exploiting children of different backgrounds in their thousands so it's absolutely critical that as many people as possible are aware of the signs of grooming so we can prevent abuse.
I've seen first-hand how children's lives can be ruined and families torn apart by this unimaginable abuse, and how specially-trained Barnardo's staff help young people who have experienced high levels of trauma and distress piece their lives back together.
Signs of sexual exploitation
Parents need to be on the lookout for signs of sexual exploitation. Having an older boyfriend or girlfriend, having new possessions that cannot be explained, going missing for periods of time, regularly coming home late or playing truant from school could be indicators that a child is being exploited.
Mood swings or changes in emotional wellbeing, drug and alcohol misuse, spending a lot of time in their bedroom and becoming unusually secretive - particularly around the use of handheld devices like mobiles - or suffering from sexually transmitted infections should also ring alarm bells.
Parents can take steps to keep their children safe by staying alert to behavioural changes or physical signs of abuse like bruising, monitoring late nights out and any unexplained belongings and being wary of their child's older friends or relationships where they see a power imbalance.
Children also need to be given the knowledge they need to protect themselves. The government's commitment to ensuring all children have lessons on sex and healthy relationships will help them recognise the danger signs and better understand how to keep themselves safe.
That's why I was thrilled when, following our campaign, the government announced last week it would make age-appropriate sex and relationship education compulsory for all children in England. This will help them grow up understanding consent and healthy relationships and respecting themselves and each other.
It would also mean they will be taught about online and offline risks and how to spot the signs of grooming, providing them with the skills and resilience they need to keep themselves safe from sexual violence, sexual bullying and harmful sexual content online.
Bethany's story is a stark reminder that children and young people all over the country need the support Barnardo's offers. It's brave programming by Coronation Street's creators and could protect children from abuse and exploitation.