With Edinburgh Scotland's most popular tourist destination, the locals are used to being outnumbered by sassenachs. Things get much worse at Fringe time, and it's easy to forget there are plenty of homegrown comedians to enjoy too. Here's my recommendations for ten brilliant acts who are all as Scottish as a highland terrier chewing shortbread on Loch Lomond, while a junkie shoots up, signs on, and stabs a guy in a kilt eating haggis, drinking Irn Bru and shouting "Och aye the nooooo."
(Hat tip to Monty Burns for helping with this. In my opinion, he's easily as good as anyone below. But he's taking a break from Edinburgh this year; otherwise he'd be the first name on this list.)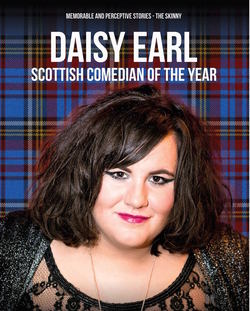 Daisy Earl: Scottish Comedian Of The Year
One of the fastest-rising stars in Scottish comedy, with a bulging trophy cabinet. While the show title seems like a supercilious choice, I'm reasonably confident it wasn't her decision, but rather something imposed upon her by the company who organise the awards. She's the first female act to grab that particular prize, but if you've seen her live, you'll know she's no beneficiary of tokenism. This, her debut show, is a candid retelling of her life so far, from online dating and political misunderstandings to her eccentric family and rickety mental health. It's strikingly honest and hilarious.
The Beehive Inn. 6.50pm. 12-28 August (not Tuesdays/Wednesdays). £10-£14
Larry Dean: Farcissist
Glaswegian Larry Dean also won Scotland's top comedy prize, all the way back in 2013. A self-confessed "homophobic homosexual" who's starred on Live at the BBC and ITV2's @elevenish show in just the last year, and was nominated for an Edinburgh Comedy Award too for his debut show. A natural storyteller and physical comedian, he regularly shares the stage with some of the biggest names in the country. (He's also shared the stage with me, in the backroom of a dingy pub in rural Lincolnshire. He was the highlight of that show.) Do yourself a favour and see him now, before he becomes a lot more expensive.
Pleasance Courtyard. 7.15pm. 8-28 August (not 15). £10-£12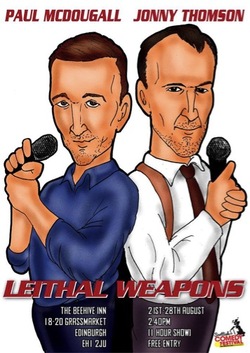 Paul McDougall and Jonny Thomson: Leithal Weapons
Two thirty-somethings from Leith who could be Olympic representatives for their country at its national pastime - moaning. They've been going since 2011 and have decided to share an hour, with one of the best-named shows at the festival. Go and listen to them moan about their lives, loves and local government.
The Beehive Inn. 2.40pm. 21-28 August. FREE entry
Vladimir McTavish: Scotland in Sixty Minutes
One of the finest acts on the Scottish comedy circuit, and a miserable misanthrope, doing his twelfth solo show. Sixty-year-old McTavish got his free bus pass earlier in the year, and presents an hour of stories from his three month tour of the cities and small towns of Scotland. This is a hilarious hour-long account of that trek from Gretna to Thurso and beyond in a quest to find the essential Scotland.
The Stand 5&6. 7.30pm. 8-28 August (not 15). £9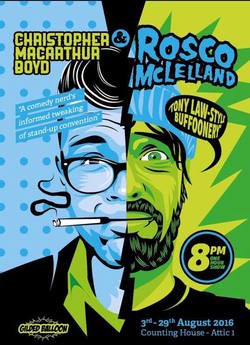 Christopher Macarthur-Boyd and Rosco Mcclelland
Punk musicians turned comedians, it's well worth seeking out these anarchic sketch and improv specialists while you're at the Fringe. Young, charismatic and uninhibited, they'll be right up your street if you like your comedy alternative. Both have a list of award nominations longer than your arm. You may already know Chris from appearances of BBC radio and television, and Rosco from his guest spots on STV's Late Show. They might look like the pretty boy comedian stereotype, but don't be fooled. They're much darker and more interesting than that.
The Counting House. 8pm. 8-29 August. £5
Bob Graham: Fifth Show
Deadpan Edinburgher Bob Graham has been on the comedy circuit for a decade now, and the vague title is a result of not having chosen a theme at the time of registering his show. "Fifth" is the story of what happened to Graham when he should have been writing a show about something else. Anarchic, dark and sinister, the narrative involves performing an intervention, the world's worst date, getting drunk with old women, a mentalbreak down, a chainsaw, therapy and potentially getting into a fight.
The Beehive Inn. 2.55pm. 8-27 August (not 15). FREE Entry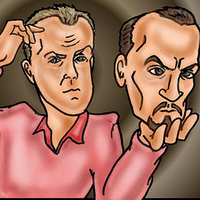 Obie: What Would Derren Brown Do?
Glaswegian veteran Obie has been performing at the Edinburgh Fringe since 2004, has built up a cult following, and is bringing three different shows to the festival this year. A student of psychology, hypnosis and NLP, Obie's one-man monograph to Derren Brown will show off his own memory mastery and mentalism skills, in an interactive, off the wall extravaganza that's likely to include plenty of freestyling.
Sneaky Pete's. 3.45pm. 7-27 August. FREE Entry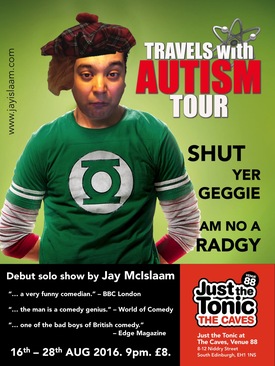 Jay McIslaam: Travels with Autism
Bathgate born, but with a cut glass English accent forged in the crucible of prepubescent sodomy that only a public school education can provide. Even though he bides in Birmingham, he hasn't forgotten his roots, and there's no shortage of rampant lions and thistles all over his hoos. It's no coincidence his most famous comic creation is called Bambam.
McIslaam suffered a plunge in popularity when paparazzi caught him in flagrante fellatio with the Krankies on the grounds of Braemar castle. The scandal derailed his career for almost a decade, during which time he made ends meet by "tossing cabers" for Harry hoofters in Edinburgh old town alleyways. Enjoying quite a revival in the Scottish comedy world since he inherited a Blackford brothel/crackhouse last year, following the mysterious death of his brother Hamish "Fud Puncher" McIslaam.
So go see him, because even if you don't enjoy the gig, the afterparty will more than make up for it. (Use password "BAHOOCHIE" for a 20% discount. No Polis!)
Just The Tonic at The Caves. 9pm. 16-29 August. £8
This article originally appeared on Jay Islaam's website.