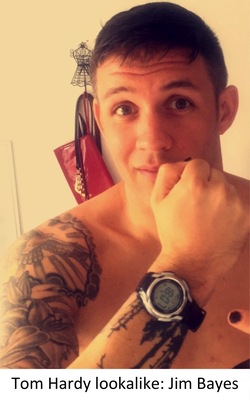 There are plenty of big names gracing the Edinburgh Fringe right now, and there'll be celebrity acts, to suit every taste, showing off their latest productions all over the city. However, every superstar started at the bottom of the ladder and had to work their way to success, demonstrating their superiority amongst their tenderfoot peers.
As well as the top of the food chain, there's also a thriving creative community much further down the showbiz pecking order. Not all of them are dreadful, and there's plenty of potential comedy nobility making its mark at the festival. Here, in order of decreasing handsomeness, are ten(-ish) brilliant new acts you should go and see at Edinburgh Fringe this month.
Don't Panic
Twenty-something Yorkshire lads Jim Bayes and Jake Donaldson didn't choose the show title in homage to Megadodo's most popular publication, but rather as reference to an in-joke that only the two of them would find amusing. Splitting the hour 50/50, Bayes will be performing an abridged version of his fast-paced "Pure Jim" show, previously staged at the Hull and Leicester festivals, all about how he went from fat to fit, and now has to feign modesty when people point out what a hunk of handsome man-meat he's become. While multi-award-finalist Donaldson, who you may have heard on BBC radio, offers a more intelligent, anecdotal style inspired by the likes of Dave Allen and Victoria Wood. Both will also be discussing mental health issues from their own unique perspectives.
The White Horse. 1am. 12-28 August. FREE Entry
(Given the "handsomeness" reference in the lede, I did toy with putting the girls first purely out of diplomatic discretion. But, quite frankly, Jim Bayes is better looking than all the rest of you put together. And you know it. Don't pretend you disagree. I've seen you moisturising the furniture at the mere mention of his name.)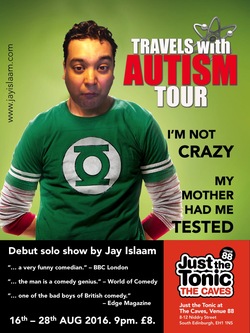 Jay Islaam: Travels with Autism
Guinness World Record holder, founding member of NWA, Calista Flockhart's butt double, and inventor of the Sinclair Spectrum, Jay Islaam is an inveterate liar. Which is why he's getting laid, like, ten times a night. At the orphanage where he works.
Having been banned from every Muslim matrimonial site in cyberspace, Jay's currently trawling J-Date, in the hope he can snare some unsuspecting Heebie bimbos. After all, broken Punjabi sounds remarkably similar to Yiddish and, with his hairy back, and tiny (circumcised) schlong, he can easily pass for Semitic under romantic lighting.
In his first solo show at the Fringe - dedicated to neuro-diversity - Islaam talks about evading arranged marriages, undergoing "treatment" by Pakistani witch doctors, enduring interrogation by the Israeli secret service, and his eco-tourism adventures in far flung places. Click the link below to book.
Just The Tonic at The Caves. 9pm. 16-28 August. £8
Karen Sherrard: A Fête Worse Than Death
Welcome to the village fête in Llanfairchwaraesboncen, hosted by 76 year old Eirys Evans. Complete with competitions, slide shows and featuring Esme de Flange, a lascivious TV gardener providing advice on sowing seed, trimming shrubbery and prize marrows. She's, basically, the Nigella Lawson of landscaping!
Wales-based character comic Karen Sherrard is pure filth in the classic Carry On tradition. Winner of the Last Mic Standing award a couple of years ago, and recently a finalist at the Welsh Unsigned Stand-Up awards. The show has toured several UK festivals already before arriving at EdFringe.
Paradise in The Vault. 1.05pm. 10-28 August (not 14 and 21). £6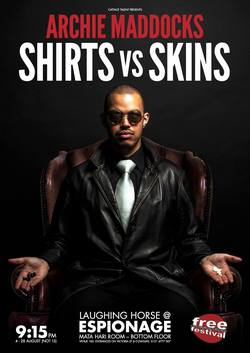 Archie Maddocks: Shirts vs. Skins
Lionel Richie lookalike Archie Maddocks has possibly the best poster at the festival. For his debut hour, mixed race Maddocks is exploring the pressures of having to "pick a team". (Red pill or blue pill?)
Winner of the Bath Comedy Festival New Act award, he's a smart, confident and eloquent performer, with a knack for sardonic mimicry. Having lived in the USA, the "fiendishly good-looking" - his words! - Londoner also has some suave observations about the culture chasm that is the Atlantic.
Espionage. 9.15pm. 10-28 August (not 15). FREE Entry
Adele and Tom's First Birthday Party
Cheerful up-and-coming comedians Adele Cliff and Tom Mayhew are hosting a birthday party... for themselves. Every audience member gets a free party hat and party blower, and there's a different special guest act (a "party guest") every night. Bath New Act finalist Cliff specialises in one-liner jokes. While Tring-based podcaster Mayhew has worked with Paul Foot, and is adept at delivering dark, awkward self-deprecation. He also recently triumphed at the Comedy Store's brutal, gladiatorial King Gong show.
The Free Sisters. 10pm. 10-28 August. FREE Entry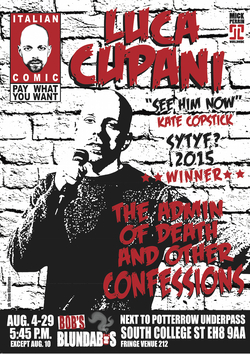 Luca Cupani: The Admin Of Death And Other Confessions
Winner of last year's "So You Think You're Funny?" competition, Italian newcomer Luca Cupani has appeared in many of the big competition finals recently, and (strangely) represented the UK at Canada's Just For Laughs festival in Montreal earlier in the year.
Cupani has enjoyed a rapid rise in the last twelve months, and in The Admin Of Death And Other Confessions, he'll be talking about Italian cemeteries, his constant battle with Catholic guilt, and a singular quest for lust that went wrong... Expect some dark humour, wrapped in an endearing package. You can pre-book tickets to guarantee a seat, or watch for free if you turn up at the Blundabus and the show isn't sold out.
Bob's Blundabus. 5.45pm. 4-29 August. £5
Rahul Kohli: Newcastle Brown Male
Charming Geordie joker Rahul Kohli is a prolific political gagsmith on social media. One of the few comics willing to talk about the chaotic and dangerous world in which we live, and all its political turmoils, he'll have plenty to say about Theresa May, Donald Trump, the European Union and ISIS. It's not all politics, however, as he's also got funny observations about the worlds of showbiz, sports and modern dating. Currently doing his Masters in Manchester, he could well be leaving the Fringe with the Chortle Student Comedian award, should he triumph in the final later this month.
The Stand 4. 9.25pm. 4-28 August (not 15). £8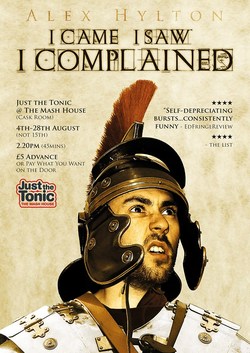 Alex Hylton: I Came, I Saw, I Complained
Leicester-based, Barry White soundalike, Hylton has greater wisdom and ambition than most youngsters. Choosing a comedy career aged just 17, Alex has driven hundreds of miles a week, performing in busy pubs and crowded clubs, packed theatres and brimming ballrooms... three years on the road. Alone. He's visited almost every town and city in the UK, stopped at every service station and collected exactly zero girls in zero ports. He's given up a job, a girlfriend, a social life, but he's finally reached the Edinburgh Fringe. One of the sharpest new acts on the circuit, with a bright future ahead of him, he's well worth checking out now while he's still playing the smaller rooms.
The Mash House. 2.20pm. 4-28 August (not 15). £5
Performance Anxiety
Newcomers Benji Waterstones and Jake Baker explore, amongst other things, their neuroses, befriending Utterly Butterly customer services and using a Harry Potter book as a murder weapon. Psychiatrist Waterstones been making a splash in all the big comedy competitions these last few years, won the Beat The Frog World Series back in 2014, and delivers silly stories and gentle reflections on life's absurdities. While Baker offers surreal observations delivered with dry wit, reminiscent of early Miles Jupp. Both of them are tipped for big things over the coming years.
The Free Sisters. 3.15pm. 4-28 August (not Wednesdays). FREE Entry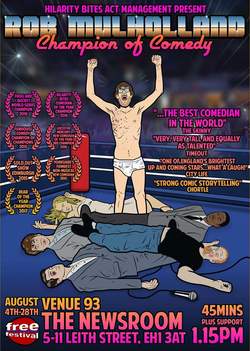 Rob Mulholland: Champion of Comedy
To be fair, the people on this list are a pretty good-looking bunch, so the order was almost random. But, somebody had to go last. And, as bastard lovechild of Louis Theroux and Amy Winehouse's rotting corpse, Rob Mulholland thoroughly deserves his billing at the bottom of the page.
The hubristic show title is not at all ironic. Mulholland's poster boasts about three genuine comedy awards he's won (and then a handful of more dubious claims). And he deserves all of them. On stage, he's as self-assured as the bragging marketing would suggest, and backs that up with some astonishingly good material that draws heavily from his own ludicrous life. Go see him. You won't regret it.
The Newsroom. 1.15pm. 4-28 August. FREE Entry
This article originally appeared on Jay Islaam's website.