Chronic pain and illness is a difficult topic to tackle. The symptoms are incredibly difficult to understand if you are not a sufferer, often invisible to others and vary hugely in how they affect different people. Although awareness is increasing, many conditions are only just beginning to be understood and even doctors can lack much knowledge on the subject. As someone who suffers from these 'invisible illnesses' myself, I have often battled the lack of understanding whilst dealing with the personal struggles.
Bearing this in mind you may understand my apprehensions about the release of Cake, a film based around the story of a woman suffering from chronic pain and depression following a traumatic and tragic accident. However Jennifer Aniston greatly impressed me with her portrayal of Claire, and the sufferings and difficulties her character faces as she adjusts to a life she didn't count on.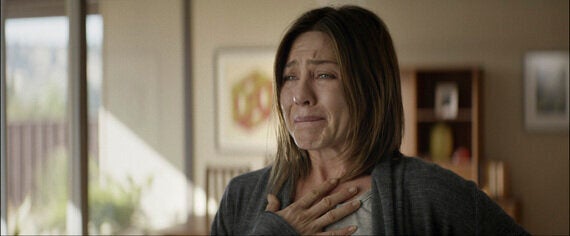 The actress's attention to detail in showing every emotion, every wince of pain never falters. The character experiences quite an extreme pain and depression as a result of what she has been through, and although this aspect of the story I found slightly more difficult to relate to (as my chronic pain developed gradually as opposed to after an accident) through Jennifer Aniston's performance I found myself engaging with, understanding and empathising with Claire.
At the beginning of the film you find out about the suicide of Nina (played well by Anna Kendrick), a member of the support group Claire attends. Embittered by her life experiences, Claire's reaction to the tragedy is very different to the other members and her bluntness in discussion doesn't sit well in the group.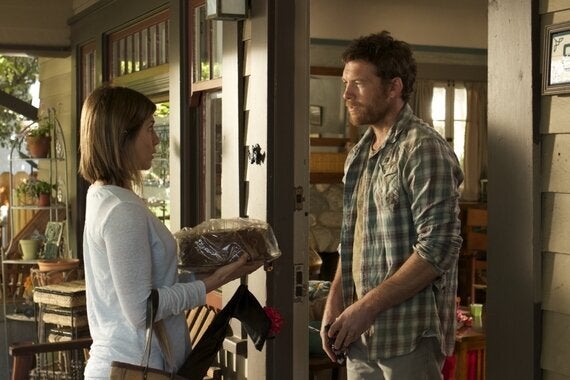 Claire goes on to become fascinated with Nina, her life and her death, and in her own strange way befriends Nina's widower Roy who is also understandably depressed. Sam Worthington gives a very convincing performance as Roy, whose journey through personal struggles becomes intertwined with Claire's. Together they learn to deal with their losses and face life, with ups and downs, twists and turns (and cake) along the way.
Also trying to help Claire are her therapist Bonnie (Mamie Gummer) and house maid Silvana (Adriana Barraza), but with Claire's stubbornness and lack of hope helping her is not easy. Adriana Barraza instantly makes you feel sympathy for her character who goes above and beyond the call of duty as maid and friend to Claire, making her own life more difficult. Her performance in particular made me feel for the internal struggle of Silvana who works long hours not just looking after Claire's home, but driving her around and looking out for her in every way, despite her daughter's pleas for her to quit.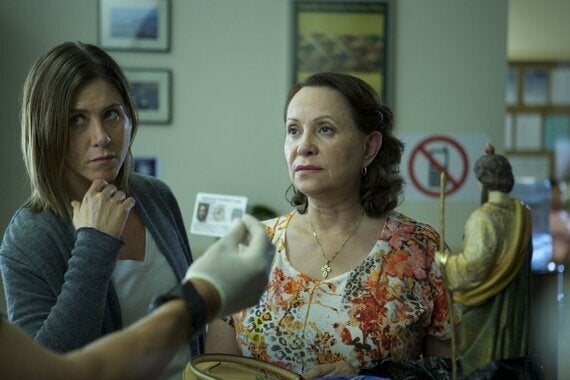 Ultimately Silvana is the latest in a line of people, including Claire's ex-husband, trying their best to help a struggling woman for whom it's never quite enough. The question is: does Claire want to help herself? This is a question all chronic pain sufferers face at some point in the management of their condition and one that resonated with me. It is much easier said than done.
This powerfully written film depicts every layer of Claire's loss; not just the obvious pain, grief and sorrow but also the fatigue, the lack of sleep, the persistent negative thoughts and visions, and dislike of sleeping alone, which I can certainly relate to. While this sounds like a depressing storyline it is in fact littered with humour, as well as kindness and hope which draw you in and keep your interest, as well as giving off positive messages.
Director Daniel Barnz has done a great job approaching such a difficult subject, and skilfully shows the different angles to all the characters. Credit also belongs with the producers (including Aniston) for such a well put together and accurate, sensitive yet not sugar-coated, finished product.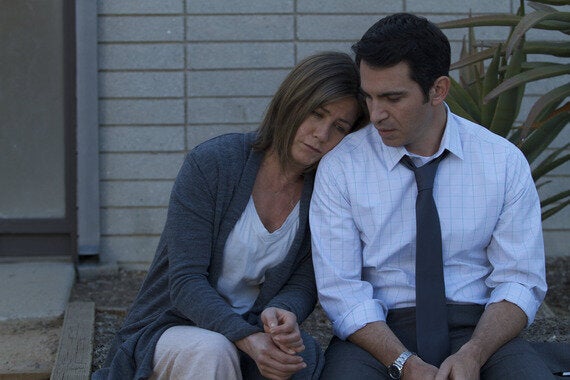 The only criticism (or more appropriately I should say concern) I have for this film is that due to the nature of Claire's circumstances her chronic illness is made very apparent (having resulted from physical injuries she has visible scars) and this isn't always the case. Chronic pain is often invisible to others and therefore even more difficult to understand than in this film. Every case is different, and Claire's struggles are unique to her.
It's not the most exciting or action-filled film, and there isn't a big special effects scene or rosy romantic ending, but in its own way it keeps you gripped, rooting for the characters and watching until the very end.
I would highly encourage others to see this film. It is a great eye opener presented in an engaging visual story with some outstanding performances.
Cake is available to own on Blu-ray & DVD June 29 - order your copy here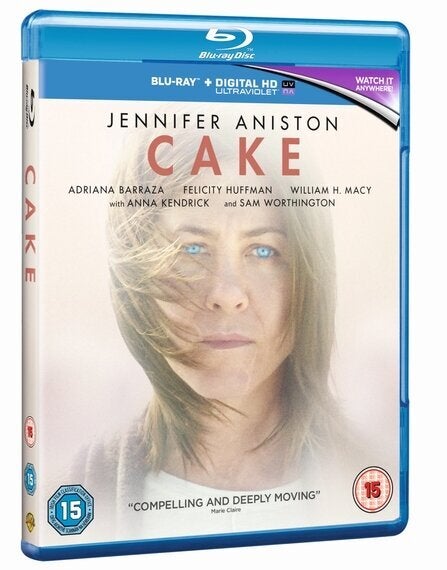 Popular in the Community