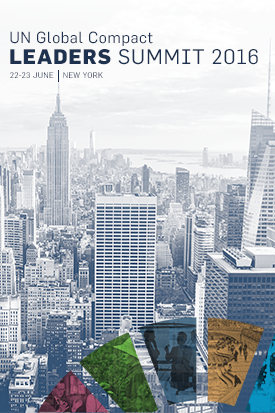 This week the bosses of some of the world's largest companies descend on New York to discuss the future of Planet Earth. The United Nations welcomes them to explore how business can help us achieve 17 Global Goals for sustainable development.
Given the sheer breadth of the Goals, from poverty to climate change, it is clear that meaningful and enduring engagement by business and investors is a prerequisite for success. By default, this means taking us way beyond the Corporate Social Responsibility (CSR) and Corporate Sustainability agendas of the past 20-years. That is why the host, the UN Global Compact, is arguing that the goals can help provide a critical element for modern business success - meaningful purpose.
Could this be a new wave of kind words and thin deeds? Or could the connection of corporate purpose to Global Goals unleash a new wave of collaboration to transform business and finance for good? Some of the new initiatives from the UK on corporate purpose could provide early answers.
Back in the mid-1990s, I was a bright-eyed CSR consultant helping major corporations design strategies to incorporate contemporary trends such as the triple bottom line or stakeholder engagement. It certainly wasn't in vein. Two decades on there are vast numbers of sustainability certified companies and the widespread disclosure of social and environmental policies. A clutch of companies also emerged that genuinely revolutionised their processes and products and lobby for more progressive national and international policies.
But we also know that most serious proposals to transform companies never made it beyond boardroom proposal. A lack of executive buy-in and a depressing reflex to assign CSR to the vagaries of marketing and reputation management had a calcifying effect upon the growth of sustainable business. And in the absence of tough regulation, this lack of desire to transform companies is why the macro impact of the corporate responsibility movement on poverty or sustainability has been so limited.
This comes as a massive opportunity cost to the Global Goals because problem solving and scaling up innovation are what successful businesses are good at. They are at the core of value creation and commercial survival. And while Global Goals do reference targets for making industry more sustainable and socially just, without applying a heavy dollop of "business DNA" to overall implementation, it is doubtful in the extreme that we will match the ambition of the Global Goals with the necessary endeavour.
Until now that is. In the UK, the emergence of a "Purpose Movement" in business offers some optimism. A burgeoning number of reports and commentary are coalescing around the concept that successful companies are defined by their ability to deliver and pursue clearly defined and visionary corporate purposes. Crucially, such proclamations aren't dreamed up by the corporate identity function. Rather, purpose is a binding commitment on the whole of the business, from the CEO to the front desk. It's why Jo Appleby, from the management consultants Impact International is attending the UN's Leaders Summit this week. "Most of our clients welcome how we embed the Global Goals into our leadership programmmes," she tells me. "They can see the connection between personal and organisational purpose." The latest approaches to leadership development place purpose firmly at the centre of both organisational change and entrepreneurship.
Tesla Motors is a case in point: just under 10-years ago an entrepreneur set out with a desire to transform the car sector. It is now a multibillion-dollar firm leading the shift to electric cars. But it's not just start-ups that can benefit from a clear purpose. As oft-cited exponents such as IKEA, John Lewis and Kingfisher suggest, there is clear business case for being a purpose-led business. In fact, The Big Innovation Centre - a London-based hub of global companies, national public agencies and leading universities - believes a being non-purposed business is costing the British economy up to £130bn a year of lost value generation.
One might say this is eerily reminiscent of 20-year old clarion for calls for CSR and investing in sustainability. But there's an important difference this time around which could save Purpose from well err... Purpose-wash. And that is the likes of The Big Innovation Centre recognise that mainstreaming Purpose cannot be left to the whims of the boardroom. In their recent report entitled The Purposeful Company, the authors put forward five options to embed purpose in business. Only one of the five addresses business directly, the rest speak to institutional shareholders and regulatory authorities.
This is evidence of lessons learned: namely that the quarterly wrath of insatiable stock analysts effectively bind boardrooms to short-termism and that only institutional investors - i.e. the owners - can compel the required shift in purpose and strategy.
Proposals floated by the Big Innovation Centre include privileging the voting rights of long-term investors and encouraging the amalgamation of pension fund management to facilitate larger blockholdings so that purpose-driven owners can exert influence on boardrooms and crowd out short-term investor interests. Effectively, the "Purpose Movement" is making a business case for redesigning the rules of the economic game. That is what some CSR and corporate sustainability advocates have promoted for years from below. At last, the case for transforming capitalism can come from above, with a clear investment rationale. This can be welcomed by the CSR and corporate sustainability professionals who, through organisations like the UK's Cambridge Institute for Sustainability Leadership, have called for Rewiring the Economy towards sustainability.
For the Global Goals, this shift can't come soon enough. A trail blazing group of institutional investors demanding their investees align Purpose with meeting the most relevant Goals to their core business would see shareholder activism truly come of age. Just imagine if purpose-driven investors in global car manufacturers - in line with Goal 12 on sustainable production and consumption - started demanding a more rapid shift towards sustainable mobility.
Now, I'd be the first to admit that changes to corporate governance, blockholding and the consolidation of pension funds are neither the lexicon of sustainability nor international development. But it is by reforming the enabling environment among institutional investors that Purpose can wrap itself around the Global Goals in a way our past efforts merely flattered to deceive. If the UN can make that part of the agenda for its delegates in Manhattan this week, perhaps business collaboration for sustainability will begin to deliver at the scale and speed that our challenges demand.