According to the State of the Nation 2015: Social Mobility and Child Poverty in Great Britain report in 2015, there is a growing social divide by income and by class in the UK. Recent events such as the vote by many to exit the European Union have highlighted this. Those who want change voted to exit; they want things to be better for them in the UK, before they can think about working with others. Whether or not you agree with them; Social Mobility is a real issue in the UK.
The report highlights that the richer are become richer
The income share of the top 10 per cent has increased from 28 per cent to 39 per cent since 1979 and the income share of the top 1 per cent has more than doubled from 6 per cent to 13 per cent over the same time period.
At the other end of the scale
There are more than one million children living a life of persistent poverty.
At school, boys perform significantly worse than girls. In 2014, boys' GCSE results were 10 percentage points worse than girls' with 52 per cent of boys achieving five good GCSEs compared with 62 per cent of girls. The best results were achieved by Chinese girls (79 per cent) and the worst by black Caribbean boys (39 per cent).
That is not to say that social mobility never happens. It does. There are countless stories of people succeeding against the odds. But that is the point - they have to swim against the tide in order to get on. Today's Britain does not provide a level playing field on which people can aspire to succeed and opportunities that once existed like University grants have disappeared as are many other opportunities that could have facilitated social mobility.
On the 17th November, Rocking Ur Teens ran its first Teen Boys Conference, hosted by Thomson Reuters in Canary Wharf. 120 boys came from all over the UK, from Cornwall, Carlisle, Kent and London to name a few of the locations, to hear stories of those who have swam across the tide to succeed. The event coincided with Anti Bullying Week and UK Mens Day, which reinforced its message and was sponsored by Youth Charity, Juvenis.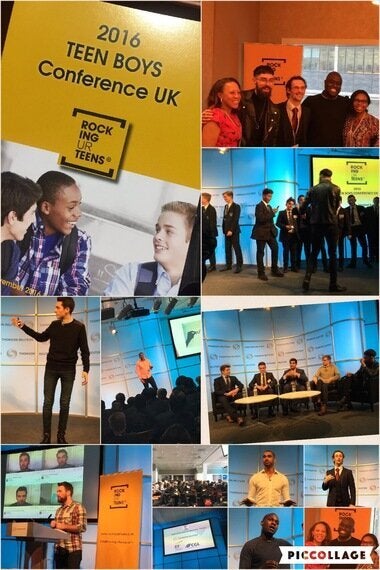 The energetic and interactive day was hosted by presenter & TV star, Dean Quinton.
Keynotes were provided by
• Dwayne Fields, Jamaican born Adventurer who has walked the North Pole to break the norm of the life that was expected of him
• Most successful Teen Entrepreneur on the planet, 17 year old Ben Towers on how he set up his business at 13 years old
• Jevanni Jay Letford, who lost friends to gun crime at the age of 14 and went on to make better choices and become a Lawyer and DJ,
• Ezechi Britton Fin Tech founder who was failed by his schooling, but used the discipline of Martial Arts to take control of his future
• Johnny Benjamin, Mental Health campaigner on living with mental health issues and finding ways to talk about the important stuff
• Simone Vincenzi, Life and Business Purpose expert on turning his life around after homelessness.
These stories and lessons learned provide a perfect springboard for the boys to think differently and know there are opportunities for them to succeed. They left inspired, with hope and the tools to succeed, but I know they will come across obstacles:
• Perhaps their parents wont be supportive
• Maybe their teachers have judged them as naughty boys, and it will be hard to convince them they can be different
• Their friends may pressure them into making poor choices
• Their home lives might not be conducive to study
• They may not have the money to go to university, or want the debt that follows
• They may not have the network of support needed to get their first job
• They may not come across as confidently or articulately, as those who have had a more advantaged start in life.
1. Mentor a boy who needs it
2. Share your story to inspire
3. Contact an organisation like Rocking Ur Teens, offer to host an event, volunteer, speak or sponsor.
4. Lobby Government to enable social mobility and close the divide between those who have and those who don't in the UK
Let's Make Social Change Happen in the UK