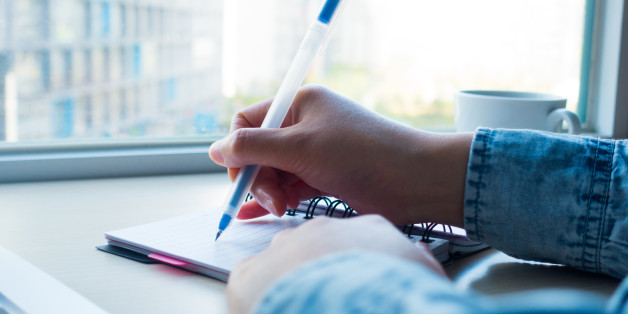 xijian via Getty Images
I was always writing when I was growing up in care. Not just creative writing, but also writing lots of letters to my social workers and to charities about my situation and what should be happening.
I believe that all children in care want to write their story. It gives back some form of control, as when you're in care everything is written about you in your social services file which you don't always see. This builds a drive within to get our stories heard.
Writing also helps us begin to process what has happened to us through our own lens - not from the perspective of our social workers or anyone else. It helps us to begin a recovery process and provides an outlet for any unresolved trauma building up inside.
As a child growing up in care, I didn't always feel that my voice was heard. I had some amazing social workers and people around me who fought for me, but wasn't always listened to about the important decisions affecting my future. I'll always remember one professional who wrote a wonderful letter on my behalf, fighting for me, and saying my voice needed to be heard. I hold that letter so dear to this day.
Writing helped me so much through my childhood, and has also been crucial for me as an adult. Several years ago, I started to process what had happened to me during the really difficult and traumatic early years of my life before I'd been taken in to care.
It was at this point that I began to write my book Hackney Child about my experiences. Until then, I felt I had no idea who I was or what I liked about myself. I would never have been able to speak to anyone about my life. Through my writing, I gained the confidence to share my story and discover who I was. As both a child and an adult, I've felt lucky to have had the opportunity to express myself, with the support of some fantastic social workers and recovery workers around me.
I'm passionate about giving that same opportunity to children in care and care leavers today, and am involved in several projects to help make that possible. This includes working with local authorities across the country to support care leavers to write books about their experiences, to then be shared with other young people in care. My ultimate vision is that all young people going through difficult times can have access to writing classes where they can express themselves safely and without judgment.
I'm also delighted to be on the judging panel, for the second year running, for the Voices writing competition, run by the charity Coram Voice for children in care and young care leavers. It's fantastic that the competition is a positive celebration of these young people's voices, when so often there can be a focus on negative experiences. The talent we unearthed last year was unbelievable - the entries were so powerful and the young people used such creative ways to share their thoughts and feelings.
It was an amazing moment for me to read their writing - I could picture the young person behind the words. Some may never have put pen to paper before, so it was an honour to be trusted with their stories.
I'd urge children in care and young care leavers to enter this year's competition. My advice would be not to think too much, just write what you feel. This is your personal space, and a chance to share your inner thoughts. I also believe that every social worker should get behind it, and share with all the young people they work with. It's vital that they are given the opportunity to take part in something so positive and their stories definitely need to be heard.
The Voices competition has three categories: Primary School, Secondary School and Care Leavers, with a special additional award for migrant children in care or care leavers, and the theme is 'New Beginnings' with a 500 word limit. The deadline for entries is 21 February 2017.
For more information and to enter, please visit coramvoice.org.uk/voices-2017 .