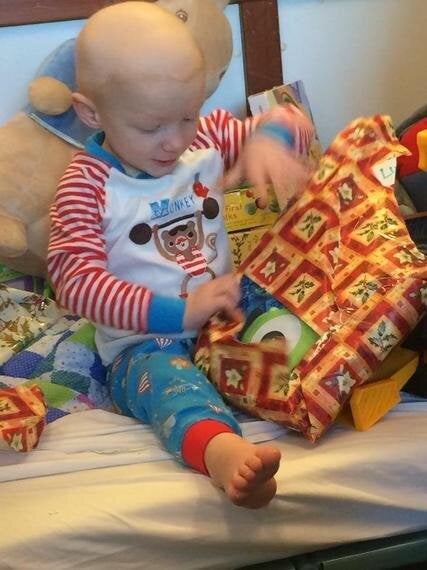 A cancer ward is the last place you want to spend Christmas with your child.
But three years ago my son Luke, who was two at the time, was a month into his treatment at a specialist hospital in Nottingham, a two and a half hour drive from our home.
We had hoped (like all of the parents on the ward probably did), that we'd be at home together for Christmas, but as any cancer parent knows, when your child is on treatment their health changes so quickly, it's like a rollercoaster.
Luke wasn't eating or drinking enough due to the chemotherapy making him feel so sick, and the doctor suggested that he have a feeding line inserted in his tummy so we could give him the vital nutrients and fluids he needed without him feeling nausea.
We agreed to let him have the operation, and the plan was that we would go home on Christmas Eve if the operation went well and there were no complications.
On the 22nd of December we were at a special Christmas party across the road from the hospital, singing songs and feeling the festive spirit, but then Luke complained that his tummy hurt. In a matter of 30 minutes Luke went from singing carols to being bent over double in agony.
We took him straight back to the hospital, and they discovered a serious skin infection around his feeding line. That meant a strong course of antibiotics and that he'd need to stay on the ward until after Christmas, so that was Christmas cancelled.
But because of the cancer charity CLIC Sargent, me, my partner Tim and our other son Euan (who was only a few months old at the time) at least had a lovely place we could stay for free just across the road from the hospital, called Billy's House.
Before CLIC Sargent got us a place there, Tim was sleeping on the floor next to Luke's hospital bed, and I was in a family room at the hospital, sleeping on a camp bed, with Euan in a Moses basket. Billy's House obviously wasn't the same as being at home, but we were at least nearby to Luke and the staff were so lovely.
My Christmas presents for Luke and Euan were all at home in Northampton and when she heard we wouldn't be going home after all, Norma, the housekeeper at Billy's House went through the cupboards and gave us two massive bags of presents to wrap up for the boys - and some festive food that we shared with the other parents and children on the ward with us.
So that Christmas we ended up pulling crackers and eating together on the children's cancer ward with Tim's parents and my parents. The rest of my family decided to surprise us and also drove up bringing presents, smiling faces and big hugs.
No one knew if this would be Luke's last Christmas and everyone wanted to make as many happy memories for him and us as possible.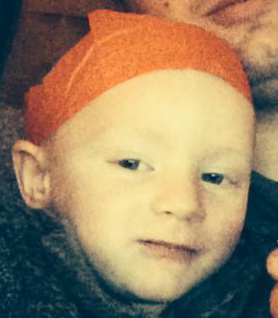 We came home on New Years Eve in the end and had another Christmas day at home on the 12th of January, and it is a very happy memory from such a hard time.
Looking back I am so grateful that we could spend that Christmas together, I could not bear the thought of us being split up as only one parent is allowed to stay with the child on the ward, so if Billy's House hadn't been there half our family would have been at our home in Northampton and the other half in Nottingham.
This Christmas a lot of other families will be staying at Billy's House, or one of CLIC Sargent's other 10 Homes from Home across the UK that mean families can stay together during treatment, whenever they need to, for free. I'll always be grateful to them for making that Christmas a touch more bearable, and for all the support they gave us when Luke was on treatment.
But they get no government funding whatsoever and wouldn't be able to support any families without donations from lovely people and businesses like the supermarket Lidl.
It's just been announced that Lidl has raised £1.6 million for CLIC Sargent over the past three years! Luke started fronting Lidl's appeal for CLIC Sargent in February, and I'm so proud we've helped their staff and shoppers to raise £600,000 over target.
Luke's in remission and doing well. We're looking forward to Christmas this year, but as we know all too well - cancer doesn't stop for Christmas.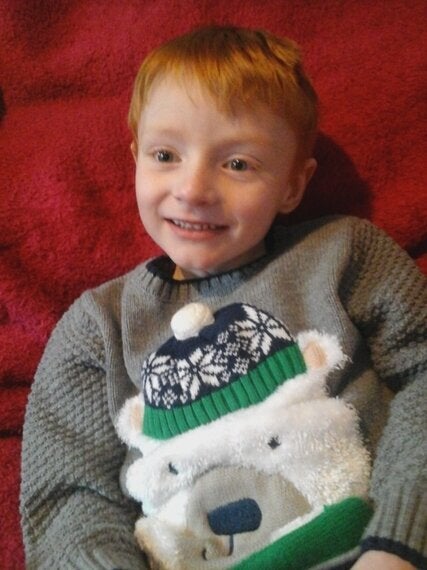 While we celebrate another year of watching our two boys grow and being immensely grateful that we can enjoy the festive season without an empty chair at the table, we remember the children who fought so hard but are now forever sleeping.
Lidl UK has raised £1.6 million for children and young people's cancer charity, and funded over 64,000 hours of support for young cancer patients and their families.