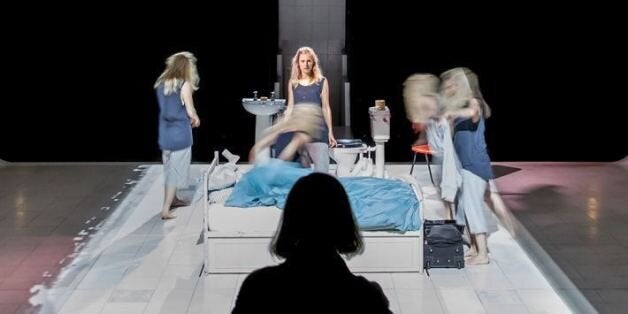 I went to the theatre quite a lot this year, mainly because I couldn't get tickets for the final One Direction concert. In lieu of throwing my pants at Harry Styles here are the best things I saw in 2015.
Honestly, the amount of times I've tried to explain this play to people when I'm drunk and want to convince them that theatre is really good. But it never ends well. It makes you question everything you thought you believed, I tell them. It makes you think ugly things and it makes you want bad things to happen, I tell them. And they say 'is that not just scientology?'
Gary Owen's play was deceptively compact - a domestic drama about a father son relationship gone wrong. In fact it is one of the most perceptive understandings of patriarchal privilege I've ever come across. It asks: when does empathy become excusing?
I have this fascist dream that I can force everyone in the world to watch all the plays that I think are really important. This is the main one.
Yeah it was an amazing production where they used stage magic to make the audience feel they were hallucinating from drugs withdrawal. Yeah it was a brilliant script from Duncan Macmillan that completely put you inside the head of a charismatic, manipulative, dazzling, desperate addict. And yeah it passes the Bechdel test of theatre with flying colours.
But towering over all of this brilliance was one woman: DENISE GOUGH. It's such a cliché to say she gives the performance of her life. But the truth is she gives the performance of all our lives and you will probably never see anything better. (Luckily for the world it's moving to the West End in 2016. You need to go STAT.)
Bearing witness to women's experiences and the shitty things that happen to them is vital, but it helps if you can have fun while you're doing it. This play about muddled emergent female sexuality never alienates its audience - which is important because as we know some people find women's stuff a bit freaky - because it manages to always be warm, funny and wise.
It was a huge gauntlet thrown down by Damsel Productions, who set themselves up with the mission statement to bring more of women's writing to the stage. Hannah Hauer-King's direction embodied this song and the cast transported me to a re-make of She's All That except where Freddie Prinze Jr has knocked someone up and is not taking responsibility for his actions.
E.V. Crowe's play was like a beautiful hymn that you thought you'd never heard but actually somehow you knew all the words to. It wasn't like watching something, it was like being inside something. Maybe this is what it feels like for people who actually know how to do meditation. You feel like you've spent an hour watching nothing, and then you realize that you have in fact learned this weird dark secret about the human condition.
Sometimes it's not so much what you watch but the way that you watch it. Seeing Bryony Kimming's joyful show about male depression became a life event rather than just another show because I saw it with a group of brilliant people and afterwards we all went to the pub and talked about our feelings and cried. Only an extraordinary show could make this happen, but I'm so grateful I saw it in this cocoon of love.
It's now so rare to see writing about the working class that is humanizing and sympathetic. Keeffe's Barbarians, first performed in 1977, understands why for angry young men on the dole, football is a religion, women are 'bints', and smashing things up is better than going to work. It never fetishizes or romanticizes them, and the ensemble of three young actors found all their complexities in the most compelling way.
Deborah Pearson is the most exciting artist I can think of, and the fact she has a full-length play on at the BEST venue The Yard in 2016 makes my heart leap with joy (Made Visible, go go go). Time Pieces is an eerie meditation on time that manages to be both joyful and utterly tragic - that's the beauty of Pearson's work.
Oresteia, Almeida Theatre and Trafalgar Studios
This is number one of everyone's list so I almost feel like it's absurd to put it on mine. Every superlative has already been used, but the main reason why I'm sticking with my choice is that Robert Icke's Oresteia made me realize the ancient Greeks wouldn't always make me want to fall asleep. I'd sworn them off because I was like THEY'RE SO BORING AND ALL THEY DO IS KILL CHILDREN FOR REVENGE. Spoiler alert, they did kill some kids in this, but fliiiiippin' heck it was one of the most intense things I've ever ever seen. Bearing in mind the ancient Greeks are all super super dead, it was a revelation to me to watch something that bubbled with life in every moment.
I think everyone has the Shakespeare fear and if they say they don't they are either an academic scholar or lying. I keep trying to reconcile myself with the fact that going to watch Shakespeare is always going to feel a bit like when you are a child and you are forced to eat greens because the adults SAY it's good for you.
But then I watched this and there were blow up sex dolls and video cameras and Romala Garai's Isabella spat corrosive anti-patriarchal acid from her mouth and I realized that sometimes Shakespeare is GREAT.
I think if theatre was the Premier League the Royal Court would have won it this year and Vicky Featherstone would be Claudio Ranieri. It would be an oversight to not mention Hangmen and Linda, the dazzling blockbusting shows Downstairs - but this was the year of trying things out in the space upstairs, and very often creating magic.
Lela & Co. was a microscopic insight into the life of a woman who has been sex trafficked, so it was always going to be uncomfortable. But director Jude Christian's decision to leave the audience sat in impenetrable darkness for a huge part of the show transported us to a place of visceral anxiety.
Honourable mention goes to Anders Lustgarten's Lampedusa; is there a playwright out there who so manages to tap into the political mood of the time and galvanise his audience? In one of the most volatile years in recent history, Lustgarten was the only one with his finger so closely on the pulse of world events, urging us to bear witness to the experience of migrants.