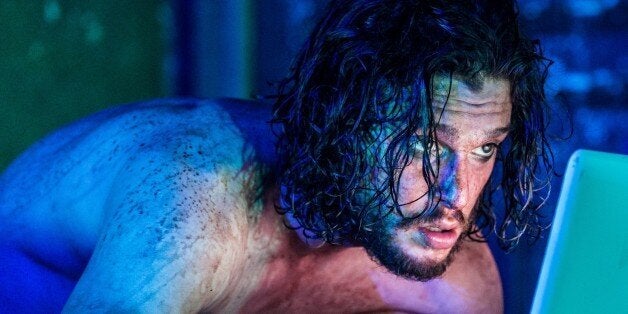 The theatre is a bit like Magaluf; what happens there stays there. That's why it's flagrant mischief to whap out your phone and start taking photos. It would be like ringing up for a Domino's in a church.
I'll tell you who doesn't mind though: the audience at Jamie Lloyd's Doctor Faustus. I've never seen so many people snapping away and displaying a devil-may-care attitude to etiquette.
Why such scally waggery? Two words: Kit Harington.
The actor, who is in some show about angry vikings called Game of Thrones, plays the eponymous devil-pact-making mischief maker in Lloyd's latest show. I remember him more resonantly from his role in the film adaptation of Vera Brittain's tragic war memoir Testament of Youth, although the experience is hazy as I cried every single tear in my body and was dehydrated and had to be put on an IV drip.
Anyway, the point is, it's a casting coup. Undoubtedly more people will book to watch this show because it's got the dude from Game of Thrones in it than because they think Christopher Marlowe is an underrated Elizabethan dramatist.
Kit Harington is a huge star, so people's phones ping out of their pockets and are drawn magnetically towards his face, and lots of people will be waiting outside the Duke of York's theatre in London, hoping to touch his hair. He's got great hair, it's a bit like Charles II if he had been around when topknots were a thing. And do you know what? I think that if Kit Harington's blank verse brings all the boys to the yard, that's a really good thing.
Some people can be disapproving of celebrities in the West End - I've already seen one tweet that lamented that the Kit Harington fangirls had 'ruined the atmosphere'. Personally I prefer it when I am at the theatre and people are pumped with adrenaline to see their hero, rather than asleep or nearly dead. But that's just me.
But sometimes the sneering is fair enough. Sometimes star casting feels cynical and conservative. Lumping a Hollywood star into a beige play and watching the tickets fly isn't a radical strategy for art. Nicole Kidman was knocking about recently playing scientist Rosalind Franklin in Photograph 51; she won an Evening Standard award and lots of people went to watch it, but as a piece of theatre it made absolutely no dent on the critical landscape.
Funnily enough, last time Kidman was on a London stage, ex-Telegraph critic Charles Spencer described her as 'pure theatrical viagra'. It might be perv-y reviewing like that that made her stay away for seventeen years. But it's a phrase that comes in handy, because it's what Lloyd, Harington, and the rest of the company have created with this Doctor Faustus.
NO, not because Kit Harington makes me excited in my pants. I'm more into Matt Baker from Countryfile. It's because for all the fans of Harington, who might have never seen a play but want to see Jon Snow in the flesh, this production is a rush of blood to the brain, which will send adrenaline chasing through your veins. It's a gateway drug shot in the arm for the future of theatre, a one night stand that first-time theatre-goers will want to turn into something more sustainable.
People Places and Things playwright Duncan Macmillan recently said that theatre's latest crisis is to prove it is better than Netflix; I think this Faustus would get you to put your Better Call Saul binge on temporary hold.
I'll admit I've previously found Jamie Lloyd's starry, showy productions a bit dick-waving and intense. His 2013 Macbeth with James McAvoy made me want to get a hot water bottle out and have a cry, and his recent revival of Pinter's The Homecoming looked fantastic but couldn't vindicate what feels like a deeply misogynistic piece of writing.
Lloyd's Doctor Faustus is absurdly showy, flamboyant, always daring itself on to do something even more outrageous. What a show to see if all you had on your agenda was popping down to see Kit Harington in his boxers.
Lloyd's show is visionary, often mingling the mainstream and the avante-garde in the most adept way. At one point the disembodied voice of Derren Brown rings out; later on Harington recreates a Caravaggio painting surrounded by men in dresses. Harington's Faustus searches his Macbook for black magic like a member of Anonymous; later the wickedly brilliant Jenna Russell as Mephistopheles serenades the audience with Better the Devil You Know.
And the director is smart with his star; Kit Harington may be a box office draw, but Lloyd marries his real life celebrity with Faustus's growing notoriety, cleverly subverting the actor's own fame.
It's a thrilling evening, full of fun and silliness, darkness and anarchy. But what's more thrilling is the thought that sat in half of those seats are an entire new generation of theatre-goers, who are having a great enough time that they might just keep coming back. If you see a swelling downstairs, that'll be the sold out stalls.