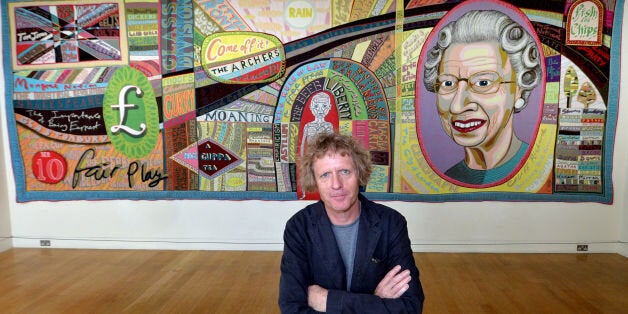 Here are a few cultural shenanigans you might want to check out this week...
Made Visible, The Yard Theatre
When I started this blog, I said I thought that there was an opening in the market for arts criticism that read like the confused diary of a teenage girl. That's lucky because my response to this show is like a fourteen year old who is worried about choosing the wrong GCSE options and also the fact she has run out of credit for her Nokia 3310.
Made Visible is a play about white people acknowledging their privilege and coming to terms with the fact they might be a bit racist. I saw it as a draft reading back in the summer and I really loved it. It sounds a bit 'FFS white people' but it was challenging and cerebral and funny.
But you know how when you've been with someone a few years and you used to think they were the funniest person alive and so dreamy and now they have got an ear piercing and just bang on about Slavoj Zizek all the time? And your friends look at you with a very skeptical expression like 'do you ACTUALLY still fancy them'? And you're like, 'yeah sure I mean of course I do except I imagine I'm in a coma when I'm around them but otherwise it's totally fine'.
That's how I feel about Made Visible. I want to love it for what it used to be, when it was zingy and sharp and dangerous. But it's mutated into a different thing: the self-conscious hand-wringing of the piece has now become neurotic, like you would break off your knuckles from doing it so hard. Where Pearson had exposed her own problematic thinking and allowed it to provoke a conversation, the production now basically puts her in front of a firing squad and says WE JUST WANT TO CLARIFY THAT ALL THESE RACIST-Y THINGS ARE NOT WHAT WE BELIEVE. There's even a moment reminiscent of Schaubühne's An Enemy of the People: they broke down the fourth wall and asked the audience to say what they were thinking. This gives each of the cast a minute to respond to how they feel about the play that night. It ends up feeling like all the play does is apologise for its own existence.
I want to love it more than I really do because I know it was really good once, but there is also another word for that which is Being In Denial.
Grayson Perry, Sketchbooks
So I once went to an audience Q&A with Ian McEwan (I know I'm rock and roll through and through) and someone asked him about this writing process. He was all like "Pfffttttt what a boring question why does anyone care". People really wanted to know though. Like "please Ian do you use HB pencils or biros?"
People want to know because learning about the creative process of artists and writers is fascinating, and it's also a reminder that all great work starts somewhere and changes and grows. That's why it's genuinely such a joy that Grayson Perry has published parts of his sketchbooks from throughout his career. I love that when sketching ideas for Hold Your Beliefs Lightly he wrote 'West London is shit', and that when he created A House for Essex his sketches basically amount to a whole world and a life story around the work.
It's bright, big, and something you could sit and feast your eyes on for hours. Now I want Des'ree to publish her notebooks so I can learn how she comes up with her rhymes.
If you want to go and see a film that will make you want to opt out of society because the world is run by meanies who have got no empathy for other humans but lots of money and power and will always win then this is definitely the film for you. Some people are into that sort of thing, some people prefer period dramas. I am a fan of both.
This BBC Three drama about a girl who escapes after being kidnapped for thirteen years is extremely gripping. Plus there are two cops in it that have big time sexual tension which is always one of my favourite things they put in dramas.
What keeps me interested in Thirteen is that Ivy is obviously a massive sneak. After being missing for so long, when asked about her life in captivity she is inconsistent and seems to even maybe be covering up for her kidnapper. She might have Stockholm Syndrome, I honestly have NO IDEA. All I know is that when I watched this in the house by myself I felt highly anxious. But that may have also been because I had just read a book which was told entirely in the head of Raoul Moat.
My favourite theatremakers Damsel Productions just did a short but sweet run of Brute by Izzy Tennyson at Soho Theatre, a one-woman piece all about the agonies of growing up as a teenage girl. (When I was a teenage girl I got my first period in a play rehearsal where I was made to do a Cornish accent, now that was agony.) It feels like a warm-up for their summertime show Fury, written by Phoebe Éclair-Powell, which promises to be incredible. Their artistic director Hannah Hauer-King recently wrote this eloquent piece on why they do what they do; they're making something happen for women in theatre and you need to keep your eye on them.
The Big Short is in cinemas now
Fury is on at Soho Theatre 5-30 July
Related