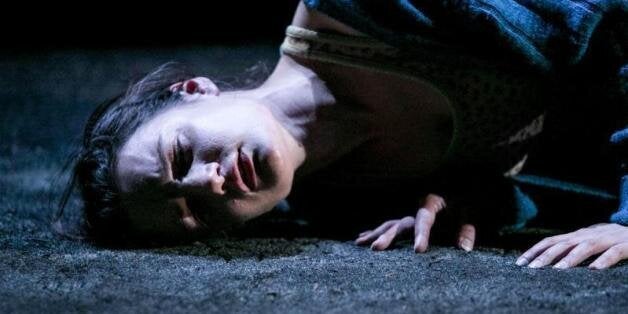 This past week it was love for these things that set me afire...
A Girl is a Half-Formed Thing, Young Vic
What it is: An intense, fragile, shattering adaptation of Eimear McBride's award-winning masterpiece
Sometimes a piece of art is just so mind-blowingly, life-alteringly, world-endingly brilliant that just the thought of trying to speak about it is oppressive.
It's not because there's nothing to say; THERE'S SO MUCH TO SAY, and any attempt to try feels like trying to explain what Stephen Hawking thinks (something about maths?) in a single text message.
I feel this way about A Girl is a Half-formed Thing by Eimear McBride.
But it's not on to just go, "It's really bloody good. No, I can't tell you why. IT'S JUST SO GOOD." Because it doesn't do something that inspires such awe any justice.
McBride's book has been adapted for the stage by Annie Ryan, and it's at the Young Vic in London before it goes on tour - and it's astonishing. Its nameless protagonist, who sweeps over you with her internal world when you read the book, is played with profound intensity by Aoife Duffin, a woman alone in a landscape of darkness and foreboding.
Don't get me wrong. For me this was not the same experience as reading the book (how could it be?). What startled me so much about the book was how internal it felt, as the narrator's swerving, deepest thoughts washed over me. In performance, of course, the demand is for it to be performed, made big - there are multiple voices, which Duffin can convey with just a minor tilt in her register.
But its essence remains in tact - it's one of the most perceptive descriptions of a woman negotiating a life which is a cycle of damage, in which the world hurts her so much that she starts to hurt herself. She learns that sex is her power, but neither is it something she owns.
Here's the clincher, though - I've had few moments in a theatre like the very last one in this play. It was frightening, awful, and the audience reacted viscerally, completely shaken as one. That alone is worth experiencing.
What it is: A police drama set in Yorkshire where a lot of bad shit is going down
What I don't understand is how I came in to the office after Christmas and everyone was talking about the botched murder trial of a man with a yard full of cars, but no one is talking about Happy Valley on BBC One. Even when I stand behind them and breathe down their necks and insist there are some very interesting gender politics in this series. Do you think that's putting them off? Surely not.
The second series of Happy Valley, where the relentlessly awesome Sarah Lancashire plays a police officer who has had the shit beaten out of her but still sometimes goes out with a hat on, confirms Sally Wainwright as creating some of the most watchable TV we have.
I am as gripped by this show as I feared I might be, and I'm not even sure what it's all about. Some women have been murdered, because women are always getting murdered on TV, but the main thing is Wainwright creates such brilliant characters that you would watch them going to buy loo roll at Co-op and it would still be good.
There might be some dodgy gender stereotypes going on here - I'm really not sure about the artist formally known as Alan Partridge's girlfriend (her actual name is Amelia Bullmore) roofying the man who has spurned her to be with his wife. It all feels a bit Glenn Close and the rabbit. But Wainwright is adept at showing the ways that women are made or broken by abusive men, so I'm going to cross my fingers that there is something more intelligent going on here.
Other than that, I just love the idea of Sarah Lancashire turning up at someone's funeral like a boss and just eyeballing all the mourners. SHE DOES WHAT SHE WANTS.
What it is: A collection of short story about what we do with our tiny little space in the world, and all the things we feel when we're there
Lara Williams is a seriously impressive writer, and judging by her first short story collection, she is going to write some more things in the future that will really go KA-POW.
Treats is full of characters who are going through the motions of life and know it, but still persist. It is strewn with the things they thought were clichés - the inevitable unplanned pregnancy, the extramarital affair, the man who wants you to do weird sex things - until they happen, and they stand back and observe their own pain like it's a museum exhibit.
The title story reminded me of something Katherine Mansfield might have written, if she lived in a world with iPhones and Topshop. I also loved It's a Shame About Ray, about a man who has had a baby and wants his wife to stop calling him baby, and It Begins, when a woman reclaims her life after losing everything.
Happy Valley is on BBC One of Tuesdays at 9pm
Treats is out now and published by Freight Books