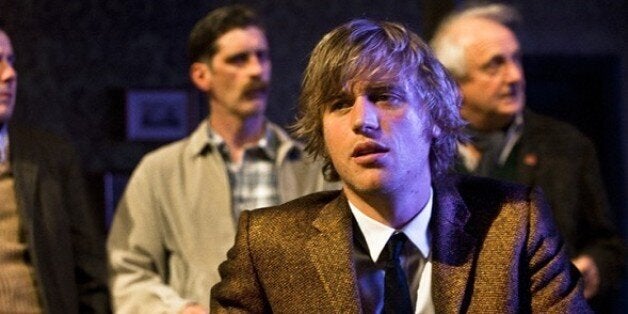 This is a totally vegetarian round-up of a week in culture. By that I mean there are absolutely no pig puns. They've become a squeal issue if I'm honest.
Sorry that one just came out.
Hangmen, Royal Court Downstairs
Ten years without a new Martin McDonagh play on the stage. TEN YEARS.
Bloody nightmare for all concerned if you ask me, as Martin McDonagh's films, In Bruges and Seven Psychopaths, just don't capture his capacity to make you shudder and laugh at the same time. His play The Pillowman is, I reckon, one of the best plays of the 21st Century so far. But it's also about torturing prisoners, writing macabre fairy tales, and the murder of children, so, you know, not one for the pearl clutchers out there.
I'm pleased to tell you that Hangmen, which is at the Royal Court Downstairs, is dark, hilarious, weird and magnificent.
In a pub in Oldham, hangman Harry Wade is avoiding questions from journalists on how he feels about the abolition of hanging. It's a place full of stragglers who can't quite admit that they're alcoholics, but things go electric when a charismatic but slightly creepy stranger turns up and Harry's daughter goes missing. He's played by Johnny Flynn which such mod-ish dynamism and charming eccentricity that he could have made the 2010 remake of Brighton Rock not shit.
I definitely want to flag up the alarming regularity with which McDonagh makes women the butt of his jokes (expressed articulately and in more detail here by Stewart Pringle). And there are moments with ropes and necks and chairs that scored quite high on my anxiety scale.
But this play will thrill you, excite you, make you laugh and make you think. And you can't ask that much more from theatre can you? It's going to transfer to the West End for sure. Vicky Featherstone has her first epic hit. If she keeps programming the Court the way she's doing right now, it'll be the first of many.
GIRLS / CLUB is an extremely ace zine for girls who do cool stuff, about girls who do cool stuff. It launched its second issue last week at Power Lunches in Dalston, and I supremely enjoyed being surrounded by babes whilst drinking Strongbow.
Edited by Georgia Murray, GIRLS / CLUB completely knows who it is and what it wants to be. What makes it most distinctive is the sincere way in which it is interested in championing the work of other young women. What I particularly loved in issue two were El Hunt's flawless piece of writing on the lack of women on music festival bills, photographer Hannah Jones asking nine girls what it's like to be in your twenties, and Sophie Bishop on the travails of being a woman on the comedy scene. This is going to be big.
First Dates, Channel Four
I contemplated going on First Dates because I just can't get on with Tinder. Not when I get messages like this: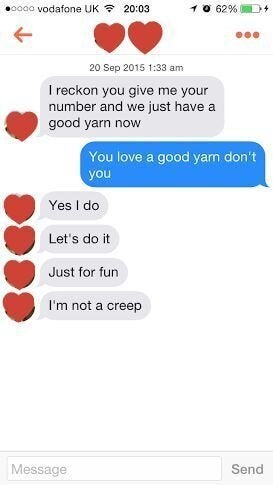 When you have to do a disclaimer to say you're not a creep - well that's just not right is it?
Well anyway. I'm not going to go on First Dates. And I'll tell you why. Because I'm not up for having to eat a meal with a man with an oppressive beard who wants to do Jager bombs during a civilized meal as if he's out on the freshers lash at three in the morning. I also don't understand why that guy who wanted to talk about politics on the first date was met with such disapproval. Perhaps that's where I'm going wrong. My opening line is and remains, would you be interested in having an open debate with me about the economic alternatives to austerity? If it goes well, then we can talk about your views on nuclear disarmament.
Tell you what though - I don't mind watching it on my sofa, whilst drinking wine and eating a roast dinner, and chuckling very loudly in a manner that is certainly not going to get me invited on any dates.
Calm Down Dear Festival, Camden People's Theatre
Camden People's Theatre, a glorious tiny box where anything can and will happen, has brought its feminist festival back for the third year in a row. It's called Calm Down Dear, and very fact it exists floods my veins with hot excitable womanly adrenaline.
It's not just that this year's festival doesn't seem to leave a single stone unturned when it comes to exploring different women and their lives. It's that this is a space to talk and think about the constantly changing but thumping beating heart that is feminism. I'm most looking forward to seeing Hula House, an immersive off-site performance that rehumanises sex workers.
Two years ago, I was commuting about four hours a day to do an unpaid internship, and I honestly just used to listen to No Room For Doubt by Lianne La Havas on repeat and stare out of the train window looking earnest and tortured. Heady times.
I'm pleased to say that I've been listening to Lianne La Havas's new album in a real house that I now pay to live in with actual money. And I've been enjoying it a lot, and not doing any weird sad faces out of my window. If they wanted to make a film about my life, I would want this to be the soundtrack. Although apparently they aren't commissioning any more films about 24 year old girls who just eat toast in bed and watch Question Time. Which is annoying because I hear Keira Knightley was really interested in the role.
Hangmen is at the Royal Court Downstairs until 10 October
Find out more about (and buy) GIRLS / CLUB here
First Dates is on Channel Four, Thursdays, 10pm
Calm Down Dear Festival runs at CPT until 12 October
Blood by Lianne La Havas is out now