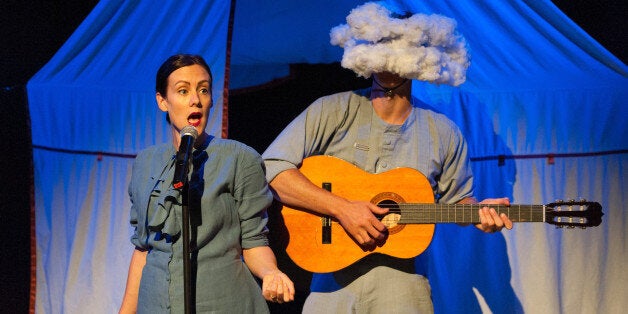 In a week when we learnt that airboards are illegal to ride on the streets of London, the only way to console ourselves was to go to the theatre and think about our feelings.
Fake It 'Til You Make It, Soho Theatre
What it is: A life-changing show about being a man with clinical depression - and being a woman who loves him
"We're going on a group trip to see a show about men and depression," I said.
"That sounds depressing," they said.
But it wasn't depressing, was it? It was life-affirming. We laughed, we did a happy cry, we did a sad cry, we did all the crys. And afterwards we all went to the pub and talked about our feelings. It was actually sort of revolutionary.
Measure for Measure, Young Vic
What it is: Hands down the best production of a Shakespeare play that I have ever seen
If you don't know the story of Measure for Measure, it's about a Duke who knows his town has got a bit seedy so he legs it and sticks on a friar costume, leaving a sanctimonious twat called Angelo in charge. Angelo hates all fun, especially premarital sex, and he is going to hang this guy who has been indulging in aforementioned conjugal relations. Until he meets the naughty chap's sister, who is a nun, and practically starts singing R Kelly Bump and Grind to her and says if they could arrange a quickie he might change his mind.
As an A level student studying this, I was like, 'Isabella mate just give him a blozzer for goodness sake there's a man's life at stake here.'
But Romola Garai as Isabella, who at one point literally spits her lines like her mouth is swilling with corrosive anti-patriarchal acid, made me understand better than ever before that this play is about female autonomy. She is incredible. All of the cast are.
And Joe Hill-Gibbons, whose Edward II at the National used multimedia to thrilling effect, has made this problem play more fun, mischievous, and modern, than its ever been. He did that by using blow up sex dolls, Alanis Morrissette, bongs, and video cameras. But he also did it by being generally bloody excellent.
Teddy Ferrara, Donmar Warehouse
What it is: A play with lots of interesting arguments, but lots of terrible dialogue
I'm in turmoil about Teddy Ferrara.
This play about the suicides of gay students at American colleges has some really important, nuanced things to say about the way we view the LGBT community. Through the inoffensive, blonde-haired, blue-eyed protagonist Gabe, head of the LGBT students group and running to be student president, playwright Christopher Shinn seems to suggest that we're not as open-minded as we think. Gabe seems only to embraced by the openly bigoted university president because he is white, privileged, straight-seeming and able-bodied.
And for all his talk of nurturing a community for LGBT people, Gabe too distances himself from the people he finds unpalatable, and declares that he doesn't believe someone could kill themselves because they're gay. He denies the experiences of others because they don't correlate with his own.
This is all very important, and there's so much more here to think about. Shinn is a perceptive observer of the dynamics that exist in conversations about social and political change. He knows that those who are angry can be dismissed because they seem emotional, not sensible. He also makes it clear that just as the acceptable face of the LGBT community remains very limited, intrinsically so does our idea of masculinity itself. It's made clear throughout that Tim, alpha-male sports team captain, is hiding in the closet from himself just as much as anyone else - and this denial of self has potentially fatal consequences.
All the above gives the audience plenty to chew over, but I'm sad to say that important as these thoughts are, I'm just not sure this is actually a very good play. It's like a sitcom, chocka with cringey dialogue - a but like an X-rated Glee without the fun musical interludes. Another Broadway export, The Motherfucker in the Hat, felt the same - but it was more competently written as a piece of drama. And at the end of the day, no one goes to the theatre to watch something they could be watching on TV.
What it is: A day of brain-expanding talks from a formidable line-up of very clever people
I have to be honest, I never really used to get what TED talks were about. The only one I'd ever watched was Sheryl Sandberg's, because we've all watched that one haven't we. Sometimes people would send me links to them which is obviously a very nice thing to do but I am a lazy, terrible person and never watched them.
I went to the TEDx event in Brixton last weekend and now I totally understand. I am a TED talk convert. I want to watch all the TED talks. I want to give a TED talk.
To be in a room with so many other people, sharing ideas and celebrating ingenuity and creativity felt really, really exciting.
Amongst the brilliance, I was so lucky to be able to hear two very incredible talks about identity. Playwright and poet Inua Ellams spoke about the crisis in mental health for black men. We hear all the time that men need to talk more, but Ellams pointed out that many black men are socio-economically excluded from typical gathering places for men, like football grounds and pubs, and can't participate in these conversations.
And then Sabah Choudrey spoke about being trans and Muslim, and the entire room was hanging off his every single word. He said that he can't identify as a man when the traditional view of masculinity is so limited, and so different to who he is. If you ever get a chance to view this talk on the magical internet, I will now be that person sending you links to watch it when you're busy and want to ignore me but really you shouldn't.
You can find out more about TEDx Brixton here