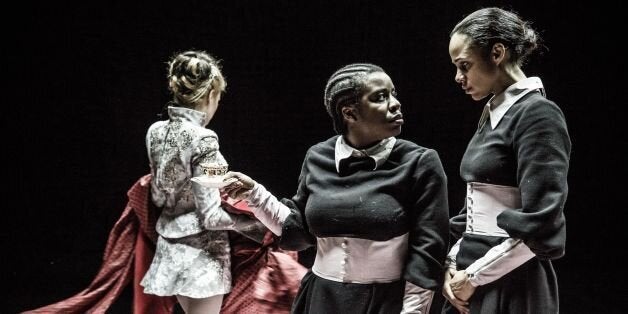 My week in culture was full of women, what an unusual experience for me.
The Maids, Trafalgar Studios
I am obsessed with Zawe Ashton, but I feel like if we ever met we would have the same dynamic as Marcus and Ellie from About a Boy. If you don't remember this landmark moment of Noughties cinema, it was basically a kid with a bowl cut who really wanted to impress the super cool/hilarious/fit older girl at school who didn't give a shit. In this scenario I am the kid with the bowl cut. In case that wasn't clear.
The Maids belongs to Zawe. I'm not saying that because I am obsessed with her. She is just really really bloody good. It also stars Uzo Aduba, who I have spent many hours Netflix and chilling with - quite literally because she is in Orange is the New Black - and Laura Carmichael, the sister from Downton Abbey who basically existed to be bad at getting a husband. They are both awesome too.
It's important to say this because I actually felt a bit bewildered by The Maids. It's about two maids who are obsessed with their employer to the extent that they will dress up in her clothes and pretend to be her, but also hate her so much that they want to poison her tea. I will no longer be drinking any more tea made for me by my co-workers.
Jamie Lloyd sure does the business at the Trafalgar Studios in raking in star names and getting posters for his plays with lovely colour schemes. But, much like The Homecoming that came before (and was SEXIST), The Maids looks amazing and sounds amazing, but feels like quite a lot of argy-bargy without a lot of space to think.
Maybe I'm just a bit of a grandma, but my favourite of Lloyd's work remains The Pride, a tender, Rattigan-esque play of humour, hope and sadness. It's one of my favourite memories in a theatre, and it's why I stay with Lloyd even though everything else I've seen him do has been people doing a lot of shouting with some nice music-y bits in-between.
Go for Zawe though. She would make a full-length recital of Samuel Richardson's Pamela utterly riveting. Which by the way is a book about another female servant except in this one the gender politics are dodgy as fuck.
Since I read this book I have told everyone I know to read this book. You might think I am exaggerating but I really am not.
As someone who bangs on about feminism for most of the hours I am conscious and also when I am asleep, I read all the books about feminism. Every so often, I'll read one that is genuinely formative in my thinking. This is one of them.
Do you ever get bored of the conversations and the incessant editorials that ask whether you can be a feminist and wear makeup/offer someone a tit wank/eat bacon/watch Loose Women? Foster concisely shuts down this brand of choice feminism, which sees introspective preoccupations with consumerism distract from the real issues harming women's daily lives.
She also puts paid to a corporate feminism that suggests that women should play along with a sexist system if they want to break the glass ceiling because a) it won't work and b) it won't help other women either.
But most crucially, she articulates something I'm been grappling with for a long time, which is that you can do feminism without necessarily labelling yourself as one. A battle to force it as a label on people is smoke and mirrors; if you live its values in your daily life, who cares whether you call yourself a feminist or not.
This film came out last year. I'm a hundred years behind. Fortunately, if like me you missed it the first time, it's just been shown on Channel 4 and you can watch it on demand, fresh from its Oscar triumph.
Make the time to do so. It's so painful that watching it burned my retinas. But it's the most necessary tribute to a whirlwind of a woman.
The trajectory of Winehouse's life feels almost clichéd in its predictability - an incredible talent unequipped to handle the adulation of the public, exploited by people close to her, drawn to those who showed her a lifestyle that offered escape, gone too soon.
If you watch this film, she'll feel like she was your best friend. You'll get frustrated at the mistakes she made, will her to get better, know that she won't. What a travesty that all we have are two albums. Frank is one of the greatest and I've been listening to it all weekend.
Sit down and watch this film although it will be hard. In shedding light on Amy's life it also exposes greater more troubling themes about the way that we handle addiction in society and the harm that the media does to vulnerable artists.
I have loads of time for Ann Treneman, the theatre critic at The Times. But she recently wrote that "the rot has to stop" at the National Theatre, and I have to say I think she's barking up the wrong tree. Since Rufus Norris sat in the big daddy chair the place has just been stormer after stormer. I fall into the "didn't faint and had a euphoric experience. TWICE" crowd when it comes to Cleansed, and at the weekend I went to see Ma Rainey's Black Bottom and it made me really appreciate the depth and diversity of Rufio's programming. O-T Fagbenle gave one of the best performances I think I've seen. The National Theatre right now is not only better than National Rail but it's also better than most things ever.
The Maids is at Trafalgar Studios until 21 May
Related