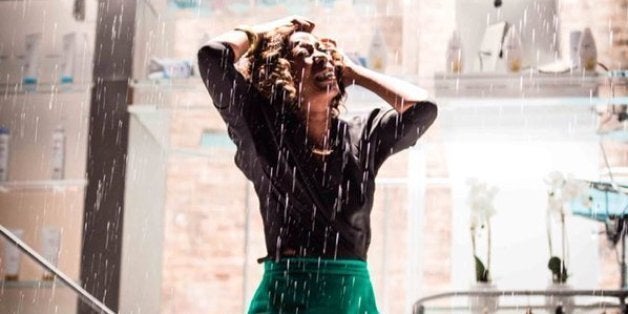 Linda, Royal Court Downstairs
What it is: A witty, caustic and very sad exploration of the way that women become invisible as they get older
I think I have been and certainly will be every woman in this play.
I was Linda's daughter, the precocious swotty one who wanted to practise my monologues for drama class when everyone was busy being grown-up. I was the one who felt so sad she never wanted to take her onesie off.
And unless the way we think about women changes, I certainly will be Linda, a 55-year-old woman who everyone laughs at while she desperately tries to remind them that she's relevant - that she exists.
Penelope Skinner is a fantastic observer of the dynamics between genders, and the unfairnesses that we find. Linda's daughter doesn't understand why all the good Shakespeare monologues are for men. Her other daughter, a victim of revenge porn, doesn't understand how everyone else's life can go on as normal when she's been so violated. Linda doesn't know why no one will listen to her any more, and her husband doesn't understand why he can't have his moment to be a rock star, sleeping with a twentysomething and playing in a band - doesn't life owe it to him?
Michael Longhurst's direction just gets better and better, and Es Devlin's revolving set is a treat for the eyes. All bouquets though must go to Noma Dumezweni, who took on the role TEN days before press night when Kim Cattrall dropped out. She still refers to the script but the audience are completely on her side as she brings such utter humanity to this gargantuan role.
Skinner's skill is in creating scenes that are funny - slightly sitcom-ish at times - but blanketed by over-arching sadness. Other critics have failed to see how much there is to chew over in this comprehensive study of how women can never win - I could talk about it for hours. It's the holy trinity - making you think, smile, and feel.
What it is: The story of a 1950s love affair - and one of the most beautiful films of the year
Carol is too emotionally exhausting for an immediate repeat viewing, but I want one. I want a second chance to hear all the unsaid words, to notice all the secret glances, the hopeful hands reaching out to nothing. Maybe the answer is to just have it on in the background on loop ALL of the time.
An adaptation of Patricia Highsmith's The Price of Salt, you probably know it's about two women falling in love. It's hard to talk about how it doesn't make their sexuality into A Thing without feeling like I'm making it into A Thing. But it's true. They are not divorced from their desires, carrying them around in a rich movie producer's briefcase saying 'Look We Made A Lesbian Film'. They are women hurtling through life and feeling it intensely, in a way the world around them will not accept.
Cate Blanchett's performance as a woman who is externally radiant but internally crumbling gives up new secrets every time I think about it, but Rooney Mara as Therese was the one who I felt sitting beside me as I watched the film. The affair that causes her so much pain that she vomits and so much joy that she finds a new wave of creativity and artistry in her work as a photographer, allows her to reach self-realisation, and the beauty of it blew me away.
Being A Man Festival, Southbank Centre
What it is: A weekend of eye-opening, life-affirming debates on what being a man really means
I remember when I first heard about Being a Man Festival a couple of years ago. I was a feminist with a blind spot, so my response was to scoff. Men are feeling left out, poor babes!!, I thought.
Fortunately I realized at some point in the last year that any movement striving for equality that does not treat all members of the human race with compassion and empathy probably needs to be reported to trading standards. Putting together Building Modern Men this month just gone has been a vital learning experience for me as a woman, and so was this weekend.
Being a Man Festival interrogates what it means to be a man - and show that it's probably not what you thought it was, and that is okay.
David Baddiel astutely pointed out in a discussion on men and depression that 'men and women both fail in the same way, but only men translate that failure as a failure to live up to the ideal of their gender'. It was an illuminating and shocking thing to hear. An audience member said that he had lost a male friend to suicide and never knew he was depressed - he asked how do we talk to men about depression if men don't want to talk about it? With suicide the biggest killer of men, it's a question we need to find an answer to.
Duncan Craig of Survivors Manchester led a powerful discussion on Hollyoaks' recent storyline around male rape; it felt pioneering not only in the sense of telling untold stories, but in showing how assumptions around gender only make these experiences more painful for everyone.
Men are always being told they don't talk enough, and a debate on football shed light on the fact that working class men are being excluded from the football ground - a traditional gathering place for men to talk - because of the rising costs of going to a game. And our HuffPost UK editor-in-chief Stephen Hull led a discussion on who might be the culprits giving men a bad name - negative cultural depictions of men can become a self-fulfilling prophecy, but it's also important for men to call out bad behaviour when they see it.
Next year take your dad, your brother, your son, but also take your mum, your sister, and your daughter - we all need to participate in this conversation, even if we're just listening.
Linda is at the Royal Court Downstairs until 9 January