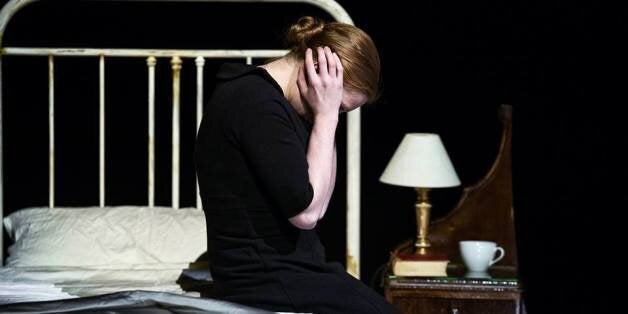 They say that every once in a while you should do something that scares you.
That's why I went to watch an almost two hour, interval-free play in German after a long day in the office.
I'm pleased to report that I am still alive. In fact more alive than I was before, because this is one of the most shatteringly powerful reclamations of female agency that I have ever seen.
Ophelias Zimmer (which translates as Ophelia's Room) is a collaboration between the Schaubuhne Berlin and the Royal Court, and it's transferred to Sloane Square for only a few days. Directed by Katie Mitchell, who just threw a hand grenade into the theatrical landscape with her production of Sarah Kane's Cleansed at the National, and written by Alice Birch, one of the most intriguing new playwrights, it is avante-garde gold dust.
It's described as "a new work exploring Ophelia, freed from Hamlet". And it could have been a night of long, earnest, brow-beating speeches whilst Hamlet gets punched in the balls and Ophelia drinks wine from Yorick's skull. I'd have still had a great time, but it wouldn't have had the same impact.
Mitchell's production is slow, repetitive, foreboding and full of silence. And it is the most perceptive response to the marginalising of women in our cultural history that I have ever seen.
The play is framed around the five stages of drowning, which are described to us in forensic detail as each new act begins. Inside each act, inside Ophelia's room, we gradually see her fighting back against a life in which women are supposed to be grateful when they are lovebombed by sociopaths.
This Hamlet sends Ophelia tape after tape of recordings of himself professing violent, obsessive love for her. (It's a brilliant, mischievous way of reminding us how much Hamlet loves the sound of his own voice.) Ophelia sits and listens to them, like every woman in every text in the canon has had to do when they are subjected to frenzied declarations of love.
In the next act, Ophelia begins to reject the tapes; this tiny act of rebellion is an earthquake. It's a refusal to accept a love that is not asked for, an unwillingness to legitimise a life where a man having a raging boner for you is a privilege and the fact you are a human is an afterthought.
But those are not the rules, and that is not how women are supposed to behave in ye olde plays (and also, recent ones). When a prince tells you he loves you, the very least you can do is put on a passive smile and give the outward appearance of not being dead inside. You will lose your entire sense of autonomy and identity, but you will get a nice shiny hat to wear.
Since these aren't the rules, and since Hamlet is an egomaniac with a pathological sense of entitlement, he storms into Ophelia's room and forces her to watch him dance aggressively (to Joy Division as well, because he is tortured and misunderstood). It's intimidating, violent, and uncomfortable to watch, and Ophelia sobs her heart out as her space is brutally invaded.
The encroachment worsens when he kills her father and dumps the body in her lap (his flirting game is all over the shop). I jest, but these scenes are all reminders of the obscene, cruel invasions enforced upon women by men in the texts we continue to celebrate, and the traumas inflicted on them that they must shoulder alone, the weight of which has gone unacknowledged for centuries.
It ends in the only way that it can when women's thoughts and feelings are relentlessly denied: with the gaslighting of Ophelia, and her ending her own life.
The final scene frames Ophelia in a glass box, with the stage flooded by the water that she sees but everyone else does not, even as they splash through it. It's a devastating indictment of a culture that has fetishised and romanticised female madness, putting it behind glass for us to traipse through and gawp at like tourists.
At the end of Mitchell's production, we don't know Ophelia that much better. But we see her refuse the world's most famous protagonist - and in doing so, every male hero shaped in his image - and that is all that matters.