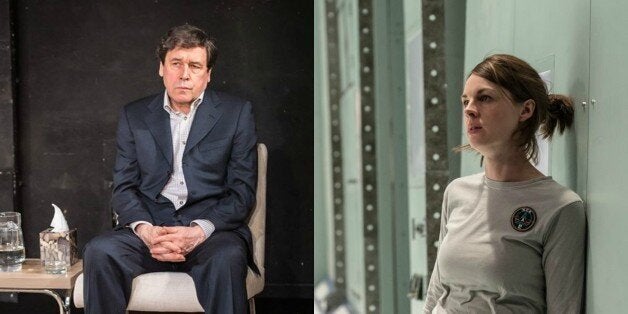 I'll name you two things that are very pricey but integral to you not falling apart as a human being. One is therapy. The other is theatre. You can't get the latter on the NHS yet, but I'm working on that.
I can't help but feel like one is a bit like the other sometimes, and if you go to the Royal Court this month you can see two plays - X and Cyprus Avenue, both directed by Vicky Featherstone - which are like an a very intense, cathartic, exhausting (but GOOD) workout for your soul.
X is Alistair McDowall's much-anticipated follow up to Orange Tree smasher Pomona. It sends a space crew to Pluto and dumps them there, cutting them off from the rest of the world until they start to see weird things out of the window.
David Ireland's Cyprus Avenue has already had people raving after playing at the Abbey Theatre in Ireland; we meet Belfast loyalist Eric (Stephen Rea giving a stormer of a performance) in a therapist's office, where he is recollecting what happened when he met his granddaughter and she looked like Gerry Adams.
Both plays serve as a reminder of how people both succeed and fail to power through trauma, and that it's hard to keep a sense of who you are when you become cut off from the people around you.
You'll watch them and you'll turn to your friend with your eyes popping out of your head and you'll leave the theatre in silence. You'll go to the bar or you'll stand in the foyer and you'll talk about what just happened. And you won't stop, even when the other person is like jeez, can we just talk about Brexit for a bit now? NO, because there is so much to say.
And the fact that you go and sit in a room full of people and talk to them about what's happened is theatre giving you a safeguarding of self that the characters you have just seen are no longer in possession of.
In X, there's no sense of time or certainty; it's not clear if what we see is what really happened, a series of spiralling hallucinations, or a story told by Gilda - played by Jessica Raine with a real sense of strength and tragedy - to keep herself sane. Either way, being alone millions of miles from earth compels her to an act of creation that is her salvation, but can't end in anything other than catastrophe. By making a human, she won't be alone, but she will inevitably have to leave her child to the same fate that she couldn't face.
Whereas for the doomed space crew everything around them is out of joint because they are in an actual moon pod in the middle of the sky, Cyprus Avenue's Eric lives in a wobbly world because he can't recognise the world post-Irish peace process.
He is not physically alone in the way that Gilda is - he has a wife and a daughter at the very least. But it's clear he's speaking a different language to those around him when he draws a marker pen beard on his granddaughter to prove she really is Gerry Adams.
He disintegrates before our eyes, and becomes a man that his family can't recognise. And what better way to show his disconnection from them, to not only have him see someone else's face in his own family, but the face of the man who is everything he abhors. As his grip on reality evaporates, he becomes all the more determined to cling to his odd Fenian-hating fantasies, and it ends in a way that is so shocking that it makes Cleansed at the National look like a romantic comedy.
It's interesting that one of the things someone said to me post-X was that they thought it was about dementia. I don't agree, but I think both plays make a beautiful and devastating case for the fact that we keep ourselves in each other. When you find yourself isolated, either by physical circumstance or by a more visceral battle in your brain, other people can save you. If they are gone, you are gone. In each other we hold the key to preserving the days that are gone and surviving the days that are coming.
To me it's astonishingly moving that as we watch these broken, isolated lives, it is theatre that is presenting them to us, and theatre is the antithesis of that loneliness and pain. It's a place that we can go and sit in together and experience other people giving us a story, that we can turn over together when the curtain comes down, and that one day we can look back and locate, remembering what it made us think and how it made us feel.