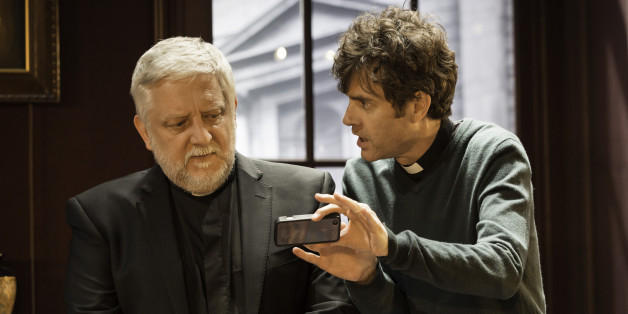 Donmar Warehouse
Occupy London were sent packing three years ago, but the Donmar Warehouse is currently home to Temple, a play exploring what St Paul's Cathedral did when protestors set up camp outside their doors. Why put a play about them on now?
Because time and distance - the judgment of which is so feared by the central figures in Steve Waters' new play - allow us to look at these events with a new kind of clarity.
And after an election in which we learned that our voting system is going the way of the chocolate teapot, it feels urgent to re-visit a movement like Occupy. In 2015, we need this play.
Temple takes us into the fraught confines on St Paul's Chapter House, the morning after its members voted to re-open the cathedral to the public (it was famously closed for two weeks because of the notoriously uninvited guests camping outside). But there's a difference in the reading of events - 'a threat' , thinks the Dean, 'a gift', thinks the Bishop of London - and here lies the tension. The Canon Chancellor too agrees with the latter interpretation, having noisily given his resignation, believing that the banner 'What would Jesus do?' is probably one they should have paid a bit more attention to.
Alongside all of this is Lizzie, the new PA who is having a pretty full-on first day. Her character veers between sounding board for the Dean's vacillations and mouthpiece for the playwright's views, but the bemusement that she offers in the face of the church's anachronisms and ivory tower mentality are the closest we really get to having Occupy members present on the stage.
It's not a problem that the Dean is shown to be a man who uses words like nomenclature and antediluvian, is scared of mobile phones and doesn't like tweeting. No one's asking him to be Russell Brand - although their vocabulary is probably something they'll have in common. But when he is repeatedly pressed by everyone around him to make a decision on a course of action, the demand seems to cause him physical pain.
Traditional though he may seem, one of his biggest worries is a decidedly modern one: all the while its doors are closed, the church is hemorrhaging £22k a day. You can understand why this is a problem - you wouldn't want the building to come crumbling down to a dusty pile. But mightn't it as well, if the principles that it were built for become an extraneous luxury, cut off when it really matters? It makes the building nothing more than a museum, an expensive artifact of by-gone curiosities called morals and values, which now sit gathering dust behind invisible glass.
And like the church, hand-wringing in place of actually doing, there's a melancholy comparison with capitalism itself: "I've got no argument with capitalism, but isn't it supposed to work?" asks Lizzie. It may be a fact of life now as fixed as breathing, but it no longer functions like it should, and neither does this church.
The Canon Chancellor accuses the Dean of 'a failure in the imagination', and it feels like this stinging charge really gets to the heart of things. Occupy were imagining a better world, and shouldn't it be the job of the church to try and do the same? And yet it was hiding in its cloisters, killing its natural allies with indifference.
The Virger laments that doing prayers without a congregation is like a play without an audience; like the theatre, the church depends on a collective, a community, a living, breathing counterpoint in order to have any purpose at all. And like the theatre, it should be a place to imagine a better world - "If the battleground is the imagination, then the theatre is a very appropriate weapon in the armoury of resistance," said David Grieg. In doing what they did, the church didn't die on the battlefield - they simply didn't bother to turn up.