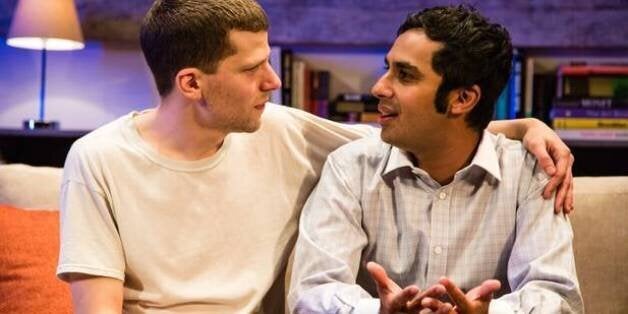 If you've had a long week, go and cleanse yourself with some art...
The Spoils, Trafalgar Studios
Ben, the protagonist of Jesse Eisenberg's play, might feel familiar. He's a rich white dude who wants to be an artist, but actually spends most of his time getting stoned in an apartment bought for him by his dad.
He's played by Eisenberg too, as an articulate, fidgety, neurotic loser. He lives with Kalyan, a Nepalese MBA student (The Big Bang Theory's Kunal Nayyar, hilarious), and is obsessed with Sarah, a girl he grew up with and hasn't seen for 10 years.
Eisenberg is a great writer, a wonderful actor, and I laughed pretty non-stop for the first half of this play. But his writing is also extremely perceptive; watching him dismantle this douche bag is fun, but also demonstrates an unforgiving self-awareness about being a privileged middle class white guy. Used to getting everything he wants, Ben falls apart when he can't make a woman love him back; he crumbles when his film-making is described as a 'hobby' and shown to be not much more than cringey artifice.
The second half gets schmaltzy where the first half was punchy, and it feels like Ben gets a vindication that he hasn't quite earned, with an emotional payoff that the play isn't really ready to bank. The play is great, so it's a shame he spoiled it at the end - he's a fantastic writer who clearly has even greater things to come.
The Vegetarian by Han Kang, translated by Deborah Smith
Without even realizing it, I have read the International Man Booker Prize winner for 2016. I have never felt so well read and abreast of the literary world. I only bought it because all the press quotes were like "jeez this book is well weird".
It is quite weird. But it's also amazing. I started reading it one evening and was immediately hypnotized by it. It's about a woman who decides to become a vegetarian and all of her family lose their shit. Their frustration boils over into physical coercion, and scenes in which they try to force her to eat meat are particularly unsettling. But then things develop. She doesn't want to be a vegetarian. She literally wants to become a tree.
It's beautiful and really weird, but it's also a completely visionary exploration of a woman who wants to own her own body to the extent that she looks past the art of the possible, but can't help but be trapped by it. Sad and wonderful.
Human Animals, Royal Court Upstairs
One of my favourite things about watching Human Animals at the Royal Court was that paint kept dribbling and spurting across this glass wall at the back. Every time it happened, without fail, the woman behind me went "ooowwppp". Any theatre that causes someone to have an involuntary audible reaction is something that is okay with me. Unless they are violently retching. But she wasn't, so it's ok.
Stef Smith's play is about an urban apocalypse. The city is too full and things fall apart, but it's overpopulation of foxes and pigeons that are causing the problem. As someone who has lain awake many a night and heard foxes caterwauling, this was all too real a scenario for me.
I don't think the play is perfect - some more abstract, poetic interludes felt a bit tonally jarring to me. But I found it bold, interesting, weird and engrossing, and I think that's exactly what should happen in the Royal Court Upstairs.
The writing is broad and complex, the cast are da bomb - Natalie Dew in particular - and Hamish Pirie's directing is up there with the best for me right now. Always playful, always daring, toeing the line between taking the work seriously but not taking its production too seriously.
My misspent youth was wasted wondering around the aisles of shops looking for a magazine for women that didn't exist. I wanted to read about brilliant women with wonderful life stories, about politics, culture, books, and the wider world. It didn't exist so I just bought a glossy magazine with resignation and went home to take in some self-loathing by osmosis. Most kids just went out and played in the street or something.
We have the internet and that now, so it's less of a problem, but Lyra Magazine may just be the magazine I was looking for. It contains articles on Showgirls and economics, the female orgasm, and homosexuality under capitalism, but it's also a physical thing of beauty to hold in your hand. I'm excited to see how it develops and I'd recommend all wonderful, curious women (and men) give it a read.
The Spoils is at Trafalgar Studios until 13 August
Find out more about Lyra Magazine here