Nowadays, libraries are unfortunately losing their appeal to the new generations. How can a visit to the library compete with playing Minecraft on an iPad?
I love libraries! I indeed lived literally next-door to one for 17 years of my life, in my hometown, in Brittany. I clearly remember the day when, aged six, my classmates and I were taken to that brand new local library by our teacher. The scent of new books. The crowded shelves. The smiley librarian. Everything participated to what would quickly become my daily visits to that library.
How sad to see that children in my neighbourhood don't bother going to the library any more. For them, it seems to have somehow become some kind of painful chore rather than a pleasure.
A few weeks ago, a five-year old friend of my children, meeting us in the street, asked me: "Where did you go?" "We went to the library," I answered. "Where?" "The library. To read books and take some home too," I insisted, before asking him: "Don't you go to the library sometimes?" "Oh no! Not there! I prefer my tablet!"
How can we get children to want to go to their local library again? How can we make it interesting for them? Is there a problem with the unanimated device that does not need charging every now and again? Uncool object? Boring thing that requires turning pages and reading words on it?
Well, literacy certainly begins at home with parents showing some interest in books, reading bedtime stories and going to the library or buying books. Acting as role models will only positively influence their little ones to follow the example given at home. Parents who read are more likely to make little readers.
Another step is for libraries to step up their efforts to attract the children at their youngest age, using such playgroup and events as play-and-learn or bookstart, where babies and toddlers can already engage with books through rhymetimes and storytimes. Once hooked, they will later simply see visits to the library as another routine in their weekly life beside going to school on weekdays and playing football on weekends. In many libraries already, with their FREE library card, children (and adults!) can borrow books, language courses, CDs, DVDs and even Wii or Playstation games.
As a children's author, I also have a responsibility and I am fully supportive of local libraries. In the past two years, my publishing company has donated hundreds of my books to libraries in and around London. I try my very best to accommodate some of my time to organise storytelling events for children of all ages in libraries too. It is important for children to meet with authors, so that they see that there is someone behind the books they read. The book is not just some words on a piece of paper. There is someone like them. Someone they can speak to. Someone they can ask questions to. Someone who might inspire them to write and (who knows?) become the next great writers of the 21st century. Author visits in libraries are essential to us too, as they provide us with direct feedback from children who might have never heard of our books before, contrary to Author visits in schools where everything is organised and planned by the teachers for the class.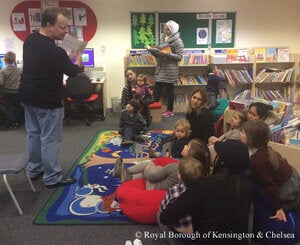 Last, but not least, politics must protect libraries. I find it totally unacceptable and outrageous that, in the 21st century, more and more libraries are being closed, more and more hard-working passionate librarians are being relocated or losing their job, because of the lack of funding or budgets cuts in the culture department of city councils. Culture, education and health. The constant and familiar victims of weak governmental leadership, both at local and national levels, whether a country is in recession or not.
We, parents, libraries, librarians, authors and politics, must protect the new generations from a lost world where libraries would become rare, archaic and has-been. They represent a public service that should never disappear for the sake of our Society.
Alike there is no Culture without Education, there can be no Education without Culture. Every library that closes is one more bridge between Culture and Education that collapses.
(Photograph Courtesy of The Royal Borough of Kensington & Chelsea, London)