I befriended Kevin Healey over on twitter back in February this year when I found out about his Autism Anti Bullying Campaign to protect vulnerable autistic adults from cyber bullying and hate crimes. Kevin himself has Asperger's Syndrome and has been the victim of both cyber bullying and hate crimes. He is still suffering online abuse today and this is the reason why he started his Anti Bullying campaign, to protect himself as well as other people in the community who are on the Autistic spectrum.
The National Autistic Society (NAS) of whom Kevin is a newly appointed trustee state on their website
'81% of respondents to a recent NAS survey said they had experienced verbal abuse, while 47% reported that they have been victims of a physical assault. We also found 24% had been victims of cyber-bullying - an important focus of Kevin's campaign.' (autism.org.uk)
Over the past eight months Kevin's campaign has grown magnificently in strength and popularity. He has had a successful media poster campaign, which ran for 2 weeks via the media channel Amscreen, owned by Simon Sugar (CEO). He also has the backing of celebrities such as Katie Price, Ricky Gervais, Melanie Sykes and Chris Maloney to name but a few. He also has significant support from parents whose children are on the autistic spectrum, autistic individuals, charities and MP's. The second stage of his EDM 172 'Hate Crime Against Those With Autism' regarding hate crime aimed towards people with Autism and learning disabilities will be heard in Parliament in January and he has recently gained support from MEP Mr Phil Bennion.
Many people ask me why I support Kevin as my son is only five years of age; the answer that I give is that he will become an adult on the autistic spectrum. I have no idea about how he will adapt to life as an adult and what level of support he will need, none of us know what the future holds regardless of what disabilities or difficulties a child has, but what I do feel is that Tom will be particularly vulnerable due to his Autism. He has difficulties in communicating and struggles in social situations. Therefore I want to make a difference to the law now while he is a child so that better laws and protection are in place for when he becomes an adult.
I try not to think about the future too much, mainly as I have no idea what life will be like for him. It can make me feel quite emotional, as a child he can be nurtured and protected, I will always be there for him but the dynamics will change as he reaches adulthood.
I was out shopping today and when exiting the supermarket, children from a local special needs school were singing carols. This was a school that I visited before Tom was granted a place at an Autism Specific School which is in the next county. I stood watching the children sing and while enjoying the music and their enthusiasm I was also filled with sadness, such an unexpected emotion. I had to swallow back the tears as I headed for the bus stop. What had caused this?
To be honest I am not sure, I think part of it was that if Tom had attended the school he may have been stood there singing. Also there was the fact that for the first time this year, Tom will be included in the Christmas production at school. I think that watching the children made me think about inclusion and supporting our children with special needs, especially with all the Christmas festivities.
However I digress. I support Kevin Healey as my Tom although only a little boy will grow to be a man on the Autistic Spectrum and this does fill me worry. Therefore I am doing all that I can to help the campaign and raise awareness around the issues of cyber bullying and harassment towards autistic individuals.
I have interviewed Kevin several times for the online autism newspaper, Autism Daily Newscast and for their sister magazine Autism Spectrum Digest. I was also fortunate enough to meet Kevin in October this year and was filmed as part of his upcoming documentary which aims to raise the issues of bullying and online harassment. It was an absolute privilege to meet him. I spoke about my fears and concerns regarding Tom's future.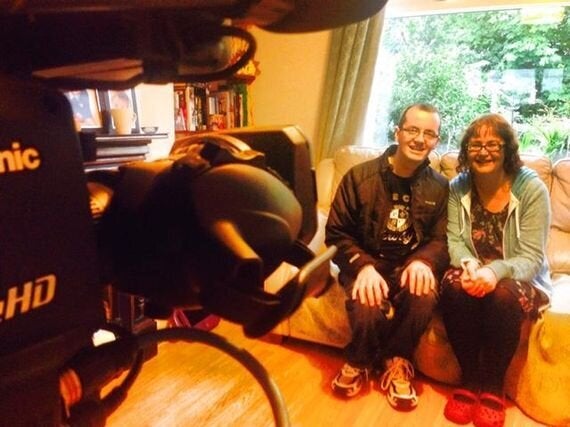 The documentary will be screened in January, the venues are yet to be decided and it will also be available to watch via YouTube. Exciting times are most definitely ahead for the Autism community.
You can follow Kevin Healey over on twitter