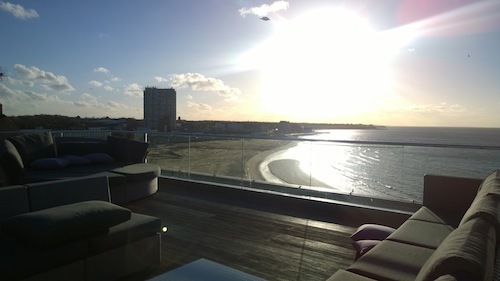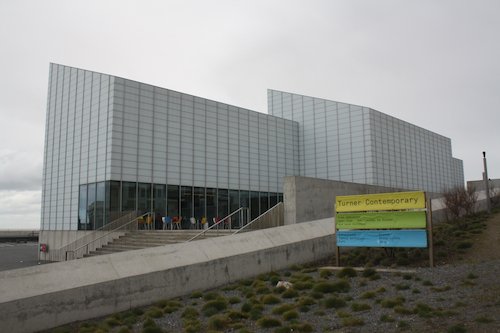 The roof terrace bar at the Sands Hotel/Turner Contemporary gallery.
Photos: Paul Allen
Margate has been undergoing a transformation in recent years from a drab seaside resort to a bustling art and food destination. The town has had artistic connections since landscape painter J.M.W. Turner, who produced over 100 works while he lived there, declared that the skies found in Margate were the most beautiful in Europe. And of course, more recently Margate has been known as Tracey Emin's hometown.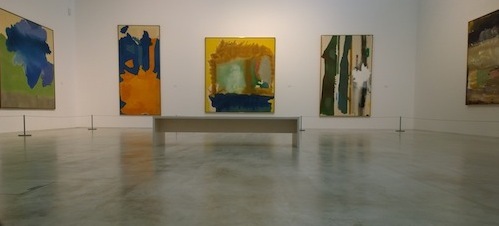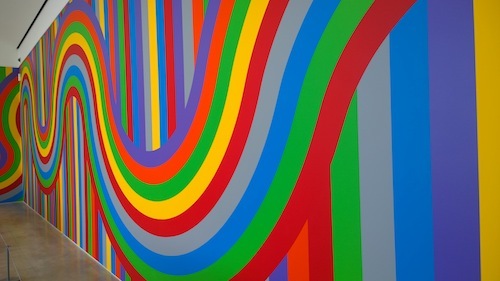 Helen Frankenthaler/Sol LeWitt at the Turner Contemporary.
Photo: Paul Allen
Heralding this transformation was the opening in 2011 of a brand new contemporary art gallery in Turner's name on the site of the Rendezvous Guesthouse where Turner lived with Mrs. Sophia Booth, his landlady mistress. The impressive building on the seafront was designed by British architect David Chipperfield who also designed Hepworth Gallery in Yorkshire the same year. Chipperfield said on completion of the building, 'I think the light was part of Turner's fascination with Margate [and I'm] convinced that the light here is different from the light anywhere else. That was our inspiration.' Turner Contemporary shows the painter's works alongside works of contemporary artists who may have been influenced by Turner. The current exhibition (on until 11 May) features Turner's oils and watercolours and American painter Helen Frankenthaler's abstract expressionist landscapes. The summer show, certain to be a blockbuster - Mondrian and Colour, runs 24 May - 21 September 2014.
And reopening in 2015 will be the beloved amusement park Dreamland, redesigned by Red or Dead designer Wayne Hemingway. The plan is to restore the historic rides and scenic railway that date from the 1920s and create a major events venue with a nod to the former ballroom that featured gigs from superstar bands like The Rolling Stones and The Who.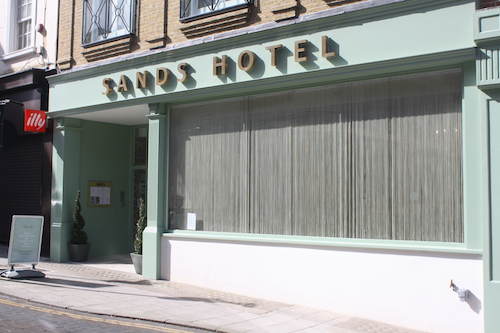 Entrance to the Sands Hotel. Photo: Paul Allen
Last summer the Sands, a gorgeous new boutique hotel opened on Margate's wide sandy beachfront. The Sands, built in 1888, opened as the Terrace Hotel in October of that year. It was later a Lyons' Tea room, a Superdrug and a charity shop before current owner Nick Connington purchased the then derelict building in auction in 2011. On our recent visit, we stayed in a beautiful room with lavish touches like Swarovski crystal plug sockets, chilled out on a balcony overlooking the beach and were impressed by the young staff's eagerness to please.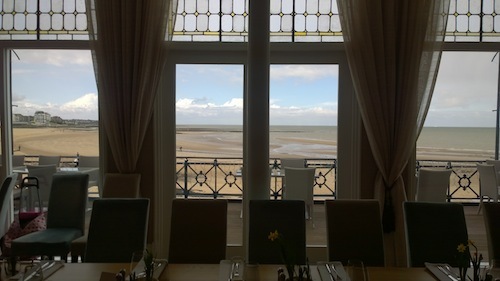 View from the Sands Hotel dining room. Photo: Paul Allen
The Sands is billed as having the best restaurant in town and we weren't disappointed with our perfectly cooked duck, rump of Romney Marsh lamb and sea trout in garlic. And the dining room's location with floor to ceiling windows overlooking the beach is hard to beat, especially at sunset. The restaurant and bar are open to non-hotel guests but exclusive to guests is a glorious roof terrace bar with comfy sofas and chairs, open in warmer months. And providing further treats is a gourmet ice cream parlour downstairs opening onto the seafront, run by Nick's daughter Lucy, an LSE grad.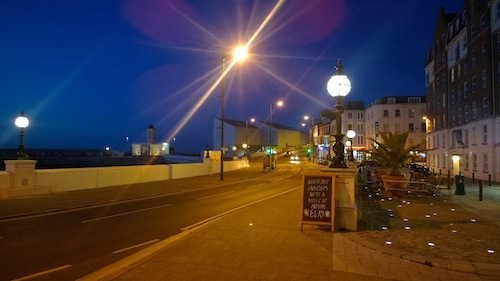 Margate promenade by night. Photo: Paul Allen
Another fine choice for foodies is the Ambrette, an award-winning Indian restaurant with an innovative menu featuring local fish. I'm always a sucker for soft-shell crab and I loved chef Dev Biswal's version accompanied by raita and beetroot. Puddings didn't disappoint either, with moreish ginger ice-cream prompting me to ask for a second helping. For a nightcap to wash all that Indian food down, we liked the laid-back atmosphere and good tunes nearby at Milo's bar.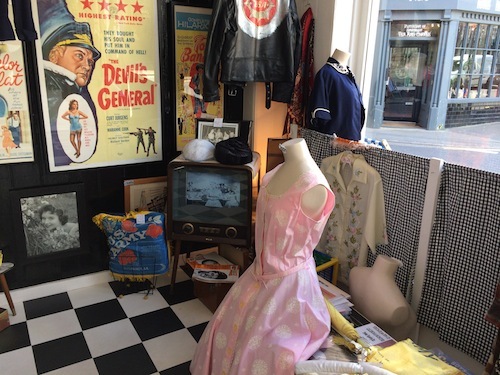 Betty B's for fun vintage finds
Vintage shops and antiques are an appealing feature of the old town. Mary Portas, 'Queen of Shops', attempted to revitalise the shops and her touches are apparent in the funky, colourful window displays. We loved Betty B's with its '50s dresses and The Secret Wardrobe on the High Street near our hotel with its eclectic selection of jewellery, handbags and clothing. Close by, textile designer Maxine Sutton has set up shop to showcase her art and products from prints to vases and cushions, using sustainable materials and production methods.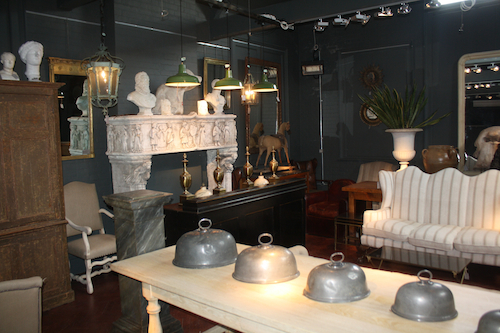 Fontaine antiques. Photo: Paul Allen
Also an essential shop for antique lovers is Fontaine, a large warehouse space filled with very covetable French antique furniture, china, paintings, prints and more.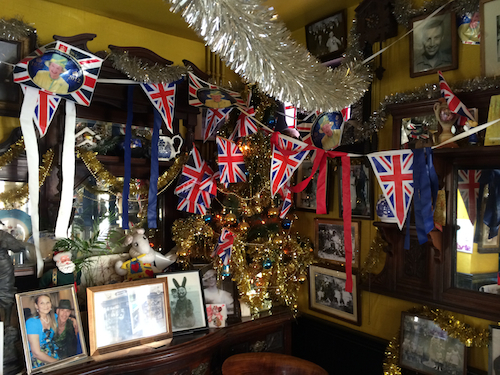 Wacky interior at The Mad Hatter tea rooms
After hitting all the vintage and antique shops, we decided we needed a tea break at The Mad Hatter tea rooms. Although only open 11:30-5:30 pm on Saturdays, it's worth popping by to see the quirky establishment filled with Victoriana, royal memorabilia and year-round Christmas decorations (the proprietor Peter Clements-Bullett 'loves Christmas').
The Walpole Hotel and Museum. Photos: Paul Allen
Another fun place for tea is the delightful Edwardian Walpole Bay Hotel further down the front. I went there specifically to see the 'doll museum' upstairs and also found vintage milk bottles, costumer, and all sorts of other memorabilia. And after enjoying tea and scones in the lounge for a reasonable £5.75, we checked out what was advertised as the 'napery' (our friend George had to explain that meant a display of napkins) a display of framed napkins designed by local artists including Tracey Emin.
We went to Margate primarily to visit the Turner Contemporary so we were pleasantly surprised to find a revitalised seaside town with plenty to see and do for a weekend away.