'I have heard that at times, it is still possible to swim in December. The climate here is fantastic.' - Leo Tolstoy. 1860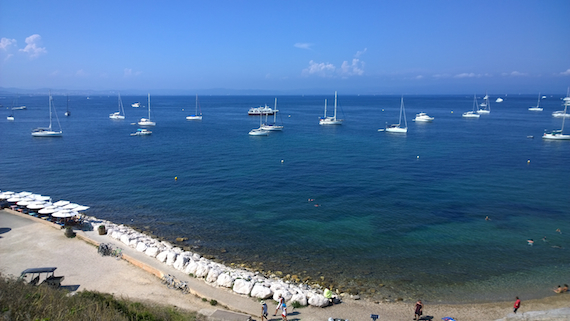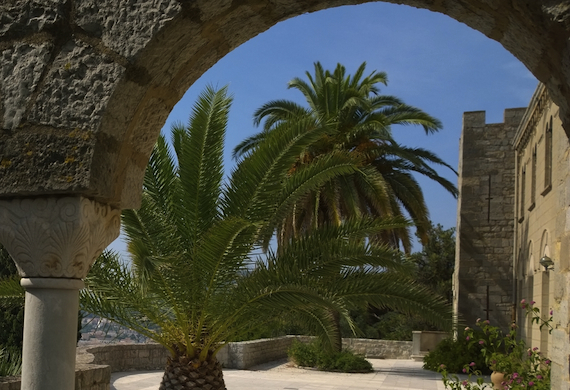 Porquerolles harbour/ Edith Wharton's house, Hyères. Photos: Paul Allen
Who doesn't love chic and sunny Cannes, Nice and Antibes on the French Riviera, so an invitation to Hyères, the 'original Côte d'Azur' piqued our interest. Hyères, with its medieval centre and nearby beaches, covers a 30 km area and was a favourite destination from the 18th-century onwards among the international jet set. George IV, Queen Victoria, Robert Louis Stephenson, Leo Tolstoy, Joseph Conrad and Edith Wharton all vacationed in Hyères. In fact, Edith Wharton bought property high in the hills - Castel Saint-Claire and just below, Castel Pierre Lisse, now a quirky, art-filled guesthouse where we stayed. Wharton's gardens with their welcome breezes and splendid views, were her pride and joy and are well worth a visit.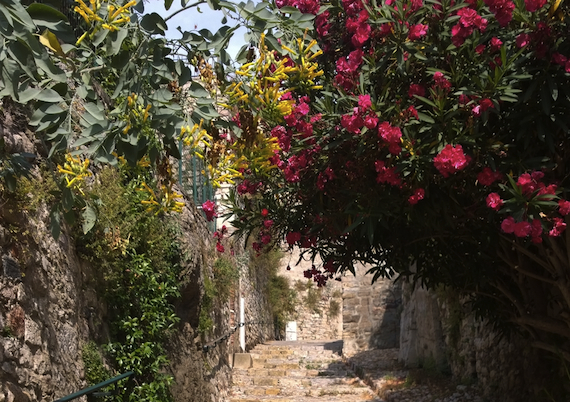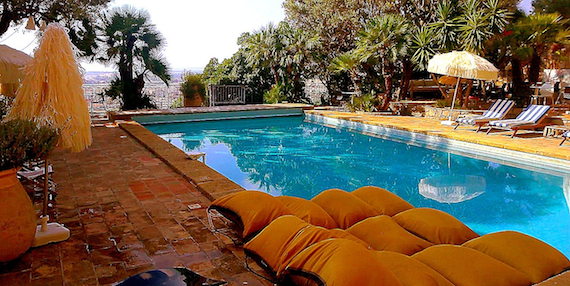 The oldest street in Hyères/Castel Pierre Lisse pool. Photo: Paul Allen
The medieval town of Hyères is built on a hillside with lovely views of the Giens peninsula and Les Iles d'or, the Hyères islands. Place Massillon, the main square, offers a fine choice of cafés, bars and restaurants and the ancient Tower of Blaise (also called the Tour des Templiers, from its association with the Templar Knights) which often hosts contemporary art and design exhibitions.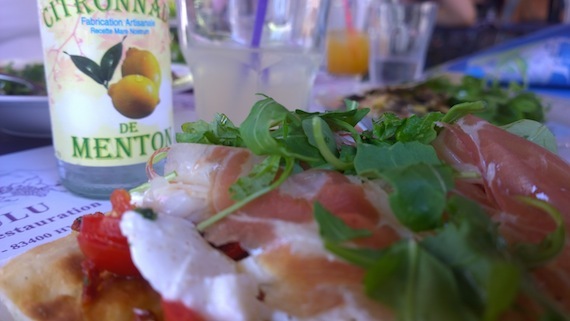 Charcuterie plate at Chez Lulu. Photo: Paul Allen
Foodies, especially fish and seafood lovers, will adore Hyères. Our first lunch was freshly caught fish brought in that morning by local fishermen to Le Neil restaurant at Port du Niel. The idyllic Port du Niel at the tip of the Giens peninsula is the southern most point of Provence and boasts crystal clear water and secluded rocky inlets for swimming. Later, back in town, we enjoyed Italian specialities including fresh artichokes, charcuterie and a divine dessert platter served by the friendly owner of Chez Lulu. My sweet tooth was further satisfied first by calissons, a Provençal speciality made of ground almonds and candied fruit at Dominique patisserie and then with Vacharin framboise and salted caramel mousse at Au Fil de L'Eau in the Place des Savonniers. More fresh fish was on offer for our final meal in Hyères at the funky L'Abri-Cotier in front of Ayguade beach.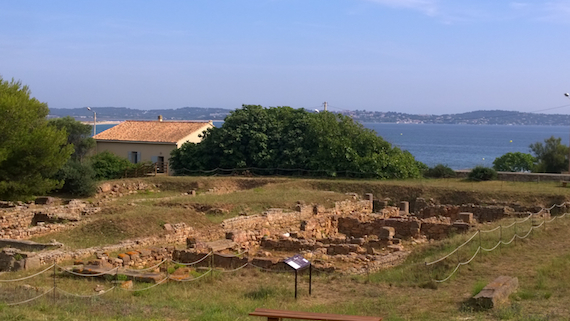 Olbia Roman town. Photo: Paul Allen
Olbia ('Blessed'), Hyères' original name, was a fortified maritime colony en route to Marseille. Today the archaeological site of Olbia is the only one on the Mediterranean coast to have been preserved in its entirety. Visitors to the site can see substantial remains of houses, streets, public baths and more.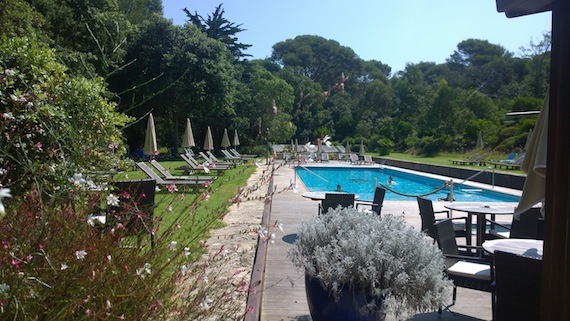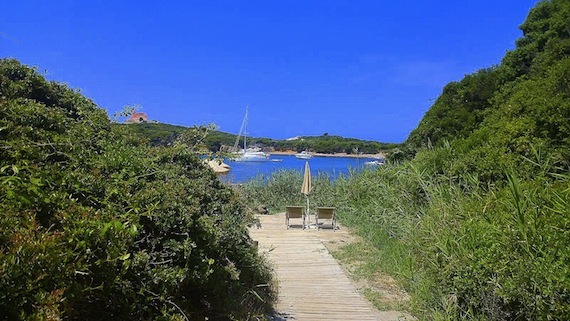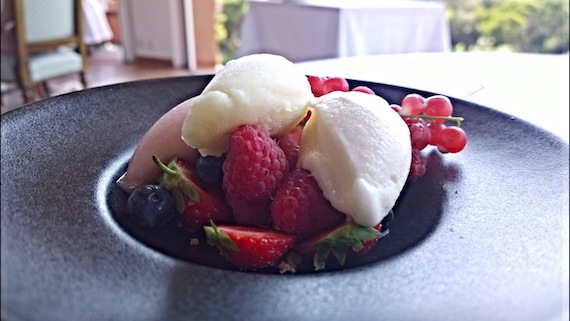 Le Mas du Langoustier. Photos: Paul Allen
Across the road from Olbia is one of the many long beaches on the peninsula and further down on the point, we caught an early boat to Porquerolles, one of Les Iles d'Or'. An essential day trip, Porquerolles is 7 km long and 3km wide and offers many splendid beaches, vineyards, forests and hiking trails. The island is gorgeous but in July it's pretty hectic so we were relieved to find Le Mas du Langoustier, a peaceful haven down one end of the island. Having just missed the annual Porquerolles jazz festival, it was a pleasant surprise to see photographs by Daniel Lebec of this year's event on display at Le Mas. In addition to a charming hotel with 50 rooms, a swimming pool, private beach and tennis courts, Le Mas boasts two Michelin-starred restaurants, La Pinède and L'Olivier, both serving Provencal-inspired menus. At our table overlooking the bay, we feasted on grilled lobster and asparagus with lemon caviar, washed down with a fine rosé from Le Mas's own vineyard. After lunch we were whisked off in one of XL yachting's speedboats for a tour around the islands.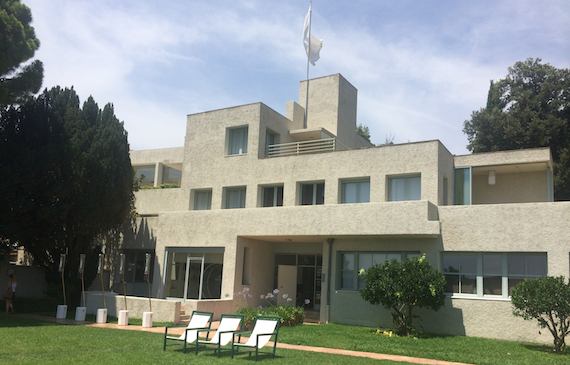 Villa Noailles. Photo: Paul Allen
Another Hyères highlight is Modernist Villa Noailles. The former holiday playground of Man Ray and Bunuel, among others, is a fitting home for the Hyères International Fashion and Photography Festival, celebrating its 30th anniversary this year. Talents like Viktor & Rolf were first recognised at this festival and high profile judges from art, fashion and film
are always on the jury. Last year's jury included Carole Lim and Humberto Lim from Kenzo, Chloe Sevigny, Spike Jonze and Maurizio Cattelan.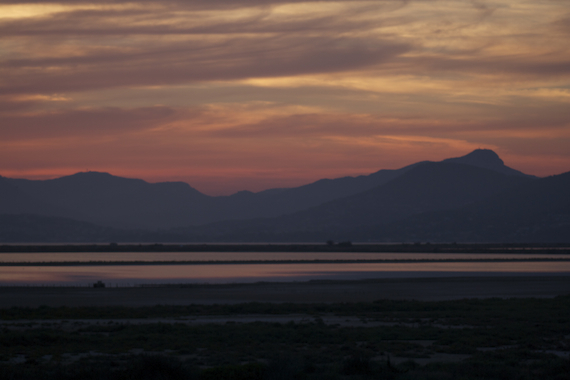 Classic Hyères sunset (no filters). Photo: Paul Allen
Getting to Hyères from the UK is easy. There are direct flights from London and Bournemouth to Toulon which is pretty much on the doorstep of Hyères. Nice airport is another option but we chose Marseille, about an hour's drive from Hyères because part two of our French holiday included the annual Marseille jazz festival.