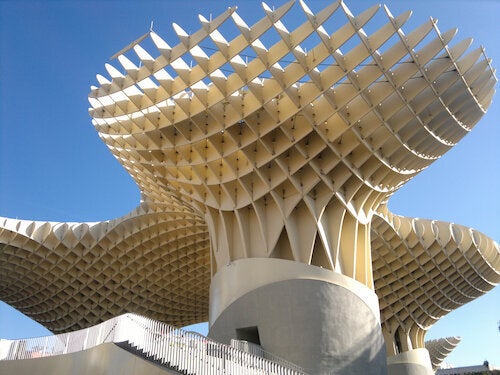 Metropol Parasol designed by Jurgen Mayer H., Photo courtesy Paul Allen
With chilly February extending into an equally frigid March, I think longingly of our recent trip to one of my favourite cities - sunny Seville, the exquisite capital of Andalucia in southern Spain. Only a short flight from the UK, followed by a short taxi ride, Seville is an ideal weekend destination.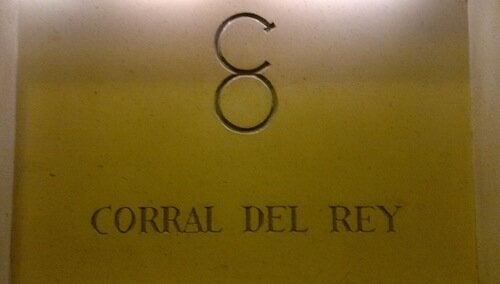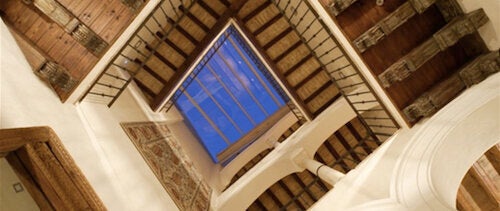 Corral del Rey hotel, Photos courtesy Paul Allen
We stayed at the delightful Corral del Rey located in the centre of the old quarter of Barrio Alfalfa, five minutes from the Cathedral. Housed in a lovingly restored 17th Century palacio, our sumptuous room featured a high tech audio visual system and an ultra-modern bathroom with glass walls allowing the famous Seville sunshine to flood in.
Our room was wonderful but even more impressive was the incredibly friendly, helpful service from all the staff. While we were disappointed that it wasn't quite warm enough to have breakfast on the pretty roof terrace, the restaurant/bar on the main floor is elegant and comfortable. And we started our evening off one night perched at the bar sipping a dry Spanish sherry while being advised on the best tapas bars nearby.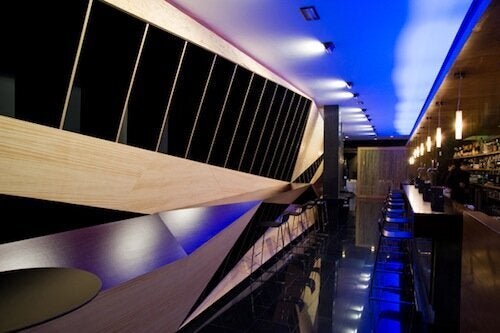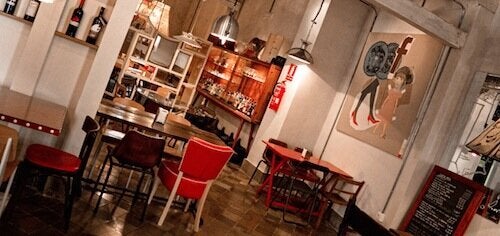 Two favourite tapas bars - El Zelai and La Bulla
Mercado Provencal on La Alameda square, Photo courtesy Paul Allen
With more than 1000 bars on offer, a 'tapas crawl' is a satisfying way to have dinner. Three of our favourites in the central area near the cathedral, both for food and atmosphere are
Ovejas negras, just off the expansive Avenida Constitucion with truly memorable pork belly and tuna tartar, El Zelai featuring 'modern' tapas (stick to the bar rather than the restaurant) and La Bulla, a funkily designed, popular spot with the locals. Slightly further afield in the north part of the historic centre, we found simple tapas and what was advertised as 'the cheapest beer in Europe' at Mercado Provencal, a scruffy but vibrant cafe on La Alameda square.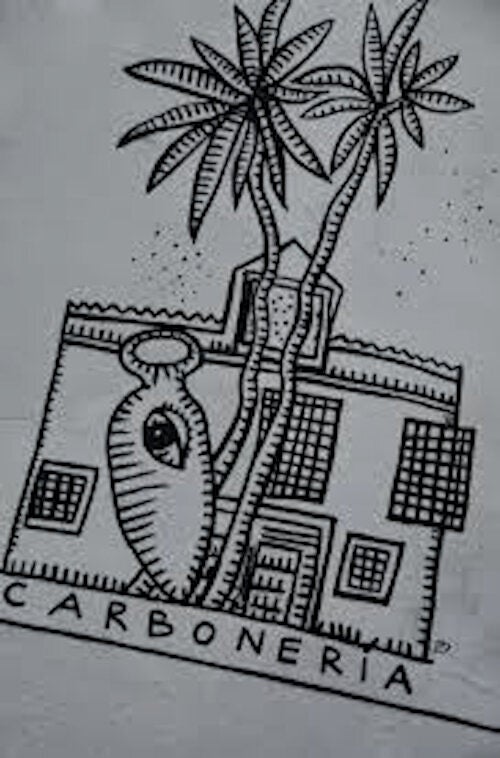 As the cultural heart of southern Spain, Seville has plenty to offer besides tapas and cheap beer.
Highly polished Flamenco performances can be found nightly at the Flamenco Museum and other similar venues but we opted for a more casual setting at the riotous La Carboneria where we saw
the standard trio of Flamenco dancer, guitarist and singer. And for nightly live music in a more intimate setting, we loved Cafe Jazz Naima just south of La Alameda.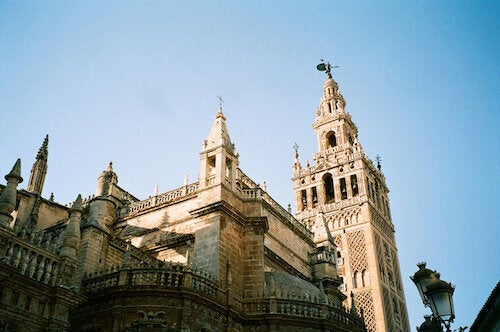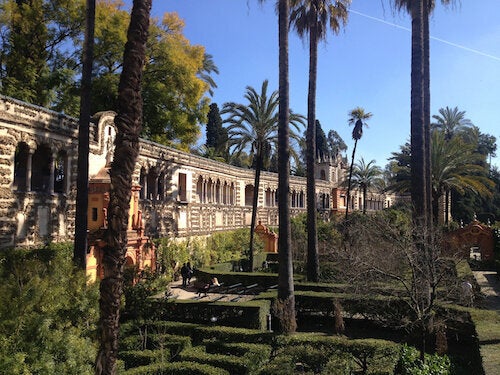 Seville Cathedral, Royal Alcazar Palace, Photos courtesy Paul Allen
Seville is famous for its Cathedral, the largest Gothic cathedral in the world. And next to the Cathedral is the equally impressive Royal Alcazar, a palace which started as a 10th Century Moorish fort and is still used as a residence of the King of Spain. With its mixture of Islamic, Gothic and Baroque architecture, magnificent gardens, tiled halls and courtyards, the palace is essential for any visit to Seville.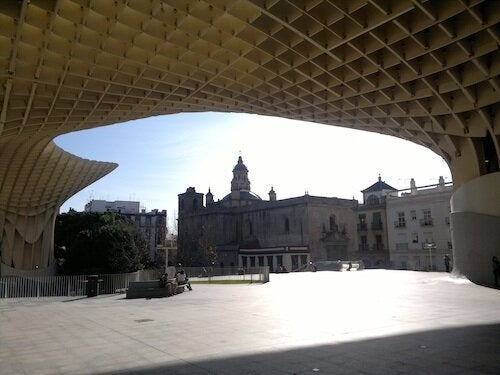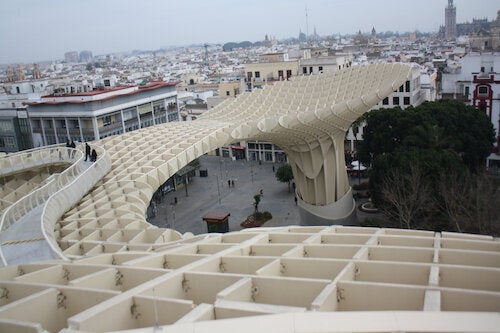 Metropol Parasol, Photos courtesy Paul Allen
A more modern architectural delight and the largest wooden structure in the world is the Metropol Parasol by German artist turned architect Jurgen Mayer H. The Parasol has inspired mixed feelings from the locals, probably because it cost €90million and took six years to build. However, noone would dispute that from any angle, the Parasol, is truly arresting. In fact, when we first glimpsed the Parasol from our taxi, we demanded the driver stop immediately so we could leap out and take a better look. A lift to the top with its undulating walkways rewards with panoramic views across the white rooftops, terraces and cathedral spires of the city and miles around, plus there's an attractive cafe for a daytime coffee or evening drink.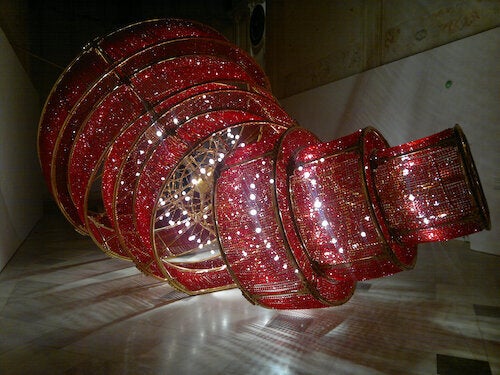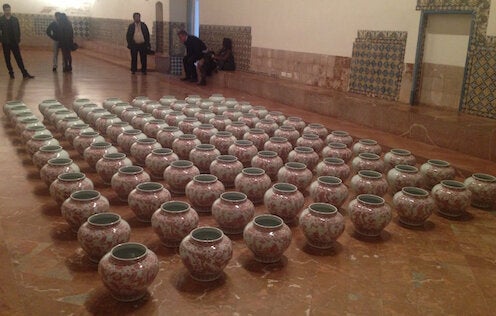 Ai Weiwei at Centre of Contemporary Art, Photos courtesy Paul Allen
Another unmissable cultural highlight is the Centre of Contemporary Art, a former 16th-century monastery which was transformed in the 19th century into a ceramics and tile factory by Liverpudlian merchant Charles Pickman. Of the four exhibitions currently on, the highlight is a superb Ai Weiwei show, on until June which features a fitting installation of ceramic vases and a giant red glass chandelier lying awkwardly on its side.
With daily sunshine virtually guaranteed, music, art, history, fine food and drink, it's no surprise that Seville is often billed as Spain's most beautiful city.