It is undeniable that, as the public perception of fashion weeks as uber-glamorous events has grown exponentially over the last few years across the globe, the role that they have played as professional trade shows has become gradually forgotten. If, for decades, the focus of a fashion week was the private presentation of seasonal collections to buyers and reviewers in order to generate sales and engage in a critical dialogue between professionals in the field, these days fashion weeks have become public platforms where style and behaviour are openly discussed.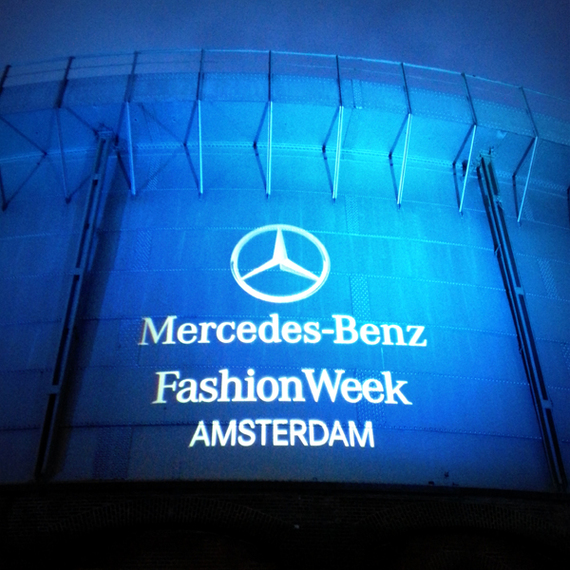 Photograph © João Paulo Nunes
As more and more people wish to partake in fashion week events and express their opinion about what they experience in unregulated public media channels, labels use that growing appetite to augment sales of their products and control their brand identity. The result is the blurring of the lines between fashion (as a creative process with a focus on high-quality materials and manufacturing processes) and clothing (as a mass-production industry anchored by a utilitarian purpose). To understand this shift, it is worth looking into Amsterdam Fashion Week, which, as it celebrated a decade of activity in January 2014, has become a good example of how the fashion industry has attempted to balance unbridled creativity with business acumen under the pressure of public scrutiny.
Having received financial sponsorship from Mercedes-Benz for the first time this year (which will secure its foreseeable existence in exchange for product placement and naming rights), the Dutch fashion showcase illustrates very adroitly how alongside (or as a consequence of) the radical change in the public perception of the fashion week, sartorial creativity has been forced to embrace commercial profitability with open arms. But, in an industry traditionally underpinned by artistic originality, is the current situation beneficial or detrimental for the future of fashion? Lisbeth in 't Hout, director of the recently created Dutch Fashion Council, believes that these developments have been positive for Dutch fashion.
According to in 't Hout, "Amsterdam Fashion Week is a young showcase focused on unveiling and promoting new talent. It used to be that international journalists and buyers saw the Netherlands as a small country with a lot of creativity but they just they didn't come to see the collections during our fashion week. But now, as Dutch designers have become more aware that fashion is a business and proving that they can be both creative and professional, the world is starting to look closer at what is produced here."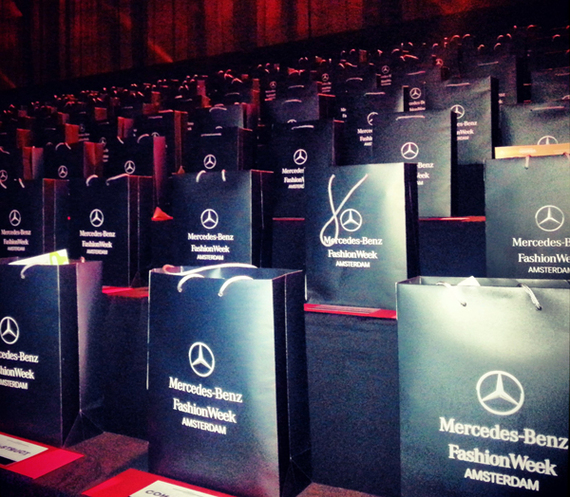 Photograph © João Paulo Nunes
However, the balance between sartorial ingenuity and business insight across the panorama of Dutch fashion is not an even one; it can even be argued that, in the quest for professionalism and profitability, designers have been forced to abandon sophisticated and intelligent treatments of conceptual influences and embrace populist taste and trends. "As they feel that it's important to engage with their audiences and their consumers, Dutch designers have developed closer links between fashion and performance." admits in 't Hout. "This season, and more than ever in the history of Amsterdam Fashion Week, fashion shows included singers and dancers as a way to translate the designers' ideas in an accessible format."
Shown during the last Amsterdam Fashion Week, Rebecca Ward's Autumn/Winter 2014 collection is emblematic of how present-day fashion, rather than leading society as an art form, is in fact being driven by the collective taste of consumers. For her third participation as part of the official schedule of Amsterdam Fashion Week, the New Zealand-born and London-trained young designer presented 'The Magic Theatre', a collection that claimed inspiration from Herman Hesse's 1927 novel Steppenwolf. However, if the conceptual intent behind Ward's womenswear range was the exploration of unit and dissolution as experienced by Hesse's protagonist, the end result evidenced dualities that, in the plain juxtaposition of contrasting fabrics and shapes, remained unconvincing. Although Ward's elegant silhouettes (decidedly influenced by mid-nineteenth-century European fashion garments) and the printed satins and laser-cut soft leathers proved to be seductive and a success with the audience, overall the collection failed to translate the rich complexity of Hesse's psychoanalytical treatment of gender and social issues, two notions that have informed the work produced by a considerable number of fashion designers throughout the twentieth century.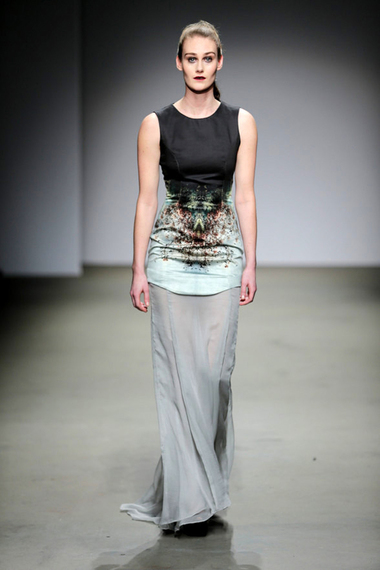 Rebecca Ward Autumn/Winter 2014
In menswear, Jonathan Christopher Homme's collection featured a succession of wearable looks and an array of commercial collaborations that begged the question if it belonged in a fashion week. This was a commercial range that unapologetically rejected the realm of high fashion and opted instead to fuse elements of urban style and sportswear to focus on the utilitarian and pragmatic dimensions of everyday clothing. Despite the odd nod at creativity in the form of painted patterns on fabrics, an interesting electric blue knitted cardigan, and the original use of fur and metallic materials, Christopher's silhouettes were largely conventional, with an abundance of staple garments such as tailored trousers, bombers and varsity jackets, and the colour palette used was sombre and rather dull.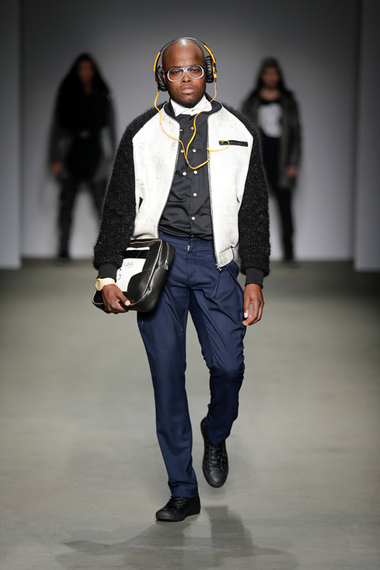 Jonathan Christopher Homme Autumn/Winter 2014
Even though an unusually high number of Dutch designers attempted to examine complex political and religious issues through their Autumn/Winter 2014 collections, these ended up revealing only an inconsequentially superficial treatment of the concept. In spite of captivating audiences with their performative anti-establishment undertones, not all fashion shows in this category managed to ask intelligent questions or instruct consumers into the semantics of fashion. On the contrary, as evidenced in Aziz Bekkaoui's successful creations, the sociological critical intent became redundantly secondary to the sartorial accomplishment.
Bekkaoui's large collection comprised men's and women's garments where military garb, orthodox Jewish looks, the styles of urban subcultures, and sportswear pieces were imbued with the richness of haute couture in a process that cleverly questioned fashion itself: if shorts, shoulder lines and sleeve volumes were tailored to perfection, bomber jackets were embellished with ruffles and had their lines elongated to become ingenious overcoats; and embroideries and lace were used to cover conventional jackets and dresses not to hide their inherent qualities but to add a creative and luxurious dimension.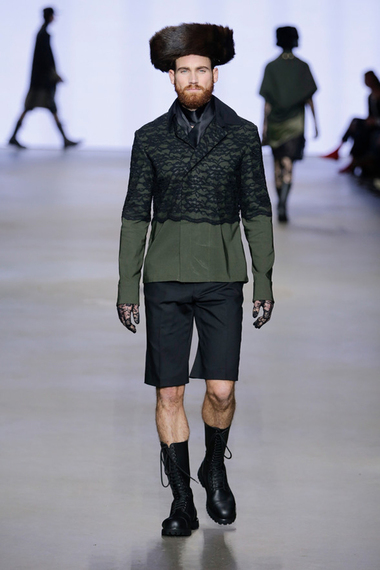 Aziz Bekkaoui Autumn/Winter 2014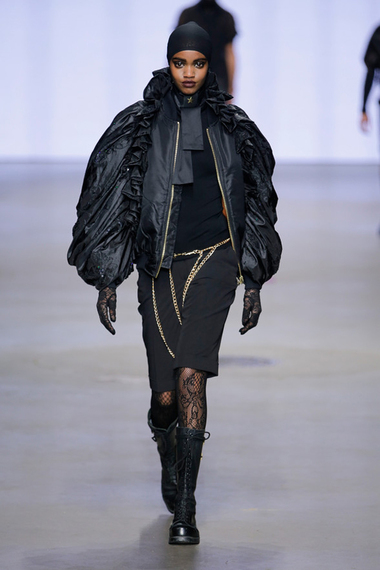 Aziz Bekkaoui Autumn/Winter 2014
Similarly, Francisco van Benthum's menswear collection revealed an overly concern with political messaging that took hooliganism-related imagery as a conceptual starting point but didn't always read further than its literal representation. Anchored by a colour palette of black, white, grey and red, the collection combined elements of sportswear with traditional tailoring to question the limitations of conventional menswear: dual shapes were present in trousers with wide waist lines that tapered at the ankle or revealed pleats on one side and large belt loops on the other, shoulders were either relaxed and slouched or created rigid angularities, bomber jackets and football scarves coexisted with belted raincoats and double-breasted overcoats, and plain-coloured fabrics alternated with pixilated patterns and Banksy-inspired street art prints.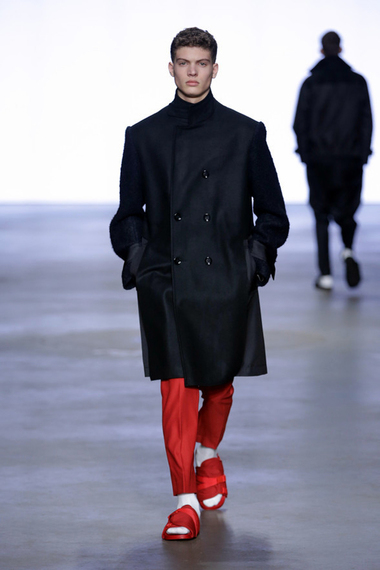 Francisco van Benthum Autumn/Winter 2014
Straddling the delicate line between commercial compromise and ingenuity with a great deal of success, Tony Cohen presented a polished collection that ticked all the quality fashion boxes. For Autumn/Winter 2014, Cohen explored a vision of feminine sensuality that masterfully balanced silhouette proportions by juxtaposing bulbous outerwear pieces and fluid fabrics with fitted dresses or trousers that came in plain, pleated and tapered versions. From the outset, the collection established a series of successful antithetical combinations, including rough textured wool and leather alternating with delicate gauze, soft merino wool and shimmering fluid fabrics in a colour palette where black, beige and white prevailed predominant but were, here and there, interspersed with dashes of pistachio and cerulean blue.
Furthermore, the 35 looks carefully edited by Cohen revealed an emphasis on elegant statement detailing in the large folded coat lapels, structured blouse collars, meticulous pleating, sharp square shoulders, frayed hemlines, and exaggeratedly long sleeves. A range of shoes with conical peplum-shaped embellishments that circumvented the legs above the ankles, and leather gloves with the odd application of fur contributed to the success of a sophisticated collection that managed to balance commercial nous and creative competence.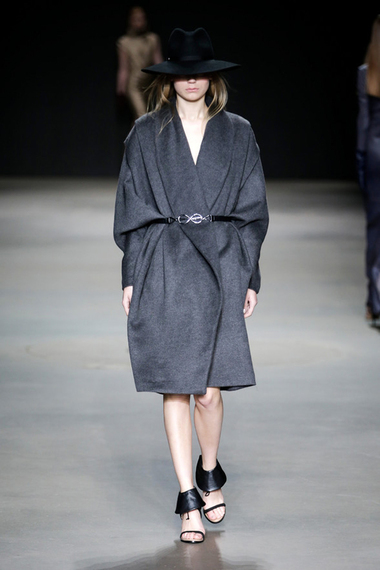 Tony Cohen Autumn/Winter 2014
At the opposite end of the Amsterdam Fashion Week spectrum, David Laport and Mattijs van Bergen proved to be the two most promising names in Dutch fashion with collections that revealed thorough research of fashion history and confident exploration of structure. In his capsule range, Laport explored how crafted shapes and predictably feminine tropes can be used to engender successful praise of high fashion. If the presentation opened with tailored pants and fitted tops to illustrate how the rigidity of slim cuts serves to highlight the natural curves and lines of the body, the looks evolved to include laboriously structured origami pleating and geometric shapes that exploded towards different directions from the waist or the chest to create innovative (and yet very feminine) silhouettes. Reinforcing his interest in how fashion portrays femininity, Laport also dotted the collection with floral embroideries and fabrics in a vivid colour palette that served to question the role of embellishment.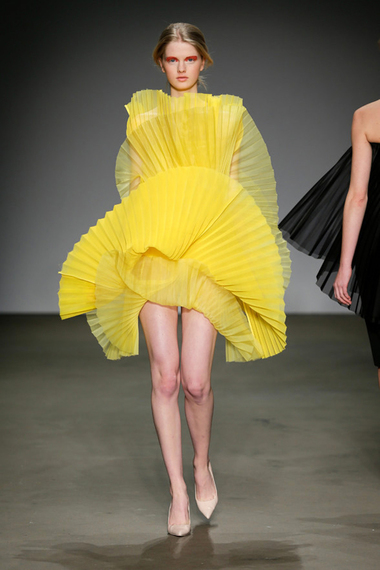 David Laport Autumn/Winter 2014
In a collection developed as a collaboration with Amsterdam's Van Gogh Museum, Mattijs incorporated some of the most renowned paintings by the Dutch Post-Impressionist master in the form of vibrant prints displayed on flowing long dresses and skirts. However, and to stress the notion that painting (like fashion) is a three-dimensional fabrication process, the most successful looks in the collection featured complex hand-painted patterns. Such approach also explored the concept of layering textures by combining fabrics of different colours and with diagonal, vertical and horizontal lines, and by investigating the possibilities of asymmetric cuts in a methodical way that resembled how Van Gogh created the illusion of distance in his landscapes.
This was a collection that, in the intelligent command of the brief imposed by the collaboration, revealed Mattijs at his best: painstakingly pleated skirts alternated with richly creased fabrics, luxurious linings of skirts and dresses were only visible in strategically angled lines, silhouettes conjured the formality of 1940s tailoring in delicately crafted waist lines and pencil skirts whose ultra-feminine cut was hidden by oversized knitwear, and slouched overcoats with unstructured shoulder lines and voluminous sleeves provided a vision of relaxed femininity.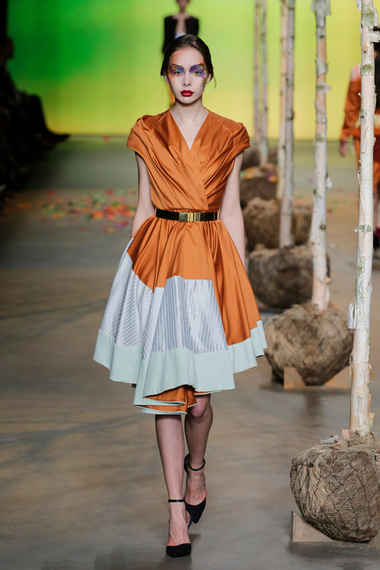 Mattijs Autumn/Winter 2014
Nevertheless, amidst the technically and conceptually accomplished collections produced by Mattijs, David Laport and Tony Cohen and the politically-infused creations by Aziz Bekkaoui or Francisco van Benthum, the show that stood out for all the right reasons during the last Amsterdam Fashion Week was the one that unveiled MaryMe-JimmyPaul's riotous creations. As expected of the eccentric Dutch label, textured materials and fabrics such as padded leather, fake furs, feathers and oversized knits came in metallic finishes and an array of bright colours were used to create looks that interrogated fashion by exaggerating elements of what, on the surface, were ordinary clothes. Successful examples of this approach included biker jackets that had their dimensions extended in different angularities, jackets that lost their original shape and became oversized by adding numerous feathers, and 1950s-inspired skirts infused with extra volume created by cleverly cutting and layering thick wools.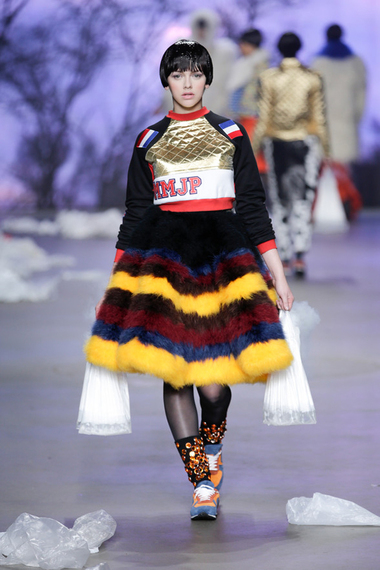 MaryMe-JimmyPaul Autumn/Winter 2014
As fashion weeks find themselves at an identity crossroads without knowing how to be able to travel two paths towards business and creative proficiency, I am reminded of Lisbeth in 't Hout's statement that, with Dutch designers becoming more business savvy, international press and buyers are presently paying more attention to what happens during Amsterdam Fashion Week. However, the interest from the rest of the world on the goings-on within the realm of fashion (in the Netherlands or in any other country) might in fact be originating from a very different angle, and precisely as a reaction to the obsession with measuring business success and rating a designer's trending popularity in social media.
As nebulous discussions to define fashion and its material and symbolic worth in the public arena are continuing with no end in sight, an effort is needed to start realising that it's only because of talented designers' intelligence, creativity and hard work that the global landscapes of fashion are richer and more meaningful. And maybe when that happens, we will all be able to enjoy the celebration of fashion as an elevating art form that has defined the skilful creations engendered by the likes of MaryMe-JimmyPaul: lighten up, appreciate the elevating potential of sartorial creativity, find your voice to sing your own songs, and just enjoy dancing your way towards the next fashion week.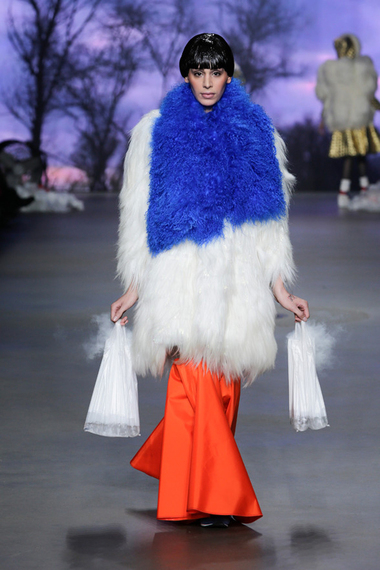 MaryMe-JimmyPaul Autumn/Winter 2014
(Unless otherwise stated, photographs are © Team Peter Stigter, courtesy of Mercedes-Benz Fashion Week Amsterdam)