Any follower of fashion is aware that fashion weeks tend to happen twice a year to follow the grouping of seasons as Spring/Summer and Autumn/Winter. Despite suggestions and rumours that this format may change in the future, such frequency has happened for decades with little change in the major global fashion centres. The expected and regular periodicity of the sartorial clock not only impacts on creative pressures but has knock-on effects on production formats and on retail deliveries. In such a context, the decision by the organisers of São Paulo Fashion Week (SPFW) to hold their 34th season as a third major showcase in the same calendar year (and fork an annual bill of BRL34 million in the process) in order to adjust the calendar of fashion weeks to the benefit of designers and retailers was, to say the least, a brave one. However, the successful event that took place in late October 2012 to unveil Autumn/Winter 2013 collections (and also timed to follow the established calendar of the 'big four' fashion weeks of New York, London, Milan, and Paris) attracted the interest of international press and buyers and proved to the world that the Brazilian fashion industry is a powerful force to reckon with.
Paulo Borges, who has been managing the fashion weeks calendars for São Paulo and Rio de Janeiro since 1996, explained that such a "change will mean the [Brazilian] fashion industry will have longer deadlines for production and delivery. The risks, which had previously been assumed exclusively by the creators, will be shared throughout the chain. Companies will be able to work to a better schedule, and to guarantee more efficient delivery." Ultimately, and according to Borges, this is "another step towards establishing Brazilian fashion on the global market."
The fact that the usual venue (that also hosts the São Paulo art biennale) had been previously booked was not an obstacle to the event, and a mammoth new structure was swiftly erected in the Villa-Lobos Park, with a design by artist Felipe Morozini inspired by the large greenhouses of the nineteenth century and the green flora contained therein. Designers obliged and, despite the pressure to conceive and produce a whole range of new collections in a shorter period of time, they managed to pull through very successful outputs. Of those on show, brands and designers such as Osklen, Tufi Duek, João Pimenta, Colcci, Gloria Coelho and Alexandre Herchcovitch stood out for very different reasons that illustrated the undeniable importance in creativity and financial power that Brazilian fashion has garnered in the global arena.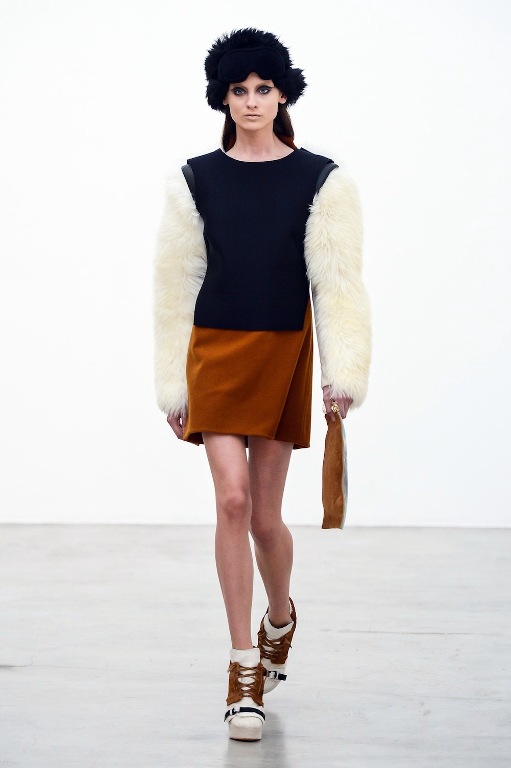 Osklen Autumn/Winter 2013
Given its global dominance as a fashion brand, it came as no surprise that Osklen's runway show to unveil its Autumn/Winter 2013 collection was chosen to open SPFW. Under the creative direction of Oskar Metsavaht, Osklen has, over the last few years, embodied the unstoppable and emerging dominance of Brazilian fashion, and its latest collection confirms that this is a brand that the world should watch.
Shown in the warehouse space of art gallery Zipper, in the affluent neighbourhood of Jardins (to a small group of only 60 journalists and buyers) the collection was titled 'Into the Mountains' and comprised 18 looks for men and women structured in three blocks of six looks each. The inspiration came from the attire of skiers and snowboarders and from mixing the sophistication of Aspen in the 1960s and the rusticity of the Patagonia. Silhouettes were fitted while occasionally playing with the notion of layering, and asymmetrical lines and backless tops added elegant touches.
The colour palette evoked alpine imagery and cold weathers, with black, off-white, carmine and gold featuring prominently. Fabrics included Italian wool, alpaca, sheep skin, chamois, bovine leather, neoprene, cotton jacquard, mohair and rustic handmade silk loom, and featured prints depicting the landscapes of Patagonia and Aspen, tartan, and black and white lions, pines, and snow crystals.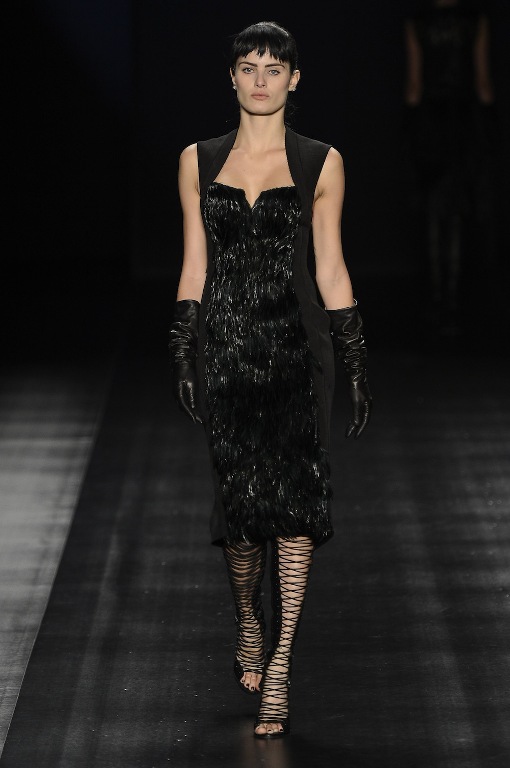 Tufi Duek Autumn/Winter 2013
Later in the day, Tufi Duek showed one of the most accomplished and elegant collections that took to the runways during SPFW. Under the creative direction of Eduardo Pombal (who trained in Milan's Istituto Marangoni), and inspired by Alfred Hitchcock's 1963 film 'The Birds', the collection suggested influences by early Christian Dior and recent designs by Roland Mouret (namely the shapes of the iconic Galaxy dress) that incorporated external pleating techniques and synched shoulder and waist lines.
Pombal resorted to textured fabrics such as leather, waxed lace, wool mesh, lurex, sequins and feathers in a dramatic colour palette that comprised black, deep shades of green, purple and red to engender a strong and yet feminine woman. High-heeled laced-up leather boots, black elbow-length gloves and sharp tailoring also evidenced this confidence, with double buttoned fit blazers and tight trousers that widened slightly at the hem line. The physical shape of the crow and its spread wings in dynamic flight influenced the asymmetrical hems and coat fastenings, the volumes in the hip area, and the décolletage designs in what proved to be one of the strongest collections on show.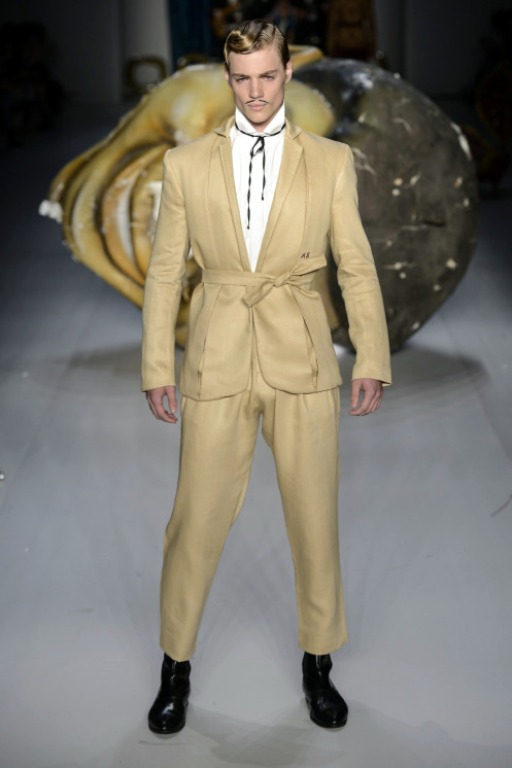 João Pimenta Autumn/Winter 2013
Perhaps reflecting the conservative approach to fashion that still characterises Latin American male consumers, there was only one runway show during SPFW that focused exclusively on menswear. In contrast with the overwhelming predominance of dull options when it comes to Brazilian menswear retail, João Pimenta produced an intelligent and well-researched collection where the conceptual narrative was adroitly manipulated to create a series of accomplished garments.
The collection was inspired by the images of Brazilian male rogues of the 1930s and how they engendered concepts of masculinity in diverse art forms, namely sculpture and cinema. The focus was on how suits and overcoats worn by the 'malandro' men in the Brazil of the 1930s served to inspire contemporary silhouettes: high-waisted, tapered and pleated trousers or tight-fitting Long Johns were balanced by the bulbous shapes created by belting jackets, by attaching safari-style patch pockets, or by introducing internal slits in the fabric at torso, knee or elbow levels (a tailoring technique used since Edwardian times that Pimenta proved to master proficiently).
The exploration of innovative fabrics also imbued the collection with stunning metallic effects and shimmering textures from velvet, leather and glittered serge. When I interviewed Pimenta backstage, the designer admitted that, given the lack of fabrics in Brazil, he had to make his own. This creative process resulted in elegant combinations of linen with lurex that were achieved after a large number of trials and experiments. The colour palette concentrated on black, beige, cream, shades of light pink, reddish brown, whereas dashes of gold, wide stripes and floral paisley were used to evoke a combination of masculine and feminine imagery with the intention to question the tradition of menswear.
Ultimately, this was a sophisticated collection whose conceptual narrative might have failed to be understood by Brazilian men. Nevertheless, even if local consumers may fail to grasp João Pimenta's intention, buyers worldwide should definitely keep an eye on the work of this talented designer and follow his impending success.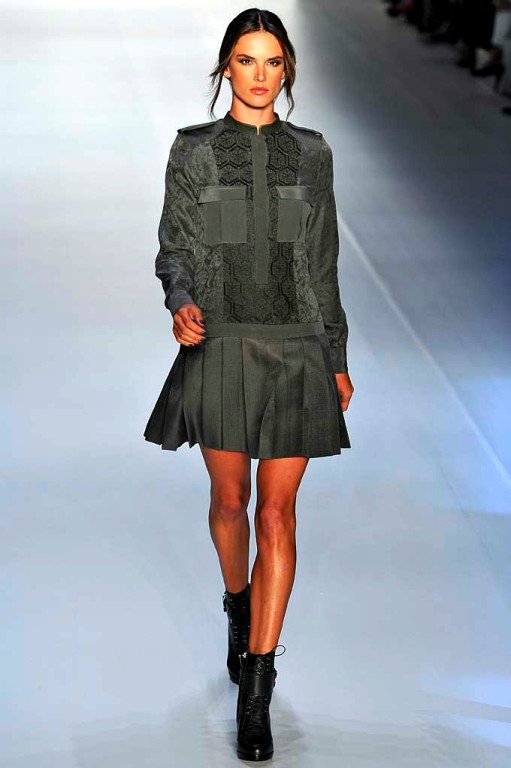 Colcci Autumn/Winter 2013
When a designer is tasked with overseeing the creative direction of a fashion label like Brazilian Colcci that produces 1,800 units of apparel, accessories and footwear each season to be sold in 1,760 stores across 31 countries, the pressure to comply with commercial and branding positioning imperatives can put tremendous pressures on ingenuity. However, the duo Jeziel Moraes and Adriana Zucco managed to pull together yet another successful collection for the Brazilian fashion giant's Autumn/Winter 2013 range. In addition, and perhaps reflecting changes in the global perception of the fleeting celebrity arena, Colcci decided not to use the likes of Paris Hilton and Ashton Kutcher to model its clothes on the runway again, preferring instead the professional modelling skills of girl-next-door Alessandra Ambrosio, the latest ambassador of the brand.
The collection explored the sartorial potentials of texture and fabric blocking adroitly in a range of clothes and accessories that impressed the audience of expert fashion journalists. However, as any regular visitor to a Colcci store would have noticed, these might not be the clothes that the retailer will sell the most or even have on display. These are clothes that will please editorial stylists and journalists and will sell the high-end image of the brand to the masses in order to attract customers to the store. What remains questionable is whether these stylish pieces will be available in the large quantities that some customers will expect to find, or if they are just the hook to increase the number of customers who will eventually buy other garments when in the store.
Regardless, this was an admirable and vast collection that, particularly when considering that it tried to resolve the challenge of addressing the populist fashion demands of affluent young consumers, combined street style and sophistication. The nod to recent styles developed by global brands like Prada, Marni, Stella McCartney or Martin Margiela that explored the notion of duality were present in the contrasting sleeves, fabric panelling and colour blocking, or in the geometric prints that evoked pyjama designs against solid colours. In addition, distressed denims contrasted with fine leathers, jacquard and beading work, while the colour palette evoked the functionality of day wear and the elegance of evening wear. Equally, military and varsity styles (as evident in the abundance of bomber jackets and raglan sleeves) clashed elegantly with mini-skirts that evoked the spirit of 1960s London.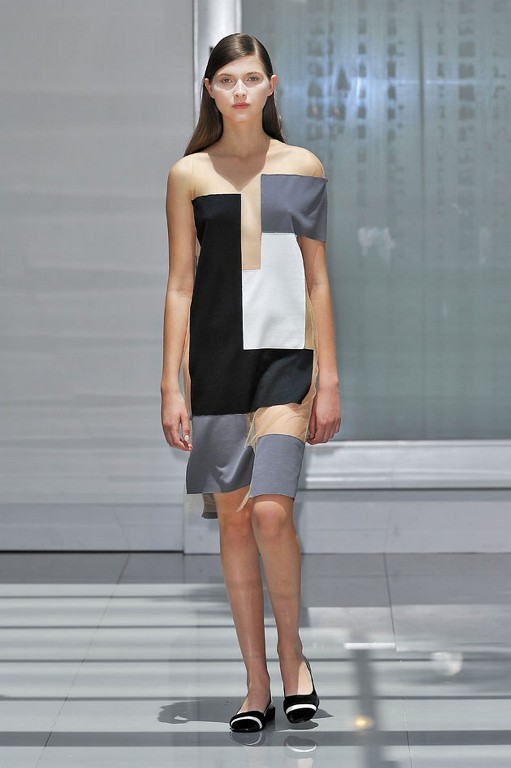 Gloria Coelho Autumn/Winter 2013
Gloria Coelho, a renowned and celebrated designer on the São Paulo Fashion Scene, partnered with sponsor Electrolux to show her collection in the household white goods' showroom. In the odd (and over-heated) setting, and amidst ovens and washing machines, a crowd of journalists and fellow designers witnessed a strong collection inspired by clear geometric shapes and urban architecture in a palette that comprised black, dark grey, off-white, navy blue, brown, red, green and camel. Designs mixed city skylines with trees, an eclectic approach to inspiration that also saw the blending of sportswear shapes (such as raglan sleeves) and fabrics (namely cotton and jersey) with luxurious couture fabrics (such as tulle and silk) and embroideries. Coelho's minimalist tradition stood out once more and confirmed her as the doyenne of SPFW.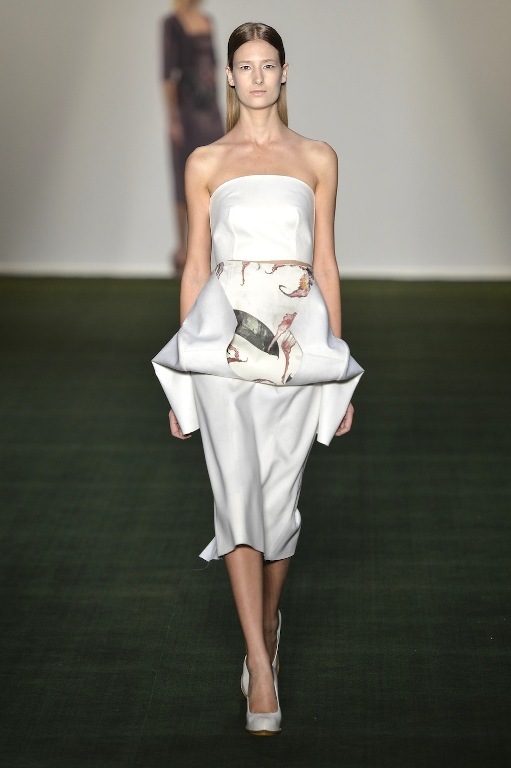 Alexandre Herchcovitch Autumn/Winter 2013
And, of my personal selection of the talented designers who showed during SPFW, Alexandre Herchcovitch proved that he is one of the most talented designers around, with a creative potential that transcends the borders of Brazil, and who deserves to be recognised globally. His ironic and playful deconstruction of the peplum as the overused structure of recent years in womenswear was invigorating and only highlighted the highly structured (and almost architectural) dimensions of dresses that illustrated the concept of sartorial rigour very dexterously. Furthermore, the metaphorical treatment of woman as flower was evident not only in exquisite floral prints but also in the rounded shapes that took to the runway. Herchcovitch's sartorial voice, which can safely be considered the critical and inquisitive voice of Brazilian fashion, spoke volumes to illustrate the creative dimension of this impressive growing nation.
At a time when fashion weeks in New York, London, Milan and Paris reflect the global recession conjuncture, and the overall feeling of their audiences is one of depressing apprehension, Brazilian fashion (and particularly the work that is coming out of SPFW as its most important creative showcase) breathes much-needed fresh hair and optimism into a multi-million dollar industry. For now, SPFW may be the most important fashion week in Central and South America, but its ambition to move from fifth place upwards and compete with the 'big four' is clearly unstoppable. If you haven't done so, refocus your gaze and look south of the Equator now: Brazilian fashion has arrived and is here to stay.
(images courtesy of www.ffw.com.br)