As predictable as cold spells in the northern hemisphere in January, the tabloid press had a field day covering the runway shows and presentations that took place during London Collections: Men. In a not entirely unexpected kneejerk reaction, the menswear showcase for Autumn/Winter 2013/14 (orchestrated by the British Fashion Council between 7 and 9 January 2013) had the sensationalist media highlighting the ridiculous and overlooking the sublime, showing a predictable focus on styling and presentation rather than on the examination and appreciation of the sartorial ingenuity on display.
If journalists were to investigate the work of the over 60 menswear designers and brands and paid attention to positive reactions by the numerous international critics and buyers in attendance, they would see that this second edition of London Collections: Men confirmed London's status as the most exciting city in the world when it comes to menswear. Not only are London designers able to produce conventional suits, ties, shirts and shoes, but they are also able to collaborate independently or together to push the boundaries of tradition.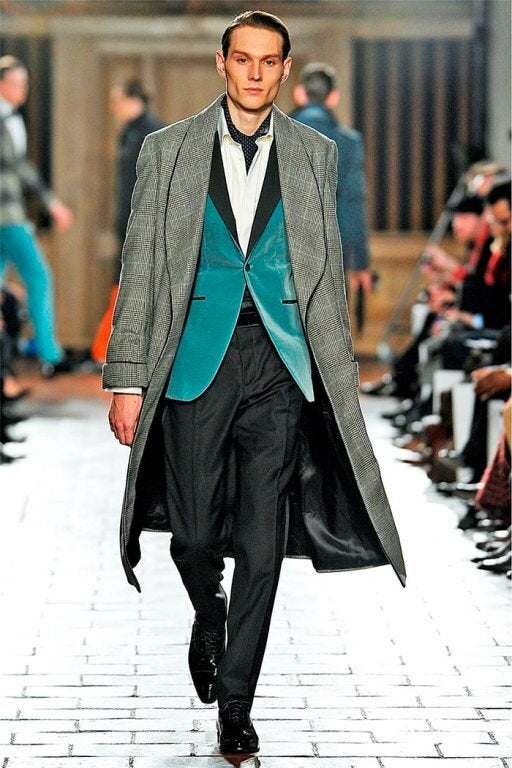 Hackett Menswear Autumn/Winter 2013 (image courtesy of Hackett)
There were many undeniably eccentric and elegant traits that made the presentation of Hackett's menswear collection a very British affair. The decision to host the runway show in the crypt of St Paul's cathedral, a much loved British monument located in the City of London (the financial centre of the UK, if not of Europe) was the perfect setting for a collection that evoked manifold representations of British sartorial taste.
The collection featured traditional shades of grey and navy (as befits conventional business garb), as well as prints such as checks, stripes and polka dots in colours and dimensions that have been ubiquitous in male tailoring for decades. However, the slim cut could not be more modern, and neither could the range of accessories such as weekend bags and totes made from tweed that matched coats and suits. Furthermore, a rich plethora of colours suggested a subtle invasion of casual dressing codes as a way to question the sobriety of traditional formal clothing, particularly with hues that stood out and enriched the collection, such as a rich caramel brown (in knitwear) and a vivid eggshell blue (in evening wear).
The diversity of rich wools and patterns was beguiling, particularly as the pieces were adroitly styled through a melange of checks in different scales with Fair Isle knits, and colours were combined in elegant and unexpected contrasts. In addition, the very skilful cropping of coats and slim trousers at just the right level between experimental and formal made the Hackett menswear collection one of the most outstanding of the three days of London Collections: Men.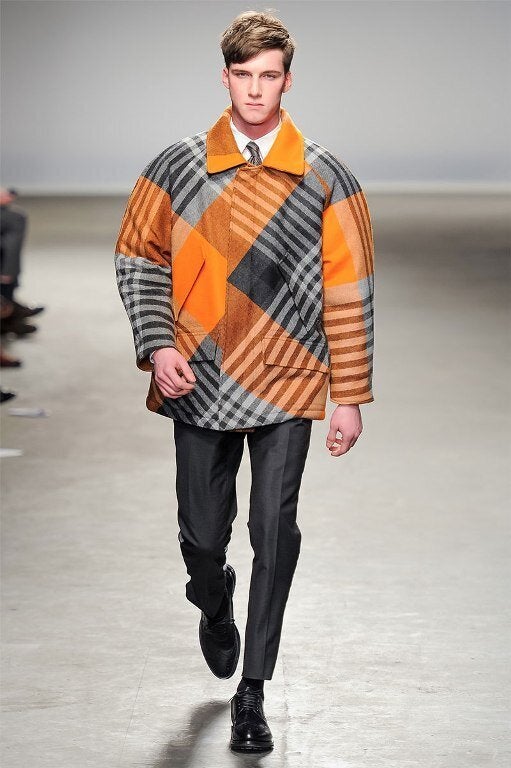 E. Tautz Menswear Autumn/Winter 2013 (image courtesy of E. Tautz)
In the introductory words to his collection for the label E. Tautz, Patrick Grant explained that he found inspiration in Scottish cloth vernacular, namely tartan, estate tweed and argyle. In addition, the checked tweed in a 1970s jacket discovered on eBay inspired the oversized scale of the seductive tartan used throughout the collection, in a move that mirrored Grant's own appreciation of crystals viewed on a microscope.
The collection's 26 looks revealed a reassessment of scales and shapes of traditional menswear with extremely successful results. The colour palette focussed on black, white, shades of grey, and occasional dashes of navy blue, vivid orange and purple in fabrics where luxurious soft wool draped elegantly and sculpted graceful silhouettes. Trousers came in a variety of cuts, either flat-fronted, pleated, or as long breeches closed at ankle level by elasticated bands, whereas knitwear in geometric patterns evoked 1980s designs (an historical ambiance also evident in the runway show's soundtrack, which featured songs such as Kate Bush's 'Running Up That Hill' or Ultravox's 'Vienna'). However, it was the display of strong outerwear pieces that made this collection stand out for all the right reasons.
The design focus on jackets, trenches and overcoats is not unusual in E. Tautz's collections, and the Autumn/Winter 2013 collection was no exception, with very successful garments such as wool trench coats in navy or black, double-breasted cropped jackets with wide and slightly rounded lapels, and raglan overcoats with patch pockets and angular shoulders that widened the torso in a flattering way. In addition, these pieces were made from fabrics with oversized tartan patterns in shades of grey, purple or orange positioned in a traditional vertical/horizontal format that sometimes alternated with diagonal layouts in a process that resulted in playful and exceedingly elegant garments. Overall, this was yet another outstanding collection for E. Tautz that confirmed Grant's sartorial and business nous anchored on the appreciation of timeless sophisticated masculinity.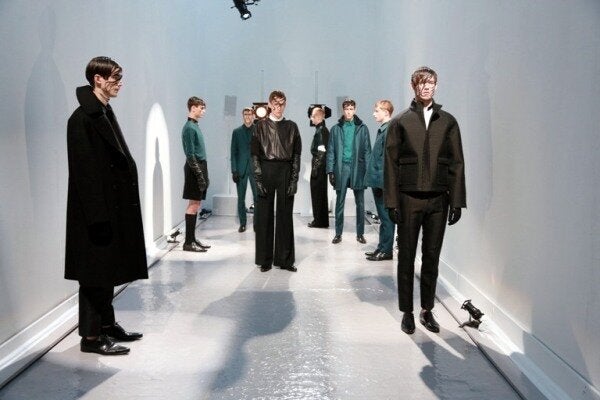 Qasimi Homme Autumn/Winter 2013 (image courtesy of Qasimi Homme / Trace Publicity)
Menswear label Qasimi Homme presented 'Crux', a capsule collection of eight looks as a preview of his runway show scheduled to take place during Paris Men's Fashion Week later this month. The standing presentation occurred in four timed slots that had attendees patiently waiting in line for what ended up being one of the most exciting and promising collections during the London menswear showcase in January 2013.
Drawing on inspiration from film noir and expressionism, the collection focussed on updating traditional menswear classics, such as cropped bomber jackets, and military and Parka coats by incorporating oversized drop shoulders and blending different fabrics in their construction. Trousers ranged from the oversized with wide legs to slim-fit tailored styles, whereas knitwear came in fine gauge textures. Detailing was central to the collection with the introduction of contrast leather and detachable pony collars on shirting alongside accessories including leather and wool panelled gloves. Luxurious fabrics included shearling, sheepskin, silk jacquards and paper leather across a palette of black and dark emerald hues and geometric prints inspired by designs from the 1950s and 60s.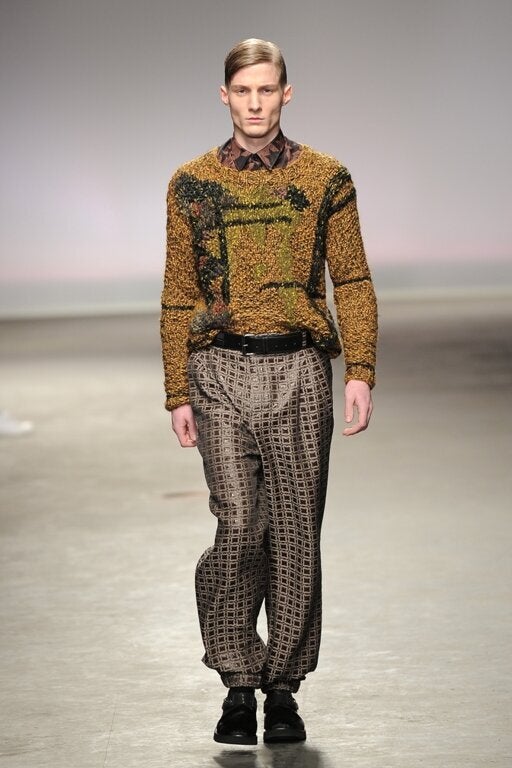 James Long Menswear Autumn/Winter 2013 (image courtesy of James Long)
James Long presented a collection inspired by, amongst other themes, the films of John Waters. Prints of singer/actor/performer/drag queen Divine and of pink flamingos featured in knitwear while a certain teenage rockabilly-cum-grunge rebellious attitude to life was suggested in the leather and wool jackets and in the rubberised pleated trousers that were elasticated at the ankle, revealing a fusion of conventional menswear, varsity designs and casual sportswear.
An autumnal dark palette comprised shades of brown, camel, ochre, mustard, maroon, grey and black in slicked fabrics and plastics, wool and leather. Although Long has been renowned for his knitwear pieces, the collection's cardigans and crew-neck jumpers with mixed textures and metallic threads were not the strongest that we have seen over the years. Instead, Long's focus seemed to be on the exploration of the symbolism of pattern and on a varied range of outerwear that featured quilted leather gilets, bomber jackets, oversized coats with raglan sleeves and metallic parkas cinched at the waist by drawstrings.
At some stage, the collection's styling seemed to suffer from an exaggerated eclecticism, making the audience wonder if the runway show mightn't have benefitted from some focus and toning down. Although James Long's talent was present throughout in every garment, the density of colours, textures and patterns entailed having to make an extra effort to examine the looks and appreciate the quality of garments on display.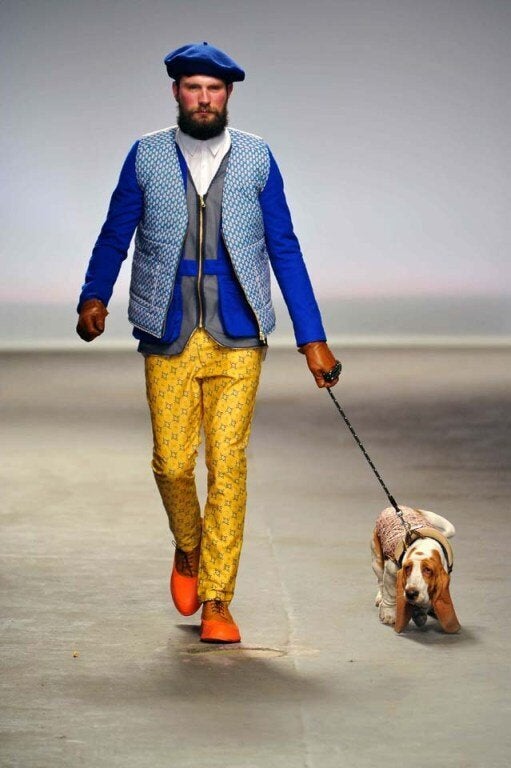 Agi & Sam Menswear Autumn/Winter 2013 (image courtesy of Agi & Sam / MAN)
One of the most interesting displays of sartorial ingenuity and competence exhibited during London Collections: Men is the collective show MAN. Organised by Fashion East and Topman, the initiative has been running for 16 seasons with the intention to champion the best and brightest new menswear talent in London by funding three promising and emerging labels (for up to three years each) in order to enable them to produce and display their collections in a runway show format.
Astrid Andersen showed her designs first, followed by newcomer Craig Green, but it was the third collection, by duo Agi & Sam, that stole the show for its playful concepts, bright and intricate prints, and proficient tailoring that went beyond mastering basic techniques to revel in trompe l-oeil innovations such as deconstructed suit jackets fastened not by buttons but by zippers on the back (making them look like smocks), formal coats with padded sleeves and double-breasted jackets with the rows of buttons positioned at an unusually wide distance.
Under the name 'To the Peak, and Past it - Memoirs of a Duke' (a chapter title in the autobiography penned by the seventh Marquess of Bath), Agi & Sam's collection intended to bring together images of the Farmer and the landlord Aristocrat to engender a contemporary British masculinity that embraces high and low cultural social constructs. This was achieved not only by reinterpreting diverse menswear influences but also by explicitly revealing divergent cultural references; an example being the show's soundtrack that alternated Antonio Vivaldi's 1723 'Four Seasons' violin concertos with Blur's 1995 pop song 'A House in the Country'. This combination of opposites could equally be found in the models chosen, with older men sporting rugged bushy beards and sideburns contrasting with the clean shaven look of young groomed models.
The blending of contrasts continued in the decision to mix fabrics such as boiled wool and crisp cottons with duck down-filled technical nylons, and in the juxtaposition of conventional and casual colours such as midnight blue, cobalt, banana yellow, grey, camel, rust orange and white. In prints, traditional patterns that featured paisley designs, and foxes, pheasants and badgers were redrawn and resized to micro scales in a somehow postmodern process that, on close analysis, questions menswear traditions.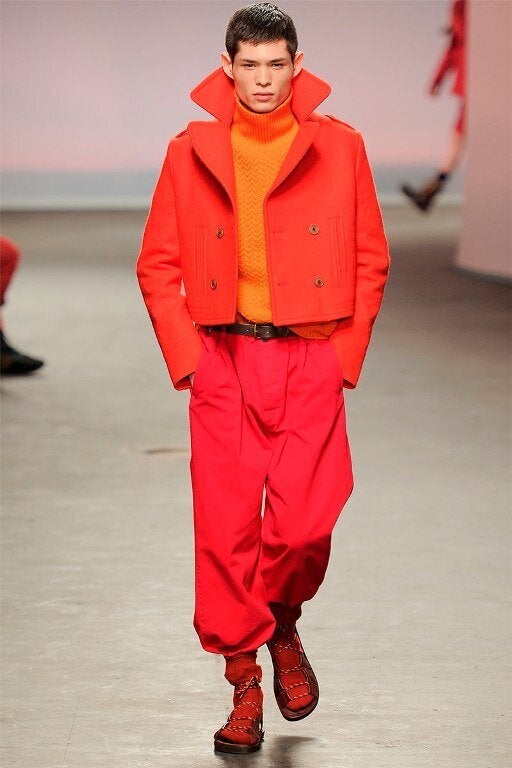 Topman Design Autumn/Winter 2013 (image courtesy of Topman Design / Arcadia)
Topman Design offered what was one of their strongest collections in recent years. Structured around four blocks adroitly divided by colour gradations (in shades of white, orange, red and black), the collection balanced silhouettes in a very effective way. This was achieved by exaggerating shoulder lines with voluminous fur-lined parkas, cropping coats at the (belted) waist level to then widen the contour of the body with wide double-pleated trousers that narrowed again as the bottoms were tucked into boots or sandals, creating hourglass shapes that had the audience seduced throughout the show. Metallic fastenings and lurex threads in knitwear added a shimmering dimension to otherwise heavy fabrics, while double-breasted buttoning in suits and coats with fur-lined collars evoked the traditional elegance of heritage tailoring. In addition, a range of stunning oversized leather rucksacks that matched the colours of the garments complemented the urban explorer look.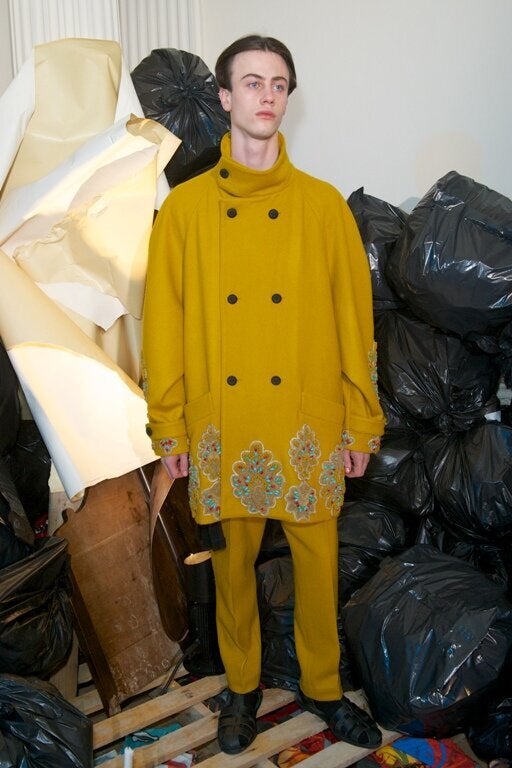 Meadham Kirchhoff Menswear Autumn/Winter 2013 (image courtesy of Meadham Kirchhoff)
As with the presentation of its inaugural menswear collection, Meadham Kirchhoff's designs for Autumn/Winter 2013 were displayed as a theatrical installation in two rooms of a neo-classical building in central London. After braving the queues outside the venue on a cold and dark afternoon and climbing several flights of stairs, guests arrived at the entrance to find a gloomy atmosphere: the darkened rooms were replete with black plastic bin liners as a cathartic metaphorical process of, as Meadham explained, "throwing away the shit of last year", a period to which the designers waved goodbye in their credits notes with a blunt "2012: FUCK YOU". The accompanying music matched the sombre mood by featuring the soundtrack of Hitchcock's 1958 film Vertigo or an emotionally charged rendition of Jacques Brel's 1959 song Ne Me Quitte Pas. Such was the background that enveloped the 14 models who stood still prostrated on the floor or standing on top of industrial wooden crates where candles had burnt down to the wick in an evocation of faded Regency grandeur.
However, as one travelled through the rooms and examined the clothes, the darkness started to dissipate slowly. Contradicting their critics, Meadham Kirchhoff revealed, once again, a proficient knowledge of menswear history and techniques in a collection interspersed with subtle ironic details. This was an impressive second menswear range that blended Breton stripes, black vinyl shirts and overcoats with shawl neck white waistcoats or richly bejewelled thick wool coats in mustard, and allowed for glimpses of intelligent sartorial playfulness in the conscious slashing of white cotton fabrics that, on a close analysis, revealed extremely detailed embroidery work.
On the surface, the presentation may have been one of loss and dejection; however, Meadham and Kirchhoff cannot hide their opulent creative talent and sartorial awareness so easily behind dark rooms and black garbage bags, even if that's what they wish their viewers to perceive. If anything, the collection was a delicate testament of fashion's role as an emotionally regenerative force and a confirmation that Meadham Kirchhoff is a label with much to offer in the realm of creativity.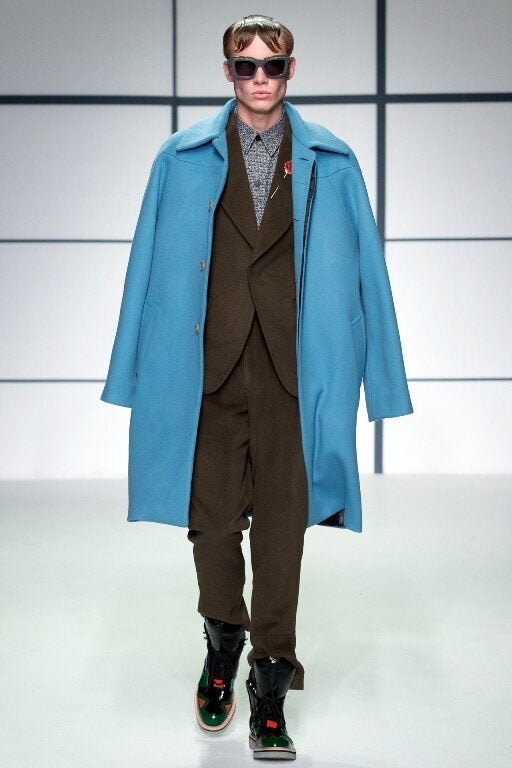 Xander Zhou Menswear Autumn/Winter 2013 (image courtesy of Xander Zhou / Trace Publicity)
Although the press notes for Xander Zhou's collection stated that the young Chinese designer intended to bring streetwear to the runway and was inspired by "the feigned nonchalance of back alley boys who seem averse to highbrow fashion", this was perhaps the most sophisticated and elegant collection shown during London Collections: Men in January 2013.
Despite the display of the somehow subversive anti-fashion phrase 'Boys will be boys' on garments and accessories, Zhou's collection could have not shown more maturity and proficient command of sartorial languages. It featured elongated silhouettes and garments that reinterpreted sportswear and military jackets for the modern and fashion-conscious man, with added layers of luxurious fabric cleverly draped over shoulders and onto sleeves that could be zipped up into hoodies.
In addition to conventional suits, bomber jackets and sweatshirts, the collection, entitled 'Homies' revealed very sculpted and ingenious shapes. The playful possibilities of reshaping the male silhouette in a seemingly casual approach was centred around the shoulder lines with on and off-shoulder coats, trenches and jumpers that, in their evocation of women's stoles and sleeveless dresses, questioned the gender rules in fashion in a very elegant manner.
Furthermore, the exploration of bulbous proportions suggested that the work of Cristobal Balenciaga or Christian Dior had been appropriately learnt and mastered. Such influences could be seen in the fine balance of the body line between waist and shoulders, as well as in the quilting and folding techniques and in the colour palette that comprised greys and blacks highlighted by elegant shades of sky blue, red, and camel.