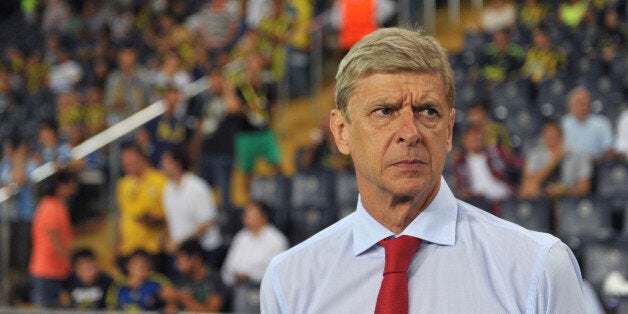 ​At the conclusion of the Chelsea vs Arsenal game at the beginning of February, Sky Sports commentator Gary Neville brandished a visiting supporter an 'idiot' for whipping out a banner that was a clear protest towards Arsene Wenger's position as manager.
Not one to hold his tongue, Neville later clarified his stance a day later on Sky, when he called Arsenal Fan TV embarrassing and demanded that Gooners respect Wenger's achievements.
The former Red Devil then became embroiled in a war of words on Twitter with a number of journalists and many supporters, as the use of the word 'idiot' was thrown backwards and forwards like a hot potato.
The question remains though who is the idiot in this situation? Was the fan an idiot for bringing a pre-made banner to the game? Is Neville the idiot for calling a fan an idiot? Or are people being idiots for calling Neville an idiot because he said a fan was an idiot?
All of that is rather confusing, not to mention childish, but such is the nature of the subject, it rather depends what side of the fence you reside on. However, regardless of whichever it is, there is an underlying point that Neville was trying to make which appears to have been lost in and amongst 'idiot-gate'.
The phrase embarrassing was used to describe Arsenal Fan TV which, understandably, many took offence to. Such was the heated debate, many assumed Neville was criticising fans for voicing their opinion, much like they took exception to the reference of a fan being labelled an idiot for reserving his right to protest and hold aloft a banner.
Any supporter is fully entitled to voice their thoughts, whether that be privately down the pub or publicly on YouTube. As indeed are Arsenal fans allowed to express their dismay at yet another failed title bid and Wenger's seemingly unaccountable position at the Emirates.
But what Neville was trying to suggest and point out, although admittedly he wasn't particularly tactful about it, was that fans should never lose respect for Wenger and all that he has done for the club.
There is no doubting that his first decade in North London was considerably better than the second. Numerous league titles and FA cup trophies were brought to Highbury and indeed the Frenchman oversaw one of the Premier League's greatest ever achievements, namely going an entire league season unbeaten.
No team or manager has been able to match that record as yet, nor has anyone been able to replicate Wenger's run of qualifying for the Champions League for 20 consecutive seasons.
But whilst these two examples may be his greatest legacy when it comes to on-field matters, he will be leaving a significantly more important one away from the pitch.
The building of the £300m Emirates stadium that was completed in 2006 is already starting to prove a masterstroke by the manager and club directors.
Arsenal's long-term future has been secured thanks to the 60,000 capacity arena and has meant that the club have not needed to rely on some stinking-rich oligarch taking over and pouring endless money into the project.
Wenger worked under tight budgets for many years, whilst the debt created by the new stadium was paid off and yet despite limited resources and the constant selling of his best players, he secured an all important spot in the Champions League time and again without fail.
The desire and insistence on building the Emirates shows both Wenger and the club's visionary approach to the game. As gutting as it was to leave Highbury for many, the Gunners' old fortress was struggling to fulfil the demands of a world that was fast relying on money and technology.
Arsenal have been at the Emirates for 10 years now which underlines how far ahead of the pack they are as the likes of Chelsea, Tottenham and Liverpool all start to develop their stadiums and look to deal with the demands of being a 'big club' in the modern game.
The Gunners will have no such worries about financing a new home or needing to pay off the debt incurred by one. There is no doubting that the last few seasons for Arsenal have been underwhelming and that Wenger himself should share the blame for those failings.
But whilst many may wish him to leave the club after 20 years of service, they must not forget during these angry protests that the man has done more than was ever asked of him. He will not only have his legacy of the invincibles, but leaves behind a club that will remain at the top years after he is gone and one that has a state-of-the-art football stadium fit for the 21st century.
As clubs across Europe appear to have caught up and maybe even overtaken the Gunners on the pitch, many of them are still playing catch up off of it.
Wenger may have lost his winning mentality, but he is by no means deluded or clueless as some have stated. He is by far one of the smartest men in football and whilst Arsenal fans reserve the right to protest, the team's manager does not deserve to be so regularly insulted by those he has served so loyally for two decades.