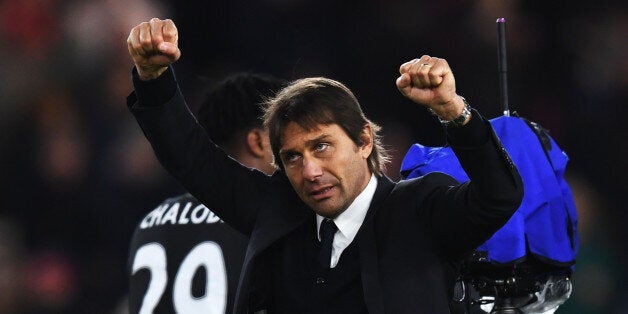 If history has taught us anything, then we may as well hand Chelsea the Premier League trophy on Boxing Day; Antonio Conte's side have a key stat on their side that suggests the fat lady is already well into her first verse:
The previous four times that the Blues have been top at Christmas in the Premier League era, they have gone on to win the title.
Of course it would be reckless to say that it's a forgone conclusion, as records are always there to be broken. But whilst one of the chasing pack must defy current logic to knock the potential crown out of Chelsea's hands, there are bigger indicators that suggest that this will be the Blues year.
Crystal Palace boss Alan Pardew admitted that Conte's men were too good defensively following his team's 1-0 defeat to the league leaders on Saturday.
Although he had a point, it must be noted that it wasn't the most arduous test Cesar Azpilicueta, David Luiz and Gary Cahill have undergone this season as the Eagles appeared to have taken the proverbial 'knife to a gunfight' - and in truth, it looked like a very blunt knife at that.
But three 1-0 victories in a row have helped the Premier League's top side to maintain their impressive winning run. The team's ability to get those tight results is helping them stand head and shoulders above the rest.
With the league's joint best defence, goalkeeper Thibaut Courtois has recorded 10 clean sheets already this season. Despite the modern game being based on attacking play, the other team's chasing the title seem to have forgotten the fundamental principle of being crowned champions - having a bloody good defence.
As good as Chelsea have been on this winning run it would be wrong to suggest they are unbeatable. They perhaps should have lost at the Etihad earlier this month were it not for Kevin De Bruyne's insistence to nominate himself for miss of the season. With City leading 1-0 at the time, things would have looked very different had the Belgian managed to keep his close range attempt underneath the crossbar.
As it was, Chelsea clinically reversed the scoreline and their brutality on the break that day was underlined by Eden Hazard steaming past Aleksander Kolarov to score his team's third goal.
Pep Guardiola's team are merely one in a number of big scalps the Blues have taken on this 11-match streak. They thumped Manchester United 4-0 in October and also got the better of Tottenham too.
Ironically, Spurs are the only side who can match Conte's team when it comes to defensive records, but their lack of firepower upfront is the sole reason why they have been unable to match the league leaders in the points column.
Chelsea may have only won their last three matches 1-0, but their ability to protect leads is the main reason they are so far ahead. The fact that they have won five of their last six matches by a one goal margin underlines the importance of their solid backline.
The manager has established a way to stop leaking goals, unlike any of his rival counterparts. All three of the remaining top four team's have dropped points from winning positions over the last month or so.
Liverpool somehow slipped to defeat at Bournemouth, despite leading 3-1 in that match, whilst Arsenal have lost their last two league games having led them both 1-0. Although City appear to have turned a corner, they too have been culpable of squandering leads this season - most notably at home to Middlesbrough and Chelsea.
Unless anyone can find a way to match the Blues' astonishing defensive record, then it's unlikely they will be caught. They have admittedly had better luck than their title rivals when it comes to injuries, but that was always going to be the case with no Champions League football.
Conte's team are beatable and fallible - their run will surely end at some point. But as the stats and history suggest, it's unlikely to halt the runaway train that is hurtling to the title. They may not be the most eye-catching team in the league, but they are by far the most efficient and miserly.
And if nothing else, that really is the hallmark of champions.
For more fan views or to join the conversation visit www.90min.com
Popular in the Community