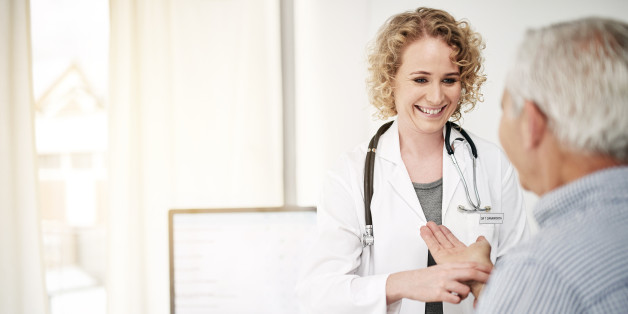 Cecilie_Arcurs via Getty Images
Today sees the introduction of the latest in a long line of welfare cuts that affect some of the most vulnerable.
Employment and Support Allowance (ESA) is the main benefit for people who are out of work and suffering from a health or mental health condition. From today, new claimants of ESA who are placed in the Work Related Activity Group will receive £73.10 a week, the same amount as a claimant of Jobseekers Allowance, and a cut of nearly £30.
The government argues this is necessary to 'remove the financial incentives that could otherwise discourage claimants from taking steps back to work'. According to this logic, the more you cut benefits, and the more you push people into poverty, the greater the incentive for them to work. The government claim this cut will save £450 million a year by 2020. Not an insignificant sum, but it comes at the expense of some of the most vulnerable.
It's also at odds with Theresa May's focus in a speech in January on addressing the 'burning injustice' of mental illness. Half of all ESA claims are now due to mental health conditions, up from three-in-ten a decade and a half ago. As a result of these changes to ESA, by 2020 well over 100,000 people with mental health conditions will be worse off, and deeper in poverty, than they would otherwise have been. In her speech the Prime Minister talked about a 'historic opportunity to right a wrong, and give people deserving of compassion and support the attention and treatment they deserve'. Yet cutting ESA for new claimants will cause significant hardship for people facing mental health challenges. They will no doubt see this as a burning injustice.
There is also a serious question about whether the change will achieve what it sets out to - encouraging people back into work. Take someone on ESA as a result of depression and anxiety, who is recovering and considering returning to work, but worried about a relapse. If they moved into work, but ended up falling out of work three months later, they would end up nearly £30 a week worse off than they would have been had they stayed on ESA throughout. This is not just a theoretical concern, as the stats show two-in-five claimants who move onto ESA have made a previous claim. So slashing this support may actually result in reducing the number of people moving off the benefit and into work.
A recent report from IPPR showed that a series of ever harsher measures adopted by government has done little to reduce the number of people claiming ESA. We argue that the government needs a completely different approach. Instead of cutting benefits for those on ESA, the government should do much more to prevent people falling out of work in the first place.
This means prioritising keeping people well in work, supporting those who fall ill to stay in touch with work, and helping those who do fall out of work to recover and return when they can. It means a greater role for government, and for employers too.
Employers should face greater responsibilities to engage with staff who fall sick, developing a back-to-work plan with them to help them recover. Employees should be given more time to recover, so Statutory Sick Pay should be extended from six to twelve months. Where the employer has put in place a back to work plan, the cost of this should be covered by the state, but where there is no adequate plan in place, the costs would be borne by the employer.
IPPR is also calling for Statutory Sick Pay to the replaced with "Fit Pay". This would be a more flexible form of sick pay that would help people who develop a condition to stay in touch with work, by allowing those who fall ill to temporarily reduce their hours or supporting those who have fallen out of work to return on a part-time basis.
In return for these small additional responsibilities and costs, employers should be given more support by government too. So an expanded version of the Fit For Work service to help support businesses to keep employees healthy at work.
For too long, the government's approach to the welfare bill has been focused simply on cutting entitlements, rather than addressing the underlying causes. If the government want to reduce the number of people on ESA and deliver on their commitments on mental health, they should scrap these cuts and instead focus on prevention, on supporting people and on turning off the tap.
IPPR is the progressive policy think tank. We develop ideas and answers to the big questions Britain faces, ideas that create a positive vision for Britain.