Walking to school is great for children - they get to enjoy the sights and sounds of their surroundings, spend quality time with parents or pals, and feel healthier for the walk.
October is International Walk to School Month and in the lead up to it we've been speaking with organisations from around the world - which work to get more children walking to school - to find out why they do what they do.
The reasons they want more children walking vary from country to country: to promote healthier habits, to protect the environment, to improve the local community - and at Living Streets, we're motivated by a combination of these factors too. Not least the need to tackle the looming health crisis caused by a lack of exercise. But just before the end of term last year, a mum posted a message on Facebook which reminded us of one benefit so often overlooked: the memories we make.
It was the last week that Louise would be walking her daughter to school, when she posted:
There have been times over the last 7 years when we've run the whole way to avoid being late, we've had tears and grazed knees, been soaked through to our underwear in torrential downpours, we've slipped on ice and been frozen in the snow, we've had broken shoes and lost a hundred things but what fun we've had.
Collecting pine cones and watching the seasons change, talking about our hopes and dreams, inventing games and telling stories, making plans and laughing so hard that we're doubled over and we can't walk anymore.
After Louise's post, we asked our social media followers - what would they miss about the walk to school? One mum was going to miss the chance to speak to her son free from other distractions and one dad said he would actually miss the walks to school which were unexpectedly extended to seek out conkers or build snowmen. Nobody rejoiced about it coming to an end.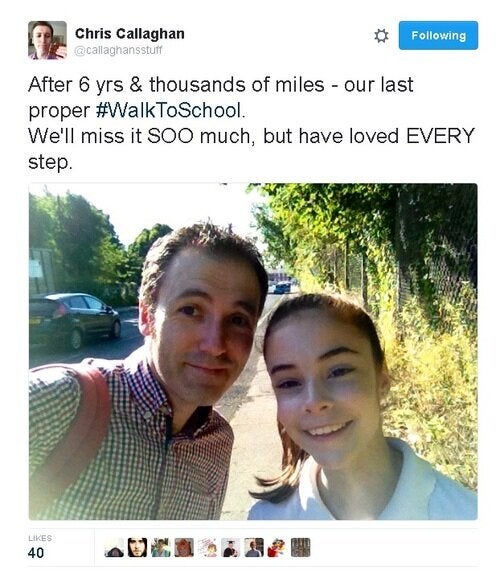 And last year, when we polled 2000 adults aged 30-70 and asked them for their memories of the walk to school, they responded to say they enjoyed the time they got to spend with friends and playing games on the way. They obviously still had memories to cherish, years since completing their final walk to school. We also asked children who were currently walking to school what they were enjoying about it; their memories in the making were made up of similar things - playing with friends and spending time with their mum, dad or grandparents who were walking them.
This September, many children will start their first ever year at school. If you're in this boat then you'll probably have already planned your route and new routine. If you're not already decided, I urge you to consider walking.
It might not be possible to walk all of the way but Park and Stride is the answer. Park further away and walk the last few minutes. Chances are you'll have dropped the kids off and be back at your car in the same time it would have taken you to crawl through traffic to the school gates. It means the school won't be surrounded with cars and pollution, and children will arrive feeling more alert than if they'd have spent the last 10 minutes in a car. Maybe more significantly, those short walks every day will add up to a series of memories to treasure for a lifetime. In a few years' time, you could be sharing your stories with us. In the meantime, I'll end with more from Louise.
Enjoy every second with your kids because you blink and they're not little anymore. My daughter is off to 'big school' soon, she'll be getting there all by herself and I've just realised I'm going to miss our dreaded school run so so much.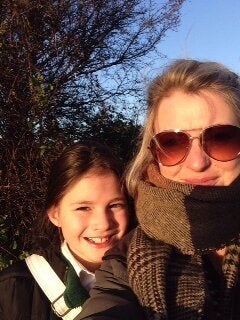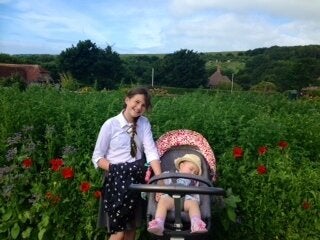 Images: Louise and her daughter on the walk to school.