On Sunday, London's Regent Street began a month of Summer Streets - every Sunday in July it will be closed to traffic, leaving shoppers and visitors the rare pleasure to roam Regent Street freely on foot. This first Sunday it was transformed into a spectacular display by TfL and London Transport Museum as part of their Transported by Design free festival.
The event stretched all the way from Piccadilly Circus to Oxford Circus Tube stations and hosted - amongst much more - a space for children to play in and a sensory cinema. It showed what is possible when our iconic streets are closed to vehicles and put people first.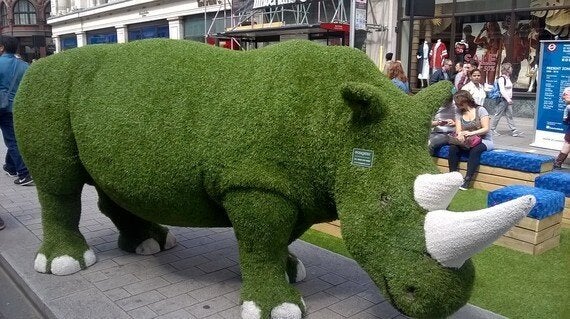 Perhaps most interesting of all was the glimpse of the future. 'TfL 2040' saw artists visualise the transport of the future and visitors give their own ideas on how London should - and could - look. Virtual headsets allowed visitors the chance to see this vision. Listening to the experiences and thoughts of the people who live, work and visit these streets is vital in informing how the city's streets should look.
At Living Streets we have been campaigning to manage traffic-filled streets by putting walking first. At the very least we want Oxford Street vehicle-free and during the Lumiere London festival of light in January, we spoke to people on Oxford Street when it was closed off to traffic. People we spoke to told us they were scared to get off the bus because of the congestion. And this is not an irrational fear. Oxford Street is a traffic injury hotspot with a person hit every seven days. Two pedestrians have been tragically killed in the past few weeks. Scientific measurements show that it's also the most polluted street in London and regularly breaches legal NO2 limits.
We're pleased that London Mayor, Sadiq Khan, has committed to pedestrianise Oxford Street and tackle air pollution. The sheer volume of people visiting Oxford Street is vital to its economic success, making a unique case for the removal of vehicles. Already over half a million people walk its pavements. And in 2018 Crossrail is due to open, bringing an additional 150,000 people every day to the area. This is a marvellous opportunity, in the mayor's words, to transform London's most polluted street into one of the world's finest public spaces. Oxford Street is a showcase to the world, not just for London but the whole UK. It needs to be a district destination, not a jammed thoroughfare for buses and taxis.
Of course it would be unacceptable simply to divert all this traffic onto neighbouring streets. We need a rethink of bus routes which date back to the 1920s and are quite unsuited to a modern city. We now want to see firm timescales for delivering the project. The New West End Company's new Air Quality Strategy launched last week and shows some real intent by West End businesses to cut pollution, including cutting commercial vehicle trips by 40%. But it must sit within a wider plan with the Mayor, TfL and Westminster Council, to control traffic congestion on these iconic streets: reducing overcrowding, sky high pollution and an unsafe environment.
These streets make up the heart of London and should be iconic places for tourists and residents to enjoy. The future of retail and business in the city doesn't look good as things are. Transported by Design has provided a fantastic opportunity to hear the views of the people using these streets, and these should be used to positively influence future plans.
Putting walking first throughout London's city centre will help create a world-leading city where people have the freedom to breathe fresh air, experience our iconic streets and most importantly, stay safe; not just during one-off festivals but all year-round.