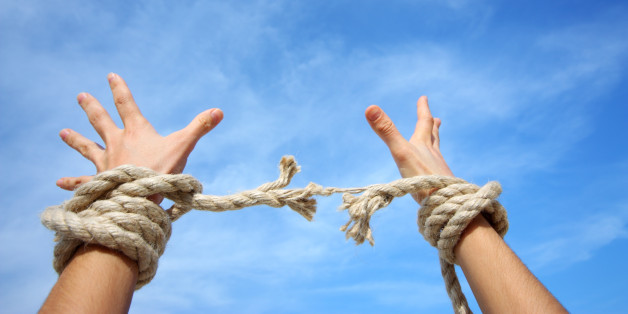 aydinmutlu via Getty Images
I was honoured to hear a powerful address this weekend from the former Secretary-General of the UN Kofi Annan, who delivered the annual Wilberforce lecture in Hull.
Mr Annan's words were a brilliant mediation on the meaning of Freedom in the 21st century and a timely reminder that the fight against slavery is far from over.
Though we tend to think of slavery as something in the past - it remains a persistent threat in modern society. Men, women and children from across globe are routinely trafficked and forced into abject poverty and deprivation. Victims are not only robbed of their identities but their basic freedom - a most fundamental human right.
Contemporary slavery is an urgent global problem. Yet many people remain unaware of the existence of this worldwide human rights challenge. There's an estimated 21m victims of slavery in the world today - including 13,000 in the UK. The areas of our lives it touches are widespread with forced labour existing in the domestic, agricultural, sex, construction and retail industries to name but a few.
Mr Annan's visit to Hull this year is fitting: 2017 marks the 210th anniversary of the British Slave Trade Abolition Act - a piece of legislation that will forever be associated with one of Hull's most famous sons, William Wilberforce MP. The city commemorates the pioneering work of Wilberforce with the annual arts festival Freedom and is currently enjoying the third season of its UK City of Culture year, which explores the ethos of freedom with a plethora of cultural programming.
Hull is proud to have been central to an abolition movement once before and our city continues to pioneer the fight for freedom. But what is clear is that there is still a critical amount of work still to be done to increase widespread awareness of what is happening all around us.
An important part of raising awareness and exploring what freedom actually means. Even though modern day slavery often plays out in plain sight it can be difficult to detect - especially if people don't know what to look for. People can help tackle the contemporary slavery issue by being aware of the issue and how to spot the signs.
We need to keep talking about freedom with debates, lectures, art, culture and conferences. The forthcoming Wilberforce World Freedom Summit in Hull, for example, promises to be a landmark event that will have important implications for academics, policymakers and activists alike.
Inspired from Mr Annan's words and the pioneering efforts of Wilberforce, I take heart that we can join together to defend human rights - something many of us may take for granted but that remains fragile in many countries around the world.
Follow John Oldfield on Twitter: www.twitter.com/WISE_Hull