In October 2015 I lost my wife to ovarian cancer at the age of just 41. From the point of diagnosis she was forced to accept a punishing treatment schedule with systemically damaging side-effects and virtually no prospect of a cure, just so that we could have what little extra time together we could. Over a three year period I watched her suffer and deteriorate, as hope faded away, until she eventually developed untreatable symptoms and ran out of options. In the end, despite having access to amazing palliative care from the local hospice, she suffered a slow and painful death watched by myself and her family.
Sadly mine is an all too familiar story. Like many in my situation, I became immersed in the world of cancer and was shocked to discover how cancer has become one of the most lucrative markets on the planet, with annual revenues from cancer drugs in excess of $100bn (£70bn) and the highest profit margins of any major industry in the world. While this alone is morally incomprehensible, cancer cures are being held back by this commercial conflict of interest and life-saving drugs are being priced out of reach of patients. The current system is letting cancer patients down.
The current system for developing cancer drugs depends mostly on private investment from pharmaceutical companies and, as investors demand good returns on their investment, it's no surprise that what we've ended up with is very profitable drugs rather than very effective ones.
I am not alone in believing that this tug of war between profits and public health acts like a handbrake on progress - in September 2015, the Council of Europe voted 94% in favour of a European-wide Resolution to tackle this very issue and several leading figures from the medical world are now also calling for an overhaul of cancer drug development.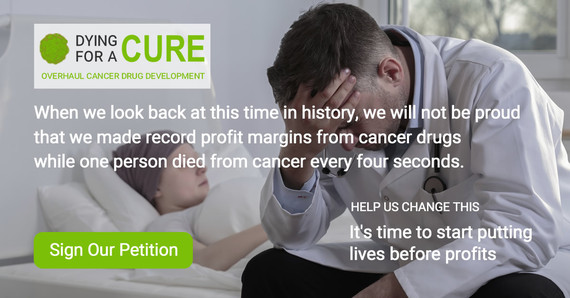 I have therefore decided to take the initiative and set up a formal campaign to urge the UK Government to reform the whole system for developing cancer drugs, taking on board many of the issues identified by the Council of Europe.
The campaign is called Dying for a Cure.
The campaign is asking cancer charities and the general public to back a petition calling for an overhaul of cancer drug development, to speed up progress in developing affordable and effective cancer treatments by placing less emphasis on generating huge profits.
You can find out more about the Dying for a Cure campaign and how you or your charity can back the petition at http://dyingforacure.org.