Hi! ​My name is Jojo, I'm a writer and editor, I've just turned 30 and I'm moving to Australia in March 2016. No, I'm not doing it the adult way, I don't have a work visa - Lord, no - I'm grasping my last chance to spend one (hopefully two) years 'bumming around' (technical term) and becoming reacquainted with a long lost friend of mine: Relaxation. Yes, that's right, I have a working holiday visa.
And yes, I'm allowed. You see, you're eligible for a working holiday visa if you're aged 18-30 inclusive, so I've got a good few months to play with until I'm officially over the proverbial hill. I've done a lot of research into what needs to be done before I go, and now I'm sharing it with you in one handy blog post... Voila! You too can pack in your 9-5 and leave behind the dark, dank shores of Blighty in pursuit of sun, sharks and mosquitoes...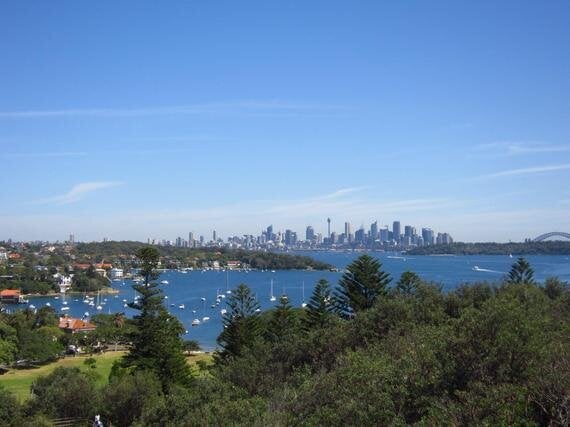 View of Sydney, taken by me in 2012.
Have you got your visa? If not, are you 30 or under? Then you might want to apply for a working holiday visa, so you can stay down under for a year. You don't need to have booked your flights before you apply, so crack on and get the visa in the bag because you may have to jump through a few hoops before you're accepted, i.e. undergoing a chest X-ray with their designated medical provider, but most applications are processed super quickly - mine took 3 days!
By the way, you don't need a sticker with the working holiday visa, as it's electronically associated with your passport.
Track flights using Skyscanner.net. Don't bother with the likes of Flight Centre; they're useless, particularly if you want to break up the ridiculously long journey to the flip side of the globe by visiting another country on the way. Like Japan, for instance! Why the hell not? If you're flying economy (obviously), it's just not worth schlepping all that way in one go. IMHO.
Roughly when do you want to head out? Search flights for that month from the UK to Japan (or your Asian country of choice), selecting 'whole month' from the departure date drop down, and you might aswell do the same for the previous month and the month afterwards. Put price alerts on for the cheapest options, then do the same for a flight a few days later from Asia to Australia. Bob's your uncle, Fanny's your aunt, a cheap flight down under with a built in holiday en route. You're welcome.
Do you have all the medication you might need while you're away? Are you up to date on all NHS free tests and check ups, e.g. sexual health, smear. Better to go there with a clean bill of health, so you can focus on having an awesome time once you're there. Once you're down under, you can register with Medicare and get treatment if you need it but it's best to go with a clean slate, non?
You'll need insurance. If you've got a one-way ticket, check out True Traveller insurance. They don't need a return date, you can extend once you're out there and there are options for adding valuables like a laptop and mobile phone. Plus, if you're asthmatic like me, you don't need to do medical screening because asthma is included in their list of accepted pre-existing medical conditions. Yay.
You can open an Australian bank account before you go away. One more piece of admin to tick off your list. ANZ makes the process very quick and easy for you, it's recommended by MoneySuperMarket, and they have a relationship with TorFX should you want an account manager to handle the transfer of your funds.
Don't forget that Australian Immigration requires proof of funds to sustain your working holiday, and secure your exit from the country if you've booked a one-way ticket, so you'll need a bank statement showing 5,000 AUD in your account.
Despite what I've just said above, I'd recommend using TransferWise. Why pay more than you have to?
Ok folks, that's quite enough admin for now. Check Feral Beryl Travels for updates and my upcoming blog post on what needs to be done once you've arrived in Australia.