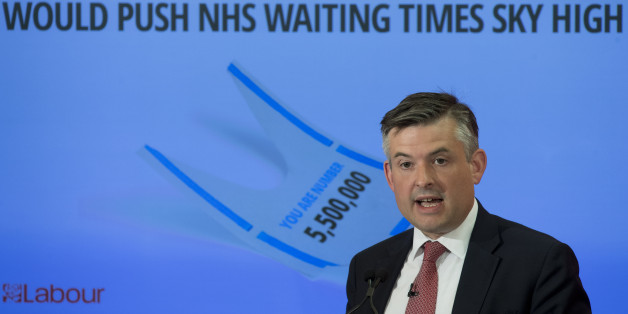 JUSTIN TALLIS via Getty Images
It was Nelson Mandela who told us: "There can be no keener revelation of a society's soul than the way in which it treats its children." If that great man was right, then our country is in a great deal of difficulty. The state of children's health in the UK, and in England in particular, should be a matter for profound concern and concerted action. Sadly under Theresa May's government is isn't.
Today in a speech to the Royal College of Paediatrics and Child Health I make clear Labour's intention to make child health a national priority and highlight how Theresa May's government is failing our children's health across the board from obesity to immunisation to mental health.
Last week the Children's Commissioner revealed that over two million children have health-related vulnerabilities, including 800,000 with mental health disorders.
And compared with other countries in Europe, our children are falling further and further behind on key indicators of children's health.
Take just one example - childhood obesity - where we have some of the worst rates in Western Europe. More than one in five children in their first year of primary school are overweight or obese, rising to one in three by the time they leave primary school. It's why we have committed to universal free school meals and pledged to end the advertising of junk food on prime time television.
The Government's response to the issue of child health has been piecemeal, fragmented and unstrategic while refusing the NHS the funding it needs and lack of workforce planning is making an impact on the frontline.
The Royal College of Paediatrics and Child Health today reveals serious paediatric workforce vacancies, with almost one in five of paediatric trainee positions currently vacant. Alarmingly, this figure jumps to nearly one in four in more senior trainee positions and almost 90% of children's units are concerned over how they will cope in future.
These shortages create very difficult working environments, resulting in low morale amongst doctors and a lack of time for training. And four out of every ten vacancies are being filled by locums, whose service are more expensive than full time staff.
Simultaneously, there's been a drastic fall in the non-medical child health workforce, with 10% of school nurses, 11% of health visitors and 12% of district nurses lost to the NHS in the past two years.
And our own research from Freedom of Information request has further uncovered a 35% increase in the number of cancelled children's operations over the past three years. Just over half of NHS Trusts recorded a staggering 12,349 cancellations in 2016/17, and a total of 46,211 children's operations have been cancelled over the last four years.
These cancelled operations include procedures for broken bones, rotting teeth and treatments under anaesthetic.
Meanwhile despite Tory pledges children's mental health services continues to be neglected. Just 11% of children's mental health needs are met by the NHS while the NHS spends 14 times more on adult mental health than children adolescents' service. We know that in in many parts of the country CAMHS budgets are raided to fund wider gaps in the NHS because of the lack of ring fence.
Cuts in one part of the system as usual lead to pressures elsewhere in the NHS. Indeed today I'm publishing our new analysis from the House of Commons Library that shows the number of young people presenting at A&E with mental health problems has risen 33% over three years.
The statistics speak for themselves.
This Government's sustained underfunding and reckless handling of workforce pressures is undermining the world-class service rightly expected of our health service.
And it's our children who are paying the price.
In contrast to the Tory government, Labour is placing children's health at the heart of our vision for a 21st Century National Health Service at the heart of our drive to improve the health of our nation.
The Conservative government is squeezing our NHS and taking money from our public health system and our schools.
In the absence of government leadership and action on child health, Labour will, over the next 12 months, convene a series of workshops which will draw together the evidence and expertise in the field of child health.
Labour will make child health a national priority and one which brings together all of the academic, medical and economic expertise that we have in this country, to design and implement a programme that ensures that we can point to our record on the health of our children with pride rather than dismay.
Jon Ashworth is the shadow health secretary and Labour MP for Leicester South