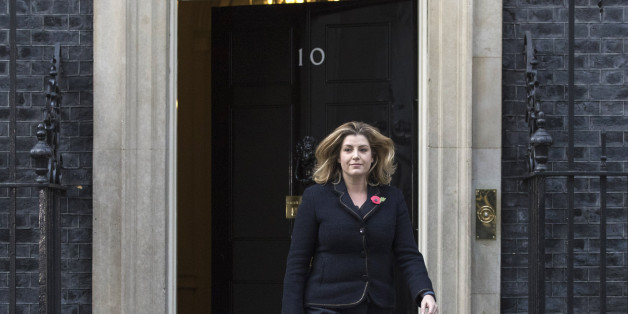 Dan Kitwood via Getty Images
ActionAid is pleased that a champion of women's rights will be our new Secretary of State for International Development. Penny Mordaunt has been an advocate for the important role of women in peace-keeping, and for the importance of tackling sexual violence in conflict.
From ActionAid's experience on the ground, we know that the denial of the rights of women and girls is one of the principal underlying causes of injustice and poverty worldwide. Every day, countless women and girls experience violence and inequality, and are denied the right to make decisions about their life and body - even more so during times of conflict or natural disaster.
Clodine Nizeyimana, for example, lives in Rwanda and was forced to marry a 57-year old man at the age of 15. When he died from AIDS related complications, she was left the lone parent of four children who she could only afford to feed once a day. She was also diagnosed with AIDS herself.
The UK Government has rightly prioritised women and girls in its international development and foreign policy. However, there is a lot that needs to be done to achieve gender equality around the world. Here are our top three key recommendations for the new Secretary of State:
Tackle violence against women and girls
Globally, one in three women will experience some form of violence in their lifetime, including sexual harassment, rape and harmful practices such as female genital mutilation. DFID has already substantially increased its spending on programming on violence against women and girls (VAWG) from £20million in 2012 to £184 million in 2015, but there is still much more to do to tackle this horrific violation of human rights. The UK Government should encourage and support other countries to reform their legal systems to reduce barriers to access to justice for survivors of violence, and ensure there are enough resources for laws and policies in place to be properly enforced.
Make the global economy work for women
ActionAid has calculated that women in developing countries could be at least US $9trillion better off if their pay and access to paid work were equal to that of men. The UK Government has a role to play in helping to create more and better jobs for women around the world. Penny Mordaunt should set an ambitious target for the number of jobs in developing countries DFID will create for women, as well as working closely with the Department for International Trade to ensure post-Brexit trade agreements support women's rights. She should also work to tackle the burden of unpaid care work (such as cooking, cleaning and caring for children and the sick) which falls disproportionately on women, including by helping developing countries to provide gender-responsive public services that help to relieve it.
Empower women during humanitarian crises
Disasters and armed conflict create the conditions in which existing gender inequalities are compounded. Women and girls are more vulnerable to the effects of emergencies and less able to access life-saving services, but empowering them could help spark long-term change. DFID should invest in local women's organisations and networks so they can prepare how to respond best to humanitarian crises, as well as championing women's rights during global efforts to reform the humanitarian system.
It is vital the UK remains an international leader in promoting the rights of women and girls. Progress has been made but political and religious fundamentalisms remain widespread. Penny Mordaunt must make the most of and continue to build DFID's expertise and positive reputation on gender issues as she starts her vital new role.