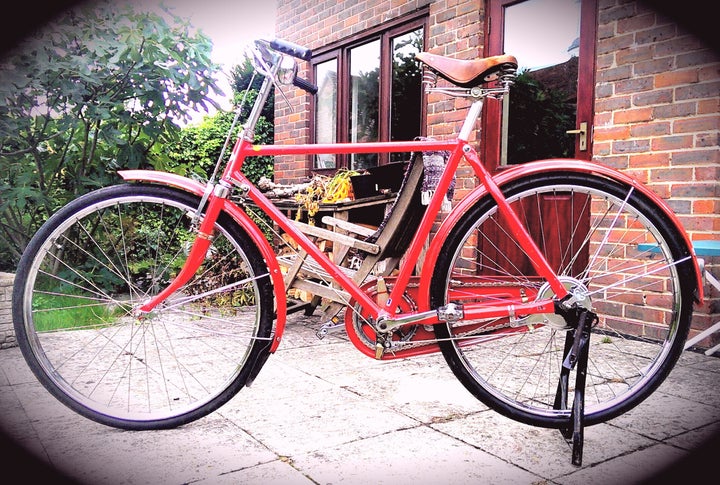 I'd like to introduce you to Mr Ueno, a handsome gent from one of Tokyo's dustier suburbs. Mr Ueno came to live with me in the UK recently, and I plan to give him a quiet retirement rambling up and down the country lanes around the North Hampshire Downs. Hopefully he'll appreciate the fresh air - certainly a far cry from the city fumes he spent his working life gasping down.
You see, Mr Ueno is a former employee of the Japan Postal Service. The labels on his spine suggest that he first found employment in Tokyo's Ueno district (hence his name) in the Japanese calendar year of Heisei 6 (1994). A sticker on his mudguard indicates that he did his rounds under the slim haunches of a postman called Mr Kamishige (the leather seat shows few signs of having dealt with heft) and it's likely that he worked very hard until very recently, when his employers replaced him and his co-workers with younger, motorized models.
So what becomes of postal bikes once they're put out to pasture? There's a question you've probably never asked yourself. In the case of Mr Ueno's ancestors, their fate most likely involved a slow demise in a nondescript landfill. Only a few of Japan's 'mamachari' bicycles escape this inevitability - the lucky ones have traditionally been sold off to countries in Africa and the Far East. Earlier this year, however, Mr Noah Fisher of East London took it upon himself to rescue a few more, load them into a 40ft container and bring them to his workshop in Dalston, where he shows them a little love and then offers them up to local cyclists looking for a sturdy ride at a bargain price.
Until now, Noah's shop has dealt with fairly common mamacharis (click here if you'd like to know a little more about what a mamachari actually is), but recently he took shipment of 200 postal service bikes, and he's selling them complete with stands and racks to go above both wheels - almost everything you'd need to become a bonafide Japanese postman. I'm proud to say that I'm the first person in the UK to buy one of these gorgeous antiques (making me some kind of backwards early adopter), and already I love it with all my heart. It is so clearly used and well worked, and yet it feels like there's years left in it. It's a proud testament to Japanese workmanship, and it just exudes character. Ah, if he spoke English, the stories Mr Ueno would tell...
Noah says that he can't import the bikes fast enough - they pretty much ride themselves back out of the door. However, they're not the first mamacharis on London's streets. Over in Shoreditch, Neil Davis has been making a solid success of Tokyo Bike for a couple of years. I've coveted one of these sleek fancies ever since I first stumbled across the founder's workshop in Yanaka, Tokyo, back in 2010, but the price has always been a smidgeon outside my league. Interestingly, Neil concedes that the beautiful bikes he sells - machines that look like they'd do as well in an art gallery as on a city street - owe their existence to the humble mamachari. "The popularity of Japanese bikes probably owes a lot to the mamachari," he told me. "Cycling in Japan is such a huge part of the culture. Everyone does it - it's just how you get around. I think the mamachari was the model that the founder of Tokyo Bike began with."
The common mamachari may be the way that Japan (and now London) gets around, but out in Hampshire we're a bit more discerning. We like our rides to come with a little history - preferably a little postal antiquity. Riding with Mr Ueno is like hitting the road with an old hand. Next time you're out this way, feel free to drop by and shoot the breeze with him. His English may not be too hot, but he makes himself easily understood, and I've a feeling he'll have his wits about him for some time to come.