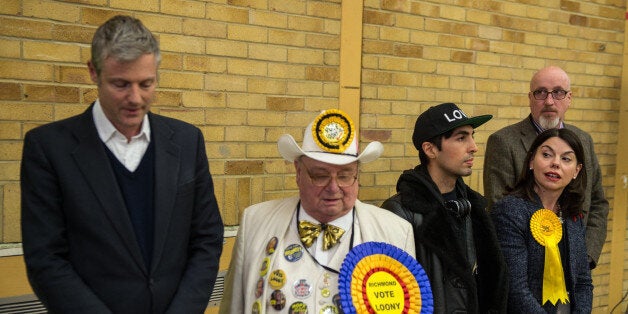 Brave decisions are never easy. To be brave is to acknowledge your own vulnerability, to recognise the risks, and to decide that they are worth taking.
But when we are bold we make possible what seems impossible - and that is what happened when local Green Parties in Richmond Park decided not to stand in the by-election, encouraging people to vote instead for the progressive candidate with the best chance.
Last night the regressive alliance between the Conservatives and Ukip behind Zac Goldsmith was beaten. Because, in part, of the bravery of the local parties in Richmond Liberal Democrat Sarah Olney was elected, meaning there is now one less Conservative in the Houses of Parliament - and the Government's majority has become even more slender.
At the last General Election the Green Party took more than 3,500 votes - about twice the majority of 1,872 which won the by-election. I am incredibly proud of the role the local parties played in that outcome.
But this was always about so much more than one by-election.
In both not standing, but also inviting other Greens to join them in knocking on doors and distributing leaflets, the local members showed what a 21st Century politics can look like. Their leadership demonstrated how we can really shake things up if we embrace post-tribalism. They changed the conversation as people in Richmond united behind the things they have in common instead of deepening divides.
There has of course been some criticism for this choice, and we are clear that we still think the role the Lib Dems played in the coalition Government was awful. They betrayed students and participated in a dreadful attack on our public services. Likewise, we have not forgotten the Labour Government taking us to war in Iraq.
The Greens are distinctive. Not just in reaching out to others for the common good, but also in the solutions we offer to the growing economic, social and environmental crises. And so we will continue to fight elections. We will always defend public services, protect our environment, stand up to racists and make sure the rich pay their taxes. This election was triggered because of the Government's decision to give the green light to another runway at Heathrow. Sarah Olney is committed to saying no to expansion at Heathrow. But the Greens remain the only party reminding the Government that to expand any airport will fly in the face of the Paris Climate Change Agreement which is necessary to help secure our collective futures.
But crucially this by-election was also about the Government's direction on a potential Brexit. A clear signal needed to be sent to Westminster that it must listen to everyone including those who, like the Green Party, oppose the Government's threat to trigger Article 50 in the current chaos.
Our country needs to heal. And this was a vote for hope. Hope that we can be so much better than a country which looks inwards, turns its back on those who need help the most, and elects politicians who pursue policies of divide and rule.
We can, and we must, put our differences aside and work together for the good of our country because when we do, that is when we will see real change. The result in Richmond Park has shown both that a new politics is possible - and that we can make it happen.
Jonathan Bartley is the co-leader of the Green Party
Popular in the Community