So, if you've seen my Instagram, it won't take a genius to see that I absolutely love Bali.
I go every year because it's one of those places where the novelty never wears off.
It's got something for everyone - whether you're after a family holiday, a romantic getaway or just a lads' party trip - Bali always proper delivers.
On Love Island I never shut up about how I was going there again as soon as possible, mainly to reverse the mental damage inflicted in the villa!!! 😂.
When I got voted off I had a mad month or so of personal appearances and massive Love Island hype.
It was sick but I was well desperate to get to Bali cos of all the agg that goes with it.
Also, I'd just started dating the absolutely stunning Steph Pratt and all I could think about was flying her off to my favourite place in the whole world.
I wanted to give her a holiday she'd never forget so I took her to a few of the best hotels Bali has to offer - starting with the five star Four Seasons Resort in Jimbaran Bay.
It's proper romantic with private pools in the villas, a health spa, surf school and open air restaurants.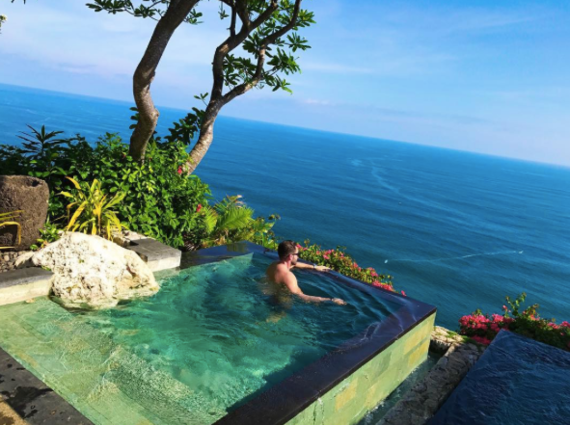 As soon as we arrived in the lobby we were greeted like royalty with welcome drinks and cold towels.
After a speedy check-in we were soon whizzing across the resort grounds to our deluxe villa in a golf buggy.
Whenever you want to go somewhere you can just call a golf buggy and they come and pick you up - which is a well sick touch.
Our villa had the most astonishing views, high up on the cliffs overlooking the bay.
Jimbaran beach is made up of a sheet of rocky cliffs met by white sands and sparkling sapphire ocean.
Steph couldn't believe her eyes when we opened the door to our thatched wooden villa.
The first thing you notice is the private infinity pool which allows you to gaze out for miles across the beautiful Indian Ocean.
It was all done up in a really modern and contemporary style but also incorporated a very traditional Balinese feel.
The bed was a huge king size with fine Egyptian cotton sheets and the bathroom had all state of the art modern fittings.
You could tell that so much thought had gone into the design to get the perfect balance of modern and traditional atmosphere.
Steph and I were so excited we totally forgot about jet lag and jumped straight into the pool.
We put some tunes on and then took advantage of the room service menu which had the widest choice of stuff I've ever seen.
We ordered a couple of bottles of the sparkling rose and then went crazy ordering a plethora of dishes from the menu because we basically wanted to try everything.
If you ever stay there yourself make sure you have at least one evening just ordering from room service.
The food was exquisite and 5* restaurant standard.
Try the Wyagu Gyoza and the Prawn tempura Tacos as they are just mouth-wateringly delicious.
But I bet you're all wondering how me and Steph were getting on.
I always think you don't really know someone until you go on holiday with them.
And to be honest I knew asking Steph to come with me on a holiday of this magnitude, this early on in the relationship, was going to be a make-or-break situation.
It's not like a weekend in Rome, this was a full-scale holiday so we were either going to get on like a house on fire or end up wanting to kill each other.
I can honestly say after the first night I knew straight away we were going to have the sickest time.
We were joking around and chatting away non-stop and then ended up playing some less than reputable card games 👀 into the early hours!
It was just so nice to start the holiday on such a high and it set the tone for the rest of the trip.
One thing I've always noticed about the Four Seasons hotel group is that the staff always go above and beyond to make their guests happy - no request ever seems too much or too excessive.
So when me and Steph were sat by our pool at 2am and the outdoor lighting wasn't quite doing the job, we called reception to ask if maybe there was another light switch we hadn't noticed.
They said there wasn't but incredibly they sent someone up straight away with extra lights.
The next morning we woke up to the sound of birds chirping and waves crashing.
After a top breakfast of eggs Benedict and French toast we headed down to the private beach and dozed away the last of our jet lag.
It was the perfect start to our holiday.
Bali is such an amazing place to get out and explore but if you just want to relax you could just stay in the resort and get pampered the whole time.
They made us feel so relaxed and comfortable in general, and I think that really contributed to how much of a good time Steph and I had with each other.
After a long flight and the stress of travel it can be difficult to ease yourself into holiday mode and a lot of couples can get stressed and irritable with each other.
But thanks to the FS Jimbaran, Steph and I were bouncing off each other as per usual and just loving life in general!
Next week: Four Seasons Sayan (UBUD)