With Thanksgiving almost upon us, it seems only right to embrace a bit of wholesome Americana and bake up a storm in the kitchen, and as this delightful pecan pie proves, that does not mean you have to annihilate you arteries with butter cream and sugar.
Swapping some of the more traditional and less healthy ingredients for a few natural alternatives like coconut palm sugar, means you can still achieve that gorgeously nutty caramel flavour, but without all the bad stuff.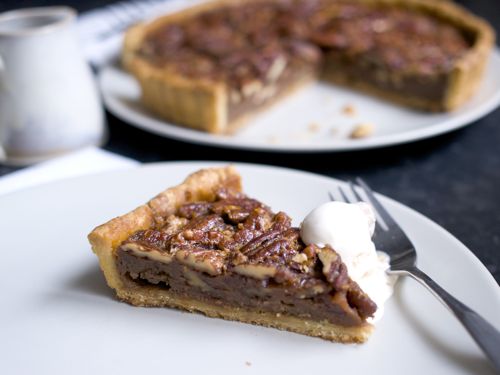 For the pastry I have opted for spelt flour, which is an ancient form of wheat that has not been refined and manipulated like regular wheat flour in order to meet manufacturing needs, so your body recognises it and digests it more easily. It is lower in gluten then normal wheat, so you feel less bloated and it is high in vitamin B2, which helps to strengthen the immune system. So really it's a winner all round.
Natural maple syrup is used as the sweetener, together with some coconut palm sugar. Try and use the best grade organic maple syrup that you can get your hands on, as it is so much better for you then normal sugar and is high in anti inflammatory and anti oxidant compounds. Steer clear of any maple flavoured sugar syrups, as it is the same as normal sugar.
This is the perfect dessert to whip out whenever you hear someone saying healthy food is bland tasting. It is just as indulgent and comforting as the original, only far better for you. Of course I am not suggesting you should eat a whole pie in one sitting, but it certainly makes that second (or third!) slice more enjoyable when you know you are being kinder to your body.
So whether you are celebrating Thanksgiving this Thursday or just looking for an excuse to indulge, cosy down with this gloriously 'guilt-free' pecan pie.
For more information on the nutritional benefits of coconut palm sugar and other healthier and more natural sweeteners read this post on our websiteThe Guilt Free Gourmet.
Guilt Free Cookery Classes
I will be holding a deliciously 'guilt free' food demo, together with Tara Wigley (development chef at Ottolenghi), on Friday 7 December and in January also. You will be guided through a range of 'guilt free' recipes that you can easily try out at home, then sit down for a leisurely lunch and glass of wine.
For full details and to book a place visit www.JordanBourke.com
Ingredients
Sweet Pastry
225g White spelt flour
50g Dairy free butter (e.g. sunflower spread)
60g Hard White Vegetable Shortening (it is crucial that you get the hardest one you can find, I have tried a number of them and in my view 'Cookeen' is one of the best)
1 Egg beaten together with 1 tsp water
1 dessertspoon of coconut palm sugar
Pinch of sea salt
Filling
250ml Organic maple syrup
100g Coconut palm sugar
50g Coconut butter
260g Pecans - very lightly roasted, about 5 mins at 170 C
1.5 tsp Vanilla extract
3 Eggs
Good pinch of sea salt
For the tart shell, sieve the flour and salt into a large bowl. Add in the coconut palm sugar, dairy free butter and hard white vegetable shortening and with a knife cut into small chunks. With your hands high, rub the dairy free butter and vegetable shortening into the flour until it resembles breadcrumbs. You can also do this in a food processor.
Add a tbsp of the egg and water mixture and fork the mixture together. If it is still crumbly and not coming together, add a little bit more liquid, being careful not to over do it. Bring the dough together with your hands until it is in a smooth ball with no crumbs falling away. Gently flatten into a round, wrap in cling film and place in the fridge until thoroughly cold.
Preheat the oven to 180 C. Once the pastry is cool, roll it out and line an 8-inch tart tin. A handy trick to make this easier is to roll out the pastry between 2 sheets of floured cling film.
Bake the tart blind for about 20 mins. Remove the greaseproof paper and beans used to blind bake. Brush the base and sides of the shell with some beaten egg. Return to the oven and continue to cook for a further 5 - 10 minutes until the base is a golden colour. This will give the tart base a lovely short pastry texture and prevent it from getting soggy. Remove from the oven and leave to cool.
For the filling, add the maple syrup and coconut palm sugar to a pan and heat gently until the sugar has dissolved. Remove from the heat and while still warm add in the coconut butter and stir until it has completely melted.
In a bowl whisk together the eggs, vanilla extract and salt. Then slowly add to the maple syrup mixture, whisking constantly to prevent the eggs from curdling.
Add the lightly toasted pecan nuts to the mixture and combine together. Pour this into the tart shell, cover with tinfoil and bake in the preheated oven for 20 minutes. Then remove the tinfoil and bake for roughly a further 15 minutes or until the top is reasonably firm with a little bit of give in the centre.
Leave to cool and serve with a dollop of dairy free ice cream.