'I want to buy THAT one,' the little boy declared, as he trotted past pointing a small determined finger at the Aston Martin. His father, hurrying in his three-year-old's wake, panted out: 'He didn't say that when he passed a Porsche just now'. A grandfatherly figure then hove into view in my wing mirror, 'Know your cars, you do,' he muttered, cracking a huge toothless grin. His hand hovered respectfully as if he wanted to mould the car's sensuous curves. A cyclist wobbled for a moment in traffic when he caught a glimpse, and smiled, giving me a thumbs up.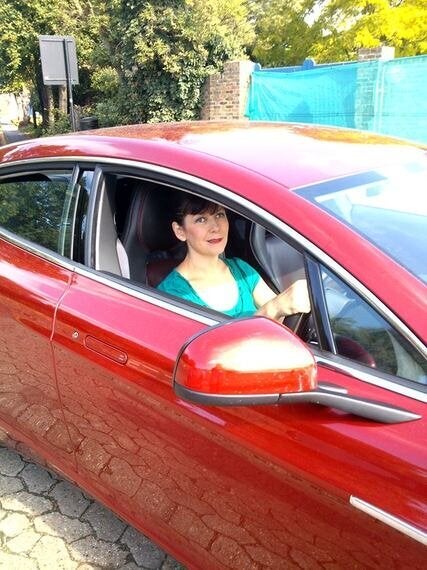 Sitting in the Rapide S down by the river at Chiswick
Although the design is perfectly proportioned, sleek and curvaceous, the colour a gorgeous glowing lipstick red, the car attracted attention only from a rather special kind of person. What I noticed were the double takes - a glance, then a long warm appreciative gaze. Not envious but sort of pleased - as if the car and its history belong to us all. While other British marques are flashier, the Aston Martin is quintessentially English, surviving 100 years with its intrinsic class intact.
You won't get a review here of the Aston Martin Rapide S - I leave that to expert petrol heads with their 0-to-60s (incidentally 5.1 seconds) and their bonnets full of ponies. What you will get is a delighted response to an extraordinary car that brought back buried family memories and was a treat to drive.
I had been invited to share the driving of the red Aston Martin Rapide S to Reims and back, to visit the vineyards of Louis Roederer; but also just for the fun of driving such a wonderful car along the emptier motorways of France. Then I was offered the car to share with my family for the weekend. I accepted this awesome responsibility for the sheer joy of seeing my children's faces light up when they saw what Mummy was driving. And they did not disappoint me: Archie, 21 - 'I could get accustomed to this' - and Tolly, 12, 'Awesome!' Didn't do his kudos among his school friends any harm either.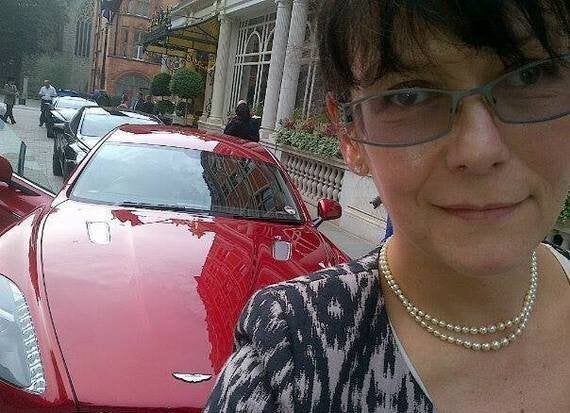 Outside the Connaught, the Aston Martins gather, ready to drive to France
We were brought up by my car-loving father to appreciate motors, beyond the utility of transport, for their design, beauty and style.. He was born in 1919, and cars represented an extraordinary level of freedom for his generation. Although five children meant rather more utilitarian vehicles, he had a weakness for Jaguars and used to stuff all of us in the back, and lots of luggage into the bulging, rope-lashed boot, in the days before compulsory seat belts. The first car of his that I remember was a 1960s English racing green Jensen - a classic British marque that did not survive the ups and downs of the 20th century as Aston Martin did.
He had other really extraordinary cars during his long life. In his early teens, he rebuilt a three-wheeler Morgan which, in the absence of a steering wheel and column, he tried to manoeuvre with a rope attached to the two-wheel front axle - with disastrous results. Then there was his first Alfa Romeo, which he assembled in Egypt during WWII from bits found scattered in the desert outside Cairo. He took my mother on the Alpine Rally in 1950, unknowingly pregnant with my sister, in another Alfa.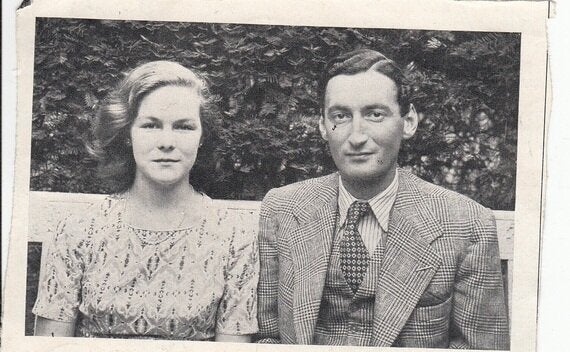 My parents, Roger and Grizelda Keyes, when they were engaged.
My father never owned an actual Aston Martin, but he did love his Lagonda, in which he transported my mother on their honeymoon in December 1947 to Italy and back - the same year that Aston Martin purchased the Lagonda marque. That was in a time of extreme post-war austerity, when the British were discouraged from going anywhere, and not allowed to take any money if they dared to defy the rules. Undaunted, my young and adventurous parents traded their way across the devastated continent, having loaded the Lagonda with coffee and old pairs of boots. In Italy they visited Miss Bowles, an ancient cousin who had been interned in a convent for the duration. When she died, she left my mother an ancestral marble bust out of gratitude for the first family contact since 1938.
As I sat at the wheel, concentrating fiercely on guiding all that horsepower carefully down the A12, my middle brother turned to me and said, 'Daddy would be so proud of you, driving this magnificent car'. It was a very affectionate moment of memory.
And the experience of driving such a special machine began when I pressed the 'key' into the dashboard and held it gently with my fingertip. The most glorious sound welled up from the engine. Nothing so vulgar as a deafening roar; I dug in my mind for a word, and came up with 'rortling' - the spine-tingling broooommm... of a powerful V12 mustering for action. After that it settled down to the quietest of pussy-cat purrs, but that initial sound alerts you to a new world of finely tuned engines stuffed with 'ponies'. My brother, gazing bewitched under the bonnet, murmured, 'It's a piece of jewellery'.
And I, who bucket around town and country in a battered but reliable VW Sharan, was invited to drive all this beauty and history and technology for fun. Not for the school run or the big shop, but for fun. I understood finally how my father felt about cars, and it was the drive of my life.