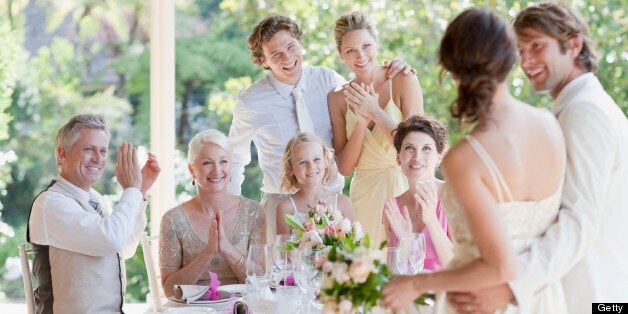 If you are going to get married - and the joyful news that equal marriage has gone into law may spark a boom - you should do something more than elope. A wedding is a chance for you to sail into your joint future, borne up on a wave of family love and friendly approval. Not to mention have a terrific party. But how to get a balance between generous hospitality and the need to be sensible?
How things used to be done
When I was in marrying mode, normal in my circle was a church wedding followed by a kind of enhanced tea party in a marquee in the parents' garden. As the sun went down, the couple would 'go away' (yes, completely vanish) to spend their wedding night somewhere else before going off on honeymoon.
Some weddings were very grand and huge, with lots of real champagne and wonderful canapés, and dresses by the Emanuels or Catherine Walker. Others were more home-made - like mine - with ladies from the village rallying around to do the flowers (from their gardens), a booze run across the channel, and my mother making all the dresses. No one really coordinated a colour scheme, let alone supplied wedding favours. Dinners and dances, Bridezillas and wedding planners, had not even breasted the eye-wateringly expensive horizon.
If I was to do it again though, I would keep the personal element, but use it as an excuse to get everyone I know and love and like best under one roof for a proper, old-fashioned house party. Sounds terrifyingly expensive, but there is now a way that would cost little more than the tented tea parties of my youth.
When Chris Badham and Damian Llambias were looking for a venue for their own civil partnership, they found that nothing out there matched their friendly vision. A house that could become a temporary home, big enough to welcome the wedding party, where they would have completely free choice about food, drink and all the rest of it.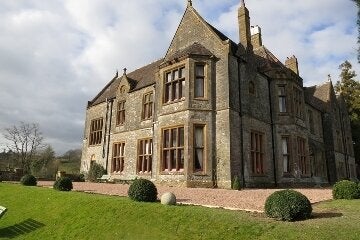 Their response, once safely spliced, was the invent this generous new model for future couples. They bought Huntsham Court in Devon for £1.8 million in January 2012 and, by December, they had transformed it from shabby and sad to really rather gorgeous. A Tudorbethan mansion originally built for a bride in the 1870s, it is perfectly arranged to accommodate just such warmly informal house parties throughout the year. There is even a dear little old church at the bottom of the garden, or the house is licensed for weddings as well.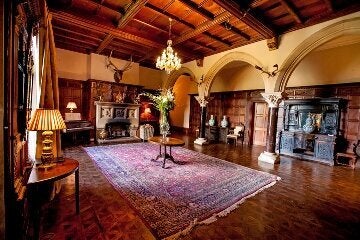 We arrived in the early evening - the stone elevations wuthering romantically in the gloaming. The welcome was incredibly warm, and we were shown to rooms that were much more like a rather grand family home than a hotel or even a B&B. My room had the most comfortable sofa I have sat on for years, and a wide, old fashioned bedstead with a modern mattress. In the evening, a smart little truck pulled up on the gravel sweep, with pizza oven attached - one of many local businesses that can be summoned up - and we ate in the hall.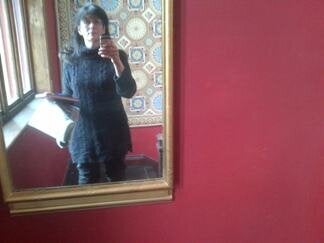 There are several large and comfortable reception rooms that interconnect as well, that can be configured any way you please - small tables or one large table for instance. They can look as grand and formal or comfortable and informal as you like.
The furniture is nice, but not 'Antique-Roadshow-special' - there is no need to tiptoe around worrying about knocking off precious veneers. One aspect of the house that I loved was the incredibly eclectic selection of books everywhere - these were not leather bound and bought by the yard, but well-loved paperbacks, old and new, nestling against Dickens should you feel like a hit of Victoriana.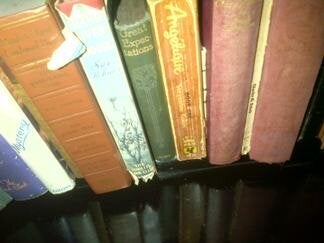 Flowery green countryside beckoned the next day, so we got ourselves pleasantly lost walking for miles and miles to 'deserve our dinner'. It was well worth it, with drinks in the snug beforehand and afterwards.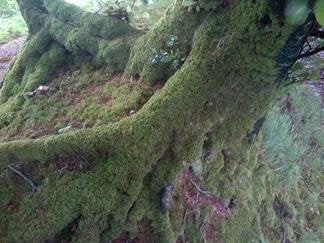 Cost-effective wedding planning
As for making your special event cost-effective, Chris and Damian suggest that you book the whole house, and agree that your guests contribute for accommodation as early as possible in the process. The most you have to pay for full use of the house is £11,900 in high season this year, and that is to sleep 72 people for a two-night weekend - a modest £80 a night each. Mid-week and low season are rather less. After all, it is quite usual to pay for local accommodation when you travel to a wedding. Not only is it much cheaper than most hotels, but your bed is only a staircase away at the end of the evening.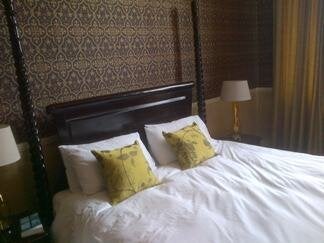 That should free you up to spend your budget on delicious food and drink. Local supermarkets including Waitrose will deliver in advance for instance. The complete lack of corkage or any other charges- apart from what you choose in the way of catering, staff, wine etc, means that budgeting is so much easier. There are excellent local caterers, but they are not remotely compulsory, and that booze run across the channel is as feasible as it was for the champagne-fuelled tea parties of my youth.
Wedding planners ARE available
For less DIY types, Damian and Chris can provide you with a complete package, handled by their experts. Lots of cutlery, napery and crockery is included so you don't have to worry about that. 'If you don't pay for it at home,' says Damian, 'You don't pay for it at Huntsham.'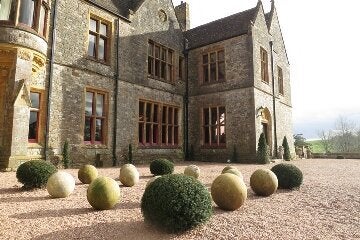 And... how to save on 'the dress'
One further tip - go and have a good old rummage on Ebay. A wedding dress is only worn once after all. Just today: ivory silk satin, laced up bodice, bell-like skirt, 10 foot train, veil included - yours for £100, and no one need ever know. Or send your design and measurements to China, and get the dress of your dreams for about £50. Or even splash out on a job lot of 11 pretty dresses, for £299. You could transform yourself continuously throughout the day, like a hyperactive celebrity.
HOW TO FIND HUNTSHAM COURT