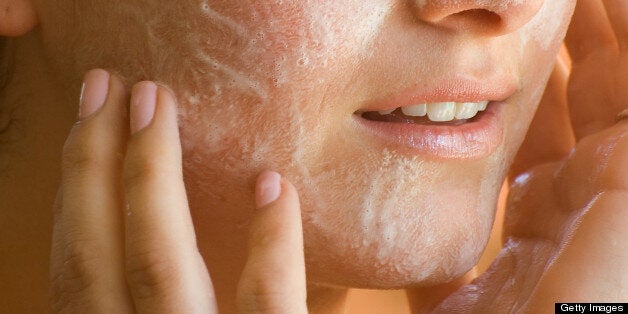 What do you do when you have the skin of someone who was lost in the Sahara for a week without shelter or water? Well, you have to trial new products but when your toiletries budget is small you can't go around experimenting with different brands. Dear, delicate skinned lovelies, I have put my dramatically over-reactive skin to the test and can now share with you the results of my endeavors. Not all these products will work for you, everyone is different. And if you're on your own quest to find skin friendly products remember, this is what antihistamines were invented for.
All over your body moisture:
Now anything that's a named brand is always a good product to go for as the larger pharmacies tend to do offers. My first suggestion is Aveeno, you can get it on 3 for 2 offers and it's great for dry skin and hasn't brought me out in hives. Always a good start. I recommend going for their lavender version, the original one makes you smell like you've slathered yourself in two-day-old porridge.
For a hard hitter you're going to want to go to the prescription counter and ask for Epaderm cream. The 500g tub will last a while, although it's a budget busting £12 or so, you can't beat it for hard core moisture. Dry skin doesn't stand a chance. On really bad days you can also use it as an alternative to shower gel - take that London water, you ain't so hard afterall.
Another great moisturizer is Doublebase, but this is purely for its gloopy texture. It's like a disgusting toy; good at its intended use too.
Now, for the days when you have a serious case of IAS (itchy arse syndrome, it's a synthetic underwear thing) you cannot beat Waitrose's Baby Bottom Butter. Smells like vanilla and will create a thick barrier between your skin and anything polyester.
If you have sensitive skin sun cream can be the absolute worst. It is not a friendly product. Thankfully my niece showed me the way - she has to use children's sun cream by Green People as she gets an awful reaction to anything else. I purchased the adult version and it's amazing - this summer my fair skin will be protected, moisturized and scented with a hint of lavender. A true savior.
Now, this has been the hardest product for me to find. Face creams are expensive and I'd almost given up until I remembered Green People saving me in the past and so I bought their sensitive ant-ageing (always good) 24-hour cream. It costs more than your everyday facial moisturizer at £14.95, but won't set you back as much as some. It's thick enough so that your skin isn't left feeling dry but it doesn't make you look like you lathered your face in shortening. In fact, once on it feel watery and light. Miraculous. It doesn't smell of anything but as the face is a particularly sensitive area, it's no bad thing.
At night I use A'kin rosehip all. Smells like tree bark and it won't absorb in quickly because it's an oil. However, I hear it does wonders and, no unsightly rash or dry skin after use. In the morning my skin feels pretty good. It's lasted me a long time and so it's worth the £16, although I managed to get it on offer at the time.
Now, there are more and more products out there for sensitive scalps but you have to be careful because the conditioners are useless. I occasionally still use paraben laden conditioner just to get my hair looking un-straw like. However, Naked do a huge range of products and I've pretty much tried all their offerings. Currently I'm using their shampoo and conditioner for coloured hair and the conditioner is definitely the best of the bunch. Not only that but it's budget friendly, particularly when it's on offer. Neal's Yard and Tara Smith also do great products but they are pricier. If your hair does become dry from friendly conditioners there are a lot of oils, sprays and lotions you can buy to apply après shower.
This has never been an issue for me as I've always used Sanex and now they even do a Zero% range, which is even nicer to your skin. Hurrah for Sanex!
Making up for flaws with makeup:
I have yet to find a foundation that improves my skin instead of causing me to go into hiding for a week after using it. When I've managed to shed this current layer of damaged skin I'll head out and test out a new one. The only thing that makes this bearable is the teeny tiny pots the samples come in. So frickin' cute.
As previously mentioned I have the palest of skin tones and so fake tan is a must. I am a huge fan of Vita Liberata, not only is the smell light and inoffensive but it makes you look bronzed, not orange. I prefer to use a lighter tone and build up colour with a few applications as this helps keep the coverage even. I the mousse, it's light and not sticky and I find I am less at risk of looking streaky.
Most of these products aren't the cheapest of the cheap but when your skin is sensitive you can't really use any old product. It's worth spending that little bit more.