My gig in Paris was cancelled. So after a whistle-stop few days on the road, my manager Steve and I had two days off in Paris. We visited L'Opera, The Louvre; walked up to the Sacré Coeur... again, and generally chilled out exploring the sights of Paris. The highlight: chocolate ice-cream at the Eiffel Tower.
After our relaxing, unexpected, 'city break', we headed to Brussels, where the venue was set in an impressive botanical garden; then to Amsterdam, where we packed out the Paradiso club and ate really great sushi at a place called Momo's.
And just when you thought it was all over, I got home and received an email about hitting the road again with Madeleine Peyroux! Of course the answer was yes.
Madeleine is a very sultry, smoky voiced, jazz/blues singer (in case you didn't know). She was wonderful backstage, really chatty, and she's got a wicked little sense of humor, as did her band, who were also very accomplished musicians (some people have everything). Some nights I stayed to watch the show. It was always polished, with its string section and jazz trio playing impressive covers of everything from standards to Warren Zevon numbers. It was a magical tour.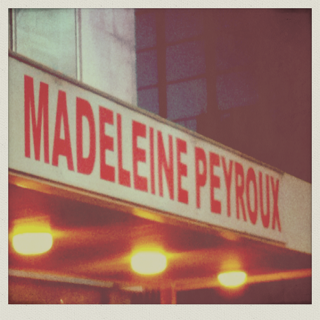 The venues were brilliant. Among them were some of my favourites like The Royal Festival Hall, Manchester's Bridgewater Hall, and The Sage, Gateshead. Some, like Cambridge Corn Exchange and Edinburgh's Usher Hall, I even remembered very fondly from the Paloma Faith tour (that was in January but it feels like years ago).
Towards the end of the tour, we got to Croydon Fairfield Halls and I noticed they'd started to put the Christmas decorations up! 'So that's what time of year it is' I thought to myself. I'd completely forgotten about Christmas. Touring is never the best way to stay on top of time. So now I have a little catching up to do. The shops are full and Amazon.co.uk seems to only have '1 item left in stock' of just about everything.
Popular in the Community